As an E-commerce business owner, you're facing the challenge of keeping up with the constantly evolving digital landscape. With more and more consumers relying on online shopping, you need to have a strong presence in the digital world to remain competitive. However, maintaining an E-commerce business is no easy feat. The pressure to keep up with the competition and meet customer expectations can be overwhelming. And with so many demands on your time, it can be challenging to find the time to focus on growing your business and improving your online presence.
To make things easier and to improve your E-commerce marketing, ChatGPT is your best partner yet. Whether you're looking to improve customer service, generate product descriptions, or anything in between, this AI chatbot is the perfect ally to help you grow your E-commerce business and stay ahead of the competition.
Here are 25 ways you can leverage ChatGPT in your E-commerce business.
Provide Business Planning and Strategy Practices
A well-designed business strategy plan can help e-commerce companies set clear goals and objectives, identify new opportunities, respond to changes in the market, and allocate resources effectively. ChatGPT can provide information and advice on business planning and strategy, including market research, goal setting, and budgeting.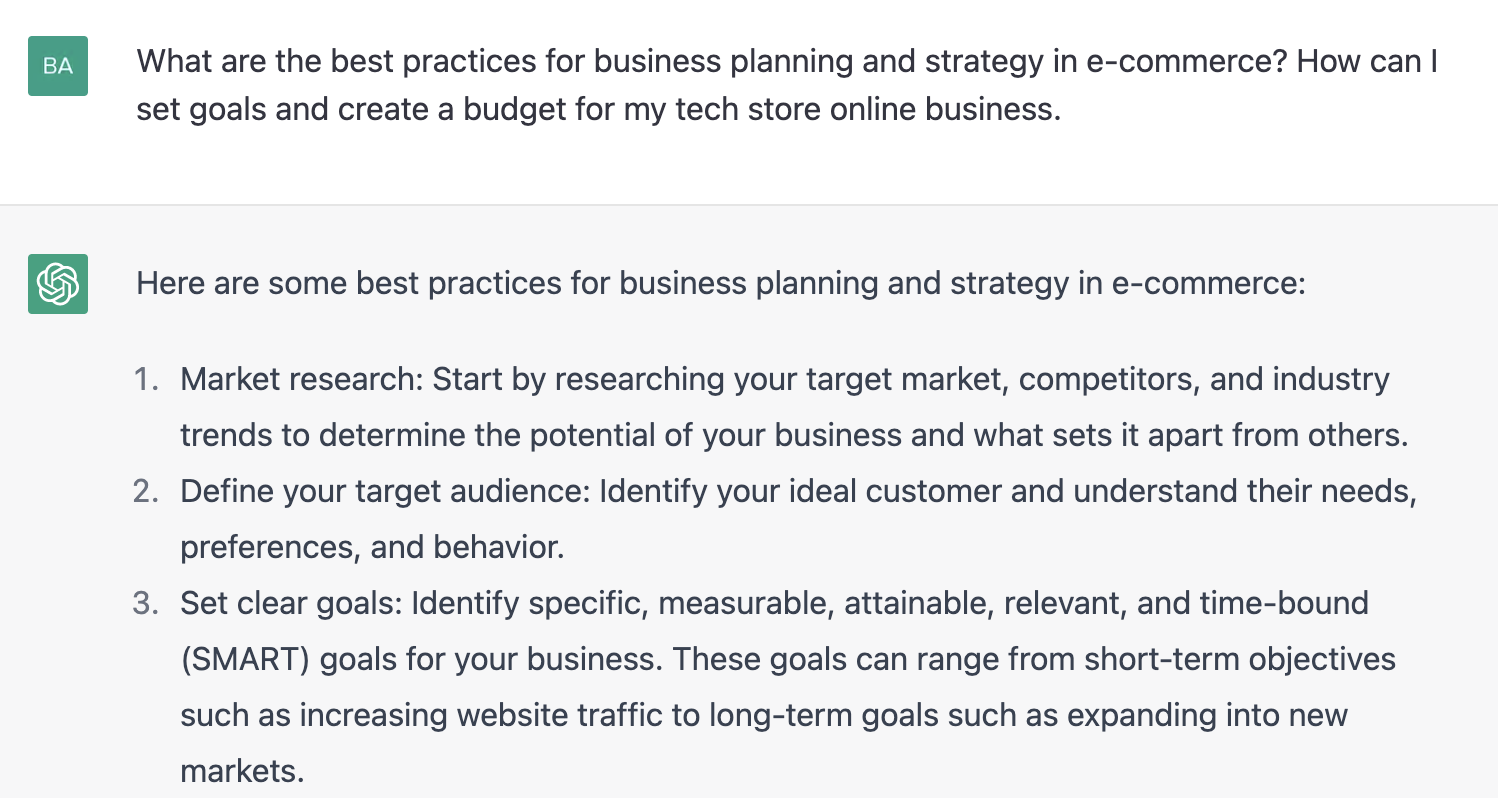 Suggest E-commerce Platforms
When promoting your business, always keep in mind the expenses you need to shoulder for your website or other e-commerce platforms. Are you willing to shell much money or are you on a tight budget? ChatGPT can help you choose the best e-commerce platforms, including features, integrations, and cost considerations.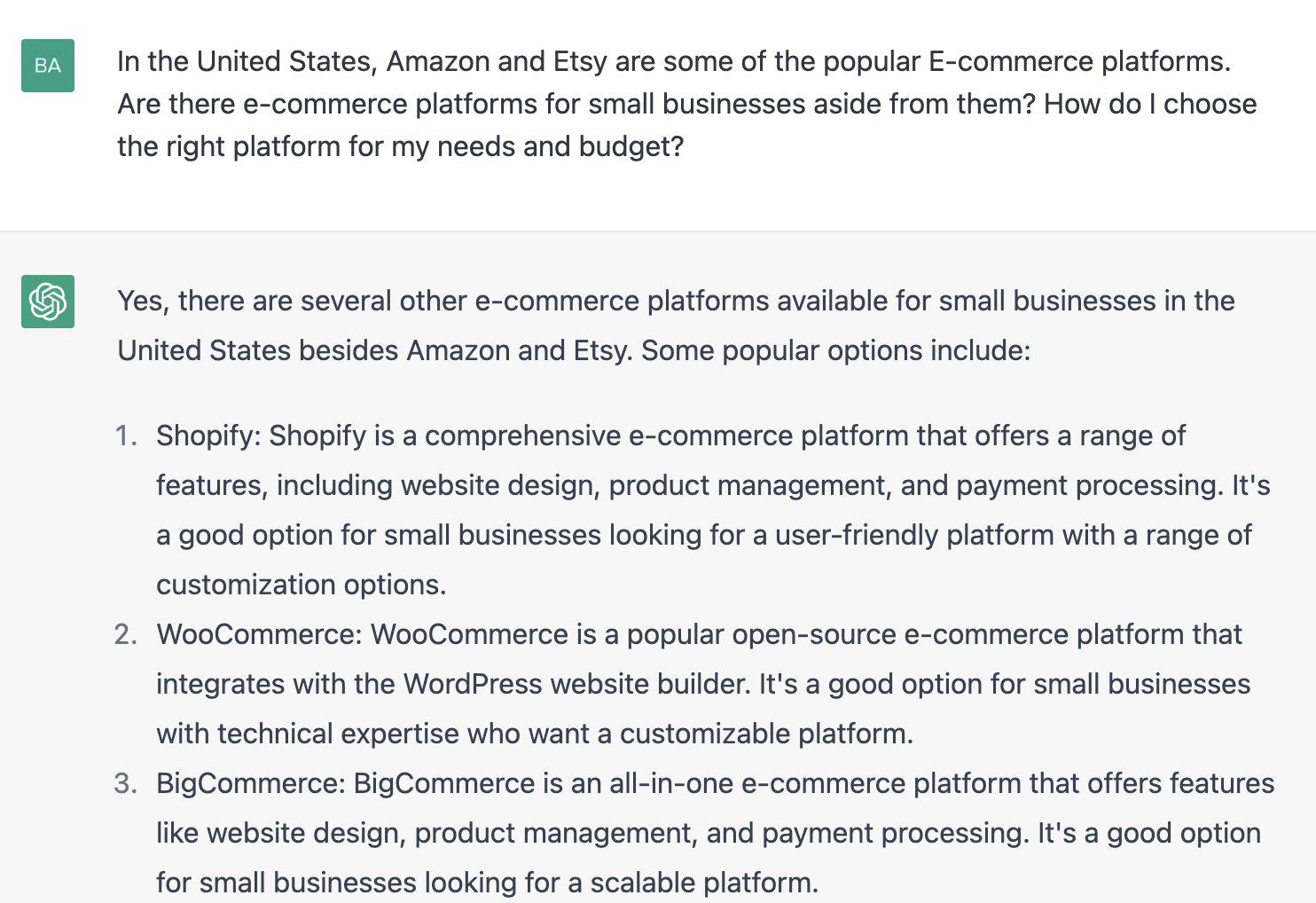 Provide Payment Processing Ideas
Processing payment is yet the most crucial as your website needs to be secured to prevent cyberattacks. ChatGPT can provide information on payment processing options, including security, fees, and integrations.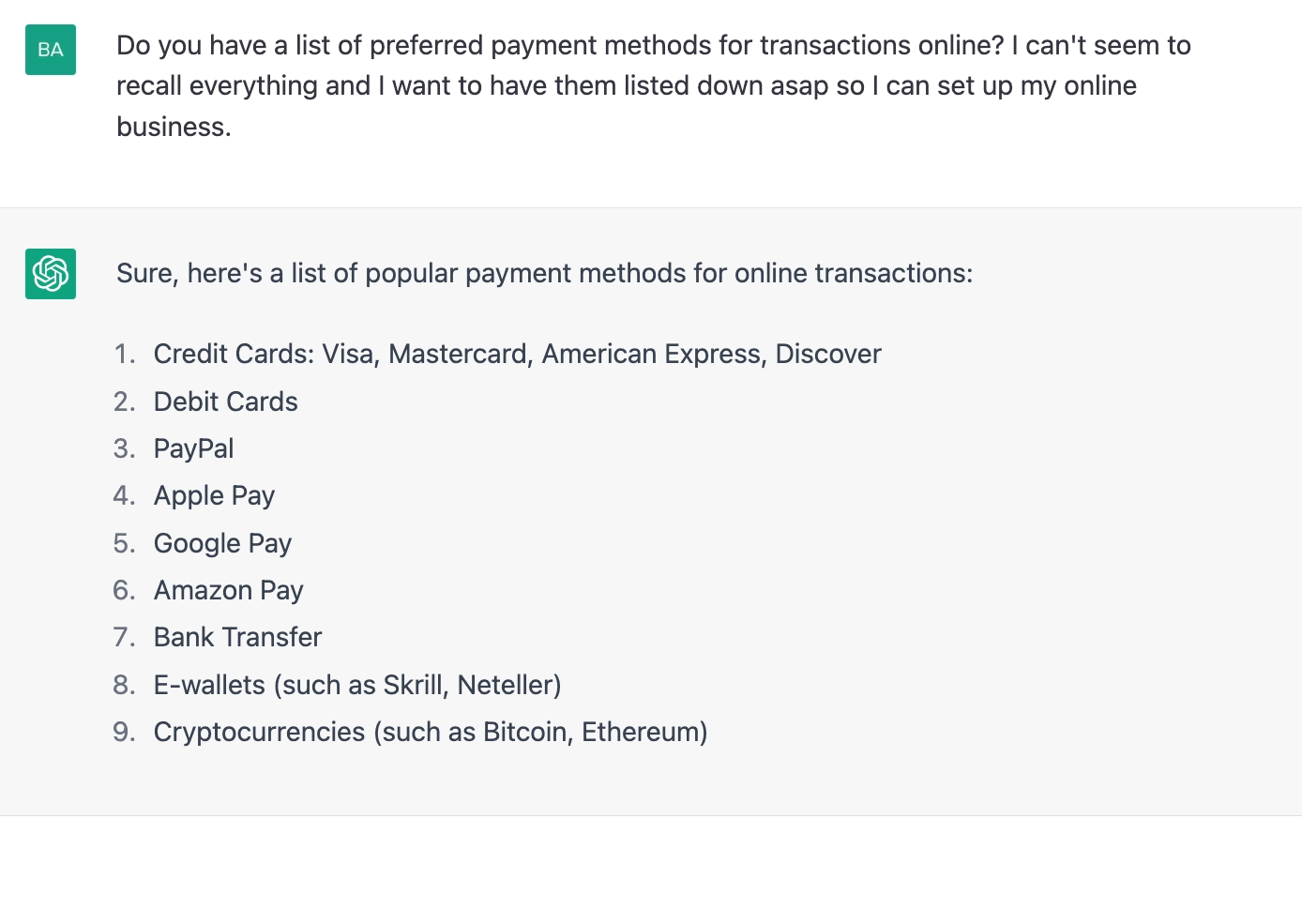 Suggest Shipping and Logistics Options
Shipping and logistics include the packaging of the product, shipping or transporting the product, tracking or monitoring the status of your parcel, and delivery. It's highly recommended to choose a logistics partner that has good ratings and reviews from other businesses. You will also need to consider the costs and the speed of delivery.
ChatGPT can help you with what to look for in a shipping and logistics partner, taking into consideration the costs, reputation, and international shipping.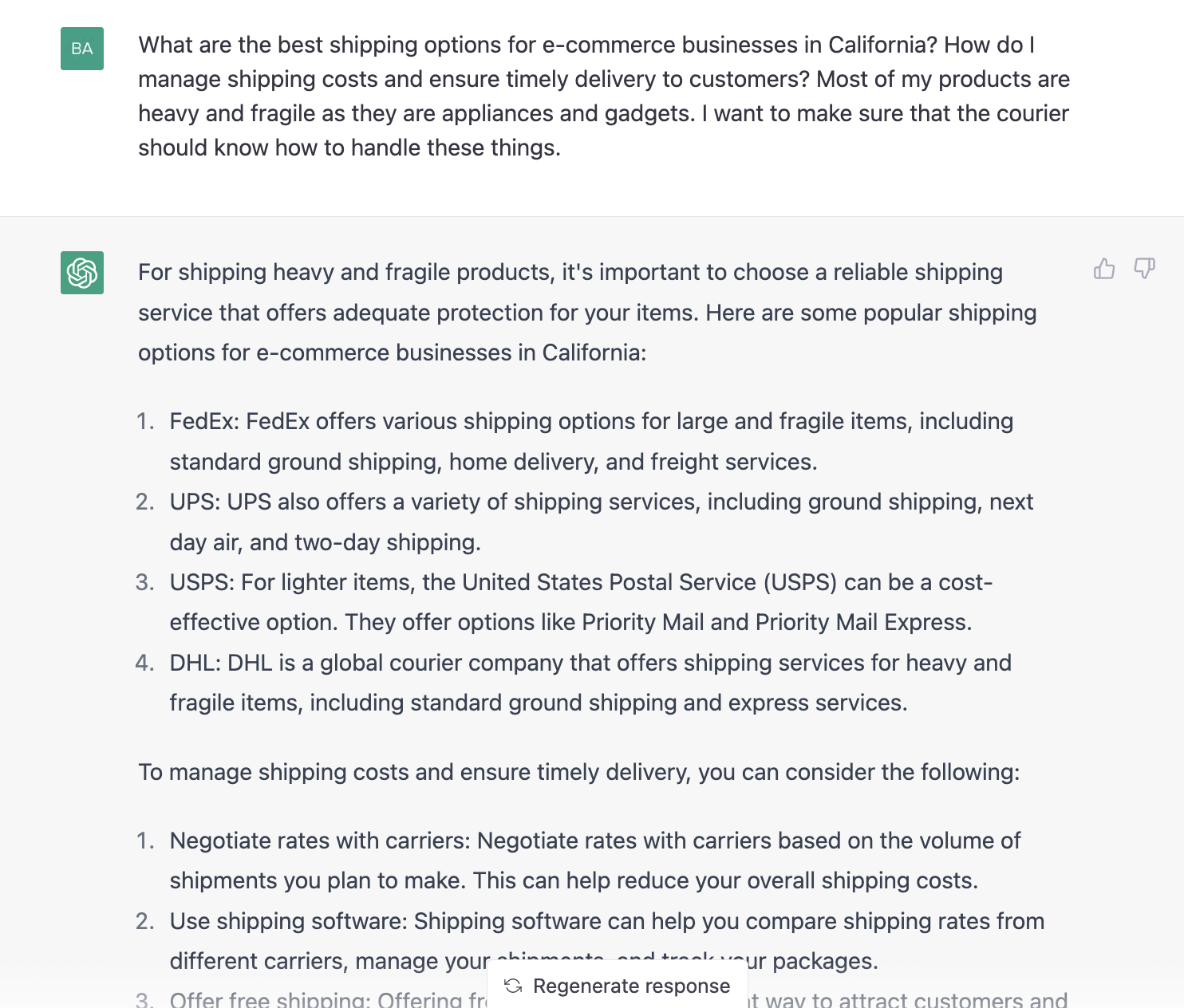 Suggest Ways on Customer Data Management
In the context of e-commerce, customer data management is crucial for building and maintaining customer relationships. But to manage customer data effectively, e-commerce companies often use customer data management (CDM) software or customer relationship management (CRM) software. These tools can help companies store and organize customer data, segment customers into different groups for targeted marketing, and automate tasks such as email marketing and customer support.
ChatGPT can suggest ways on managing customer data, including privacy and security considerations. It can also provide insights and recommendations to help e-commerce companies make informed decisions about their customer data management practices.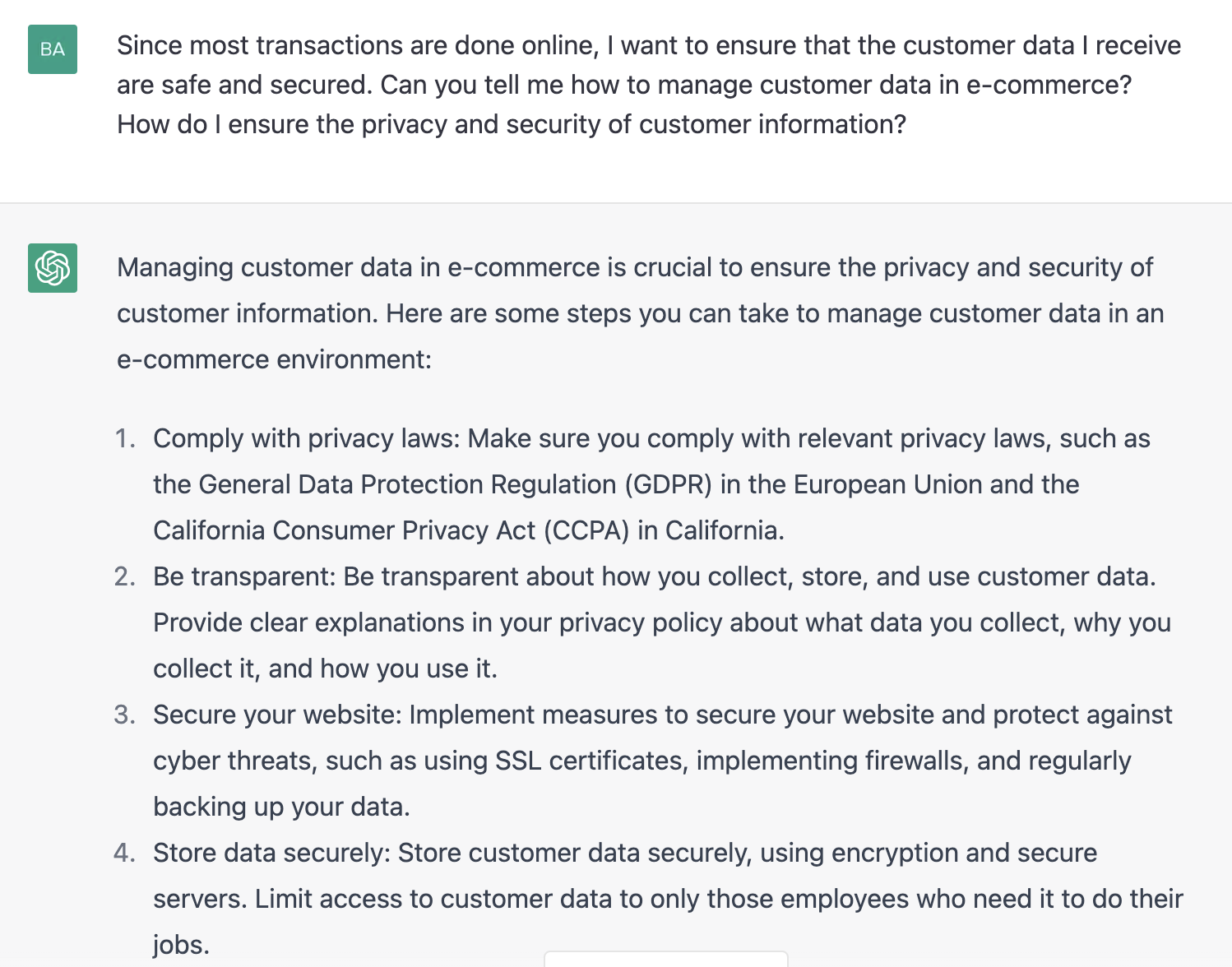 Provide Inventory Management Tips
At the end of the day or week, it's important to do an inventory check of the items you delivered and sold to update your store on what products are available. ChatGPT can give you tips on managing your inventory, including how to track stock levels, monitor demand, and ensure product availability.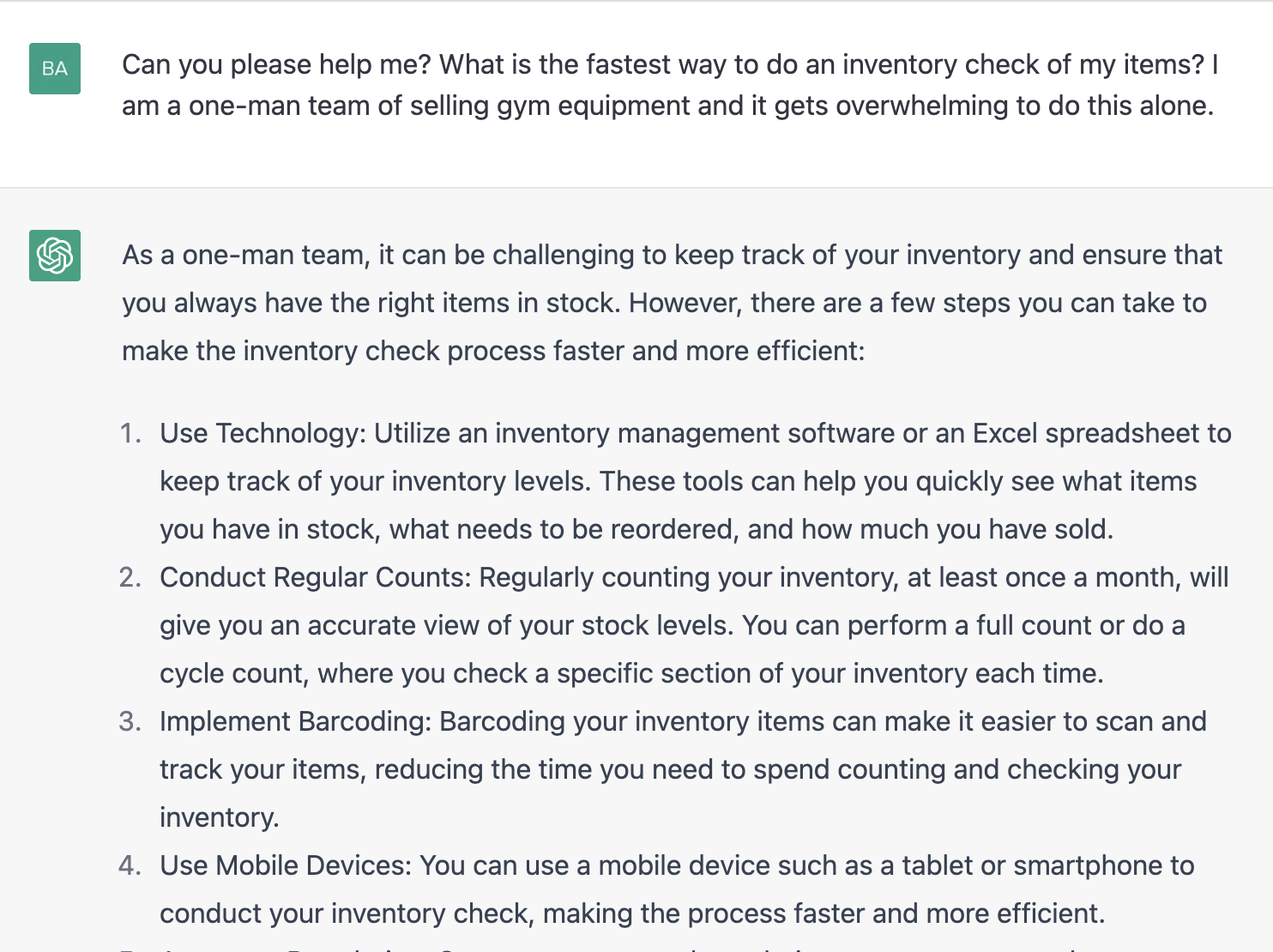 Product Description
You can ask ChatGPT can create detailed product descriptions to make them more marketable and enticing to your clients. You can also ask to make a comparison with another model by providing information on both products.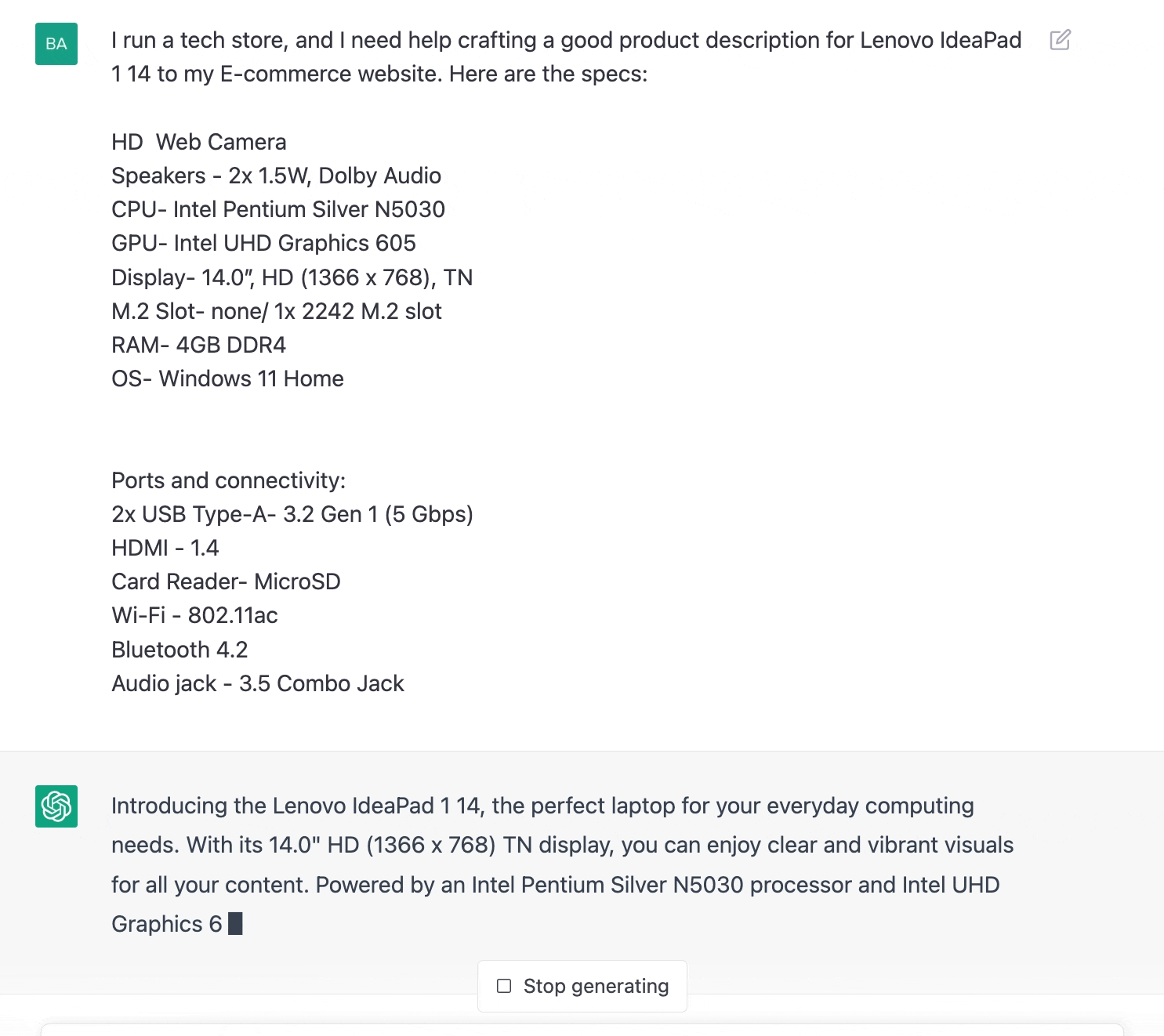 Product Recommendations
Helping your customers recommend products on your websites prevents browser fatigue and improves customer experience. ChatGPT can provide personalized product recommendations based on customer preferences, past purchases, and other factors.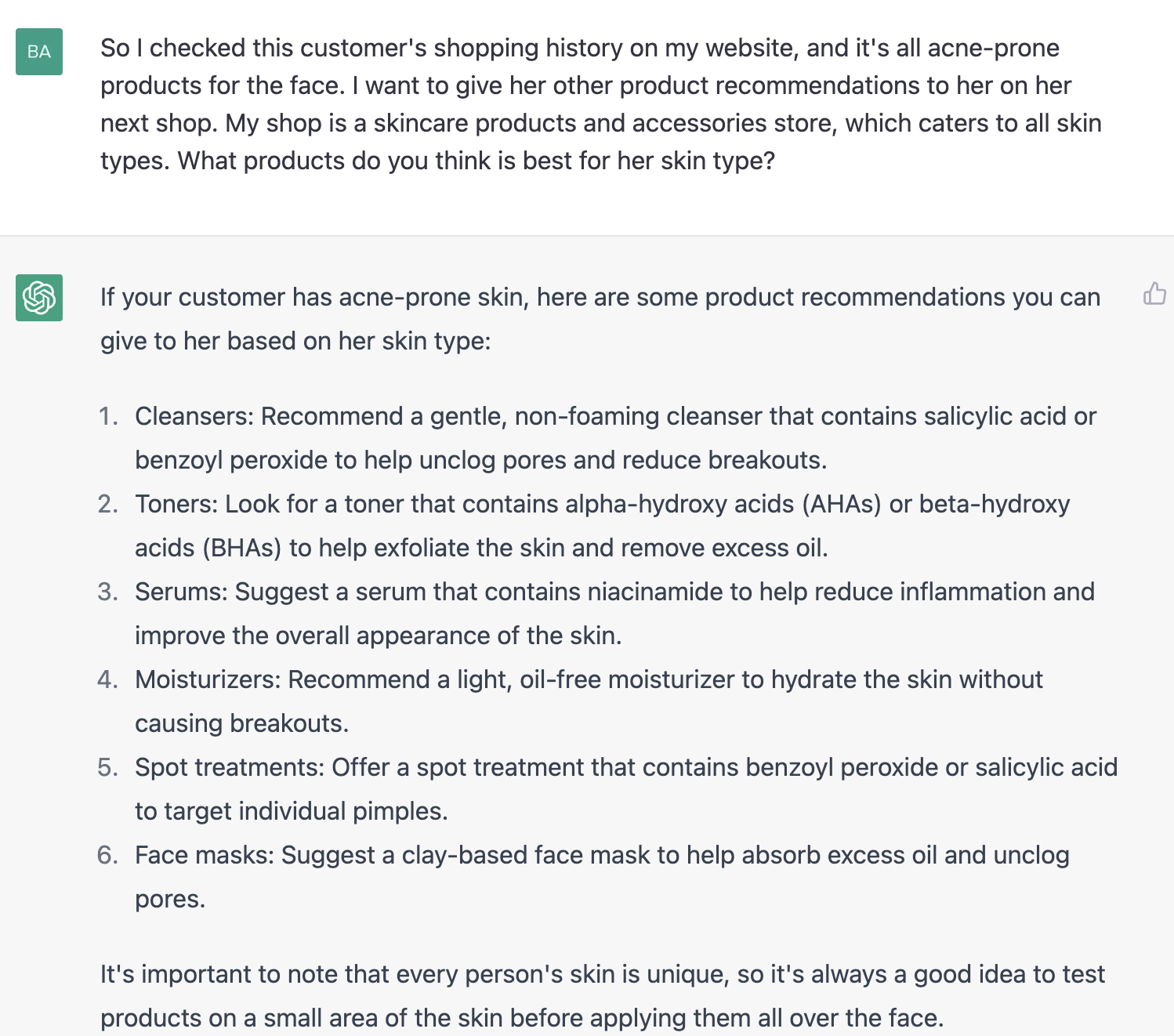 Provide Upselling and Cross-Selling Lines
You can add phrases or persuasive sentences on your website while the customer is scrolling or checking out a product. ChatGPT can provide personalized product recommendations during the checkout process. Upselling and cross-selling phrases on your website can in turn drive product sales and generate more revenue for the business.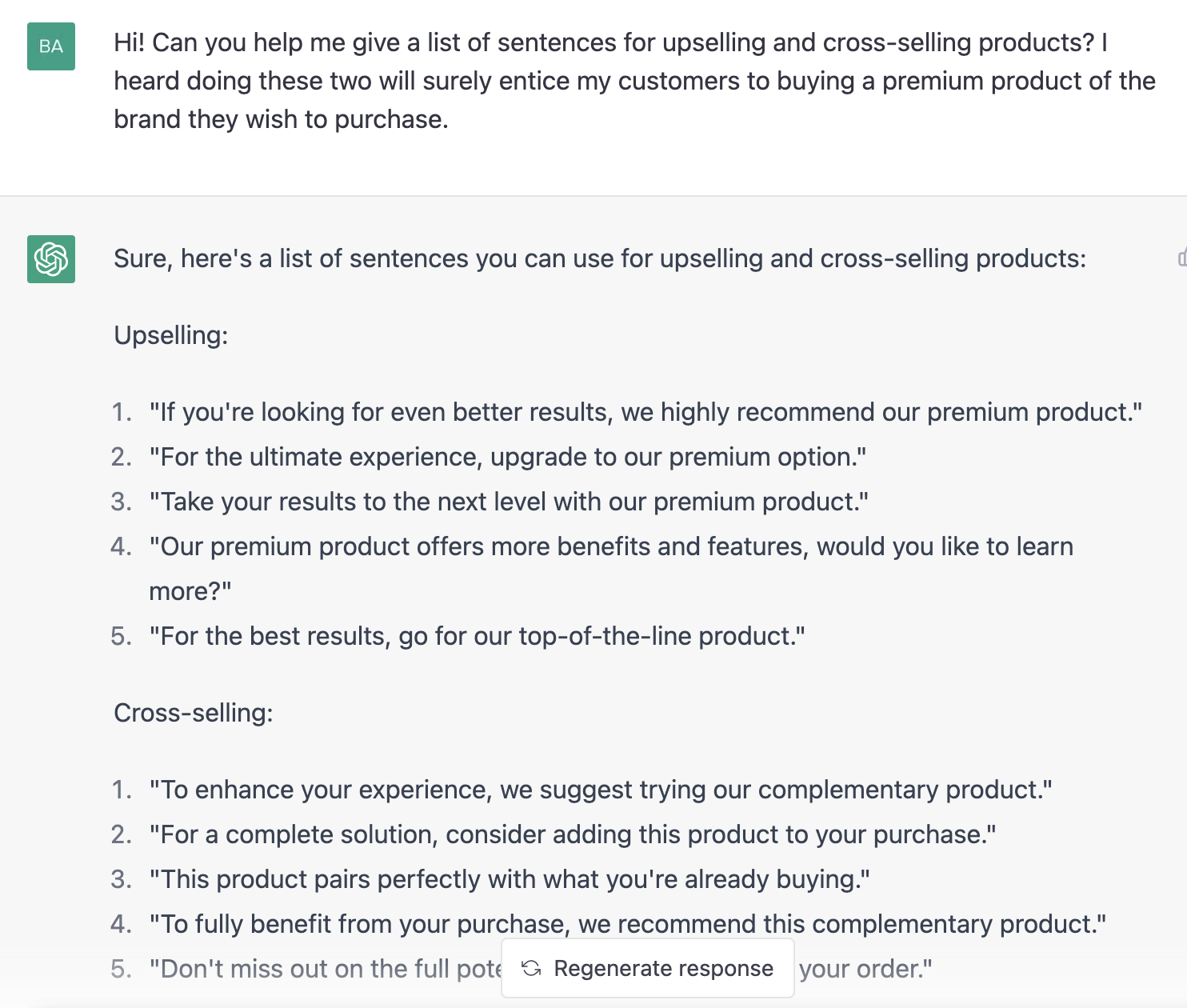 Draft Promotions and Sales Announcements
Customers love promotions and discounted items. If you want more customers to buy your discounted items, ChatGPT can make promotional content or write-ups on current promotions and sales, including discounts, coupons, and special offers.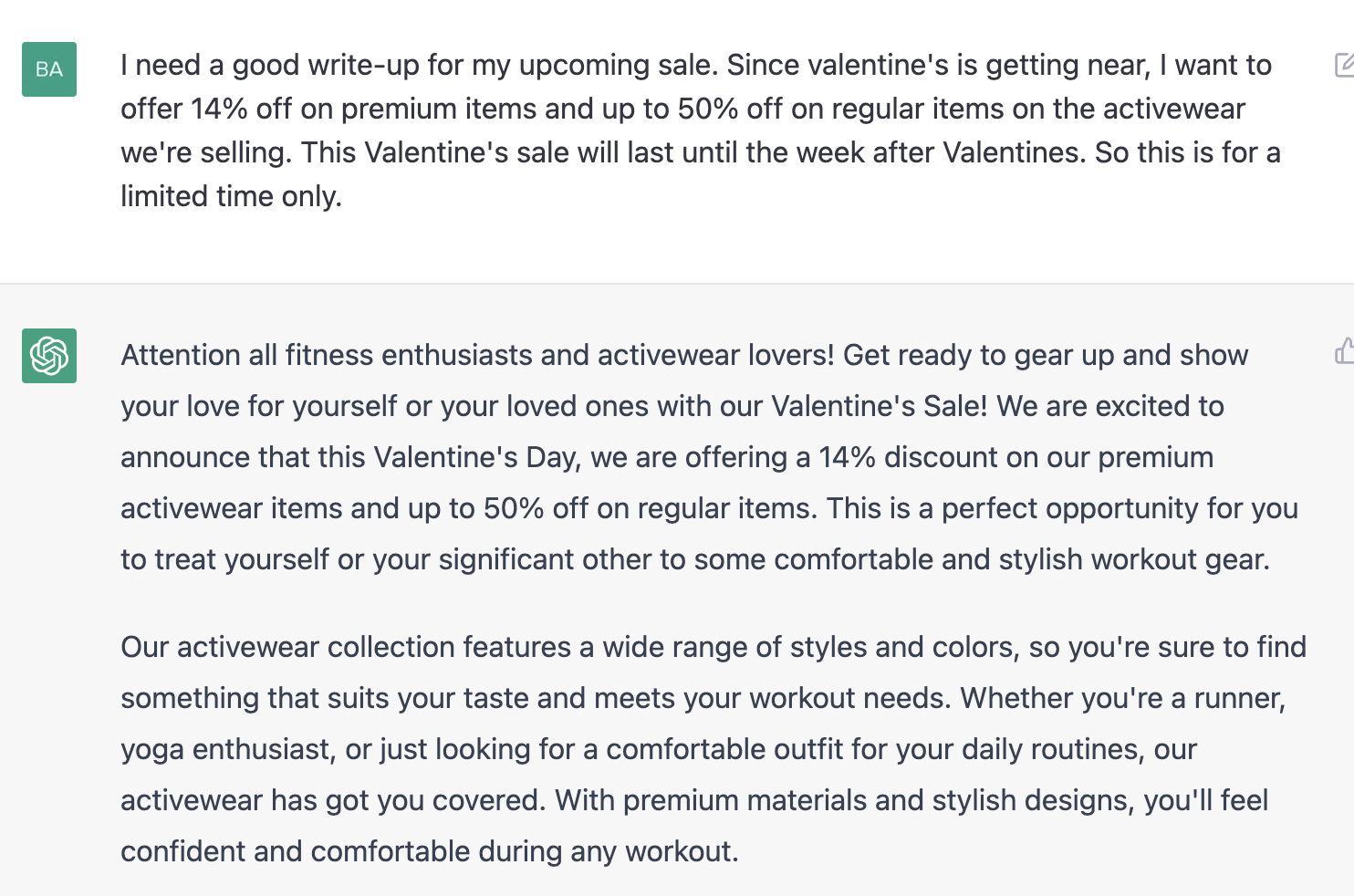 Customer Service
ChatGPT has the power to create a highly-personalized customer service experience. It can provide instant customer support, helping them with any questions or issues they may have with their orders or products 24/7.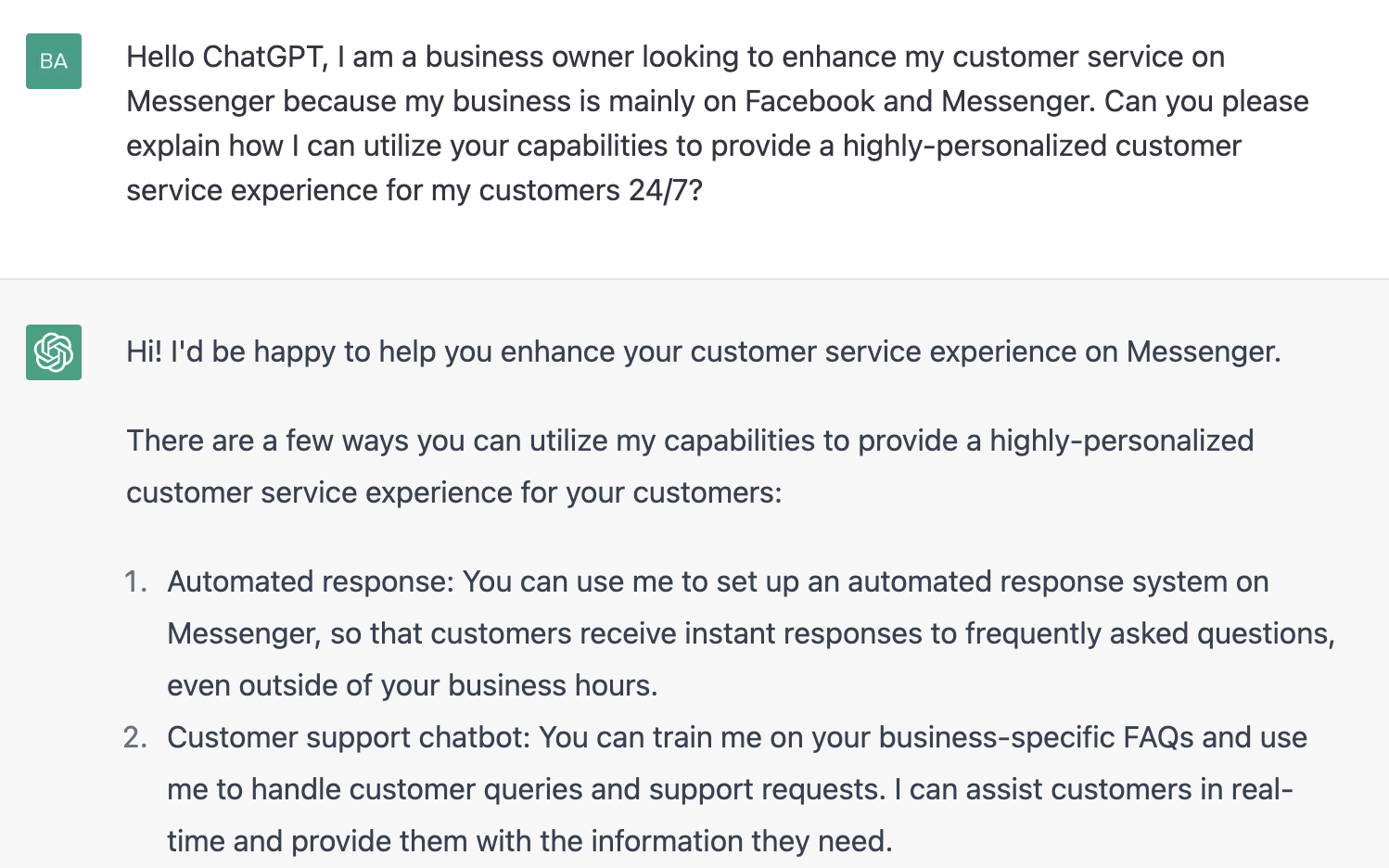 Provide Order Management Process
If you're a first-time E-commerce business order, the process of handling orders can be a bit overwhelming. Order management includes tasks such as processing payments, arranging shipping, and handling returns. ChatGPT can give you a step-by-step guide on how to manage orders, including tracking, cancellations, and returns.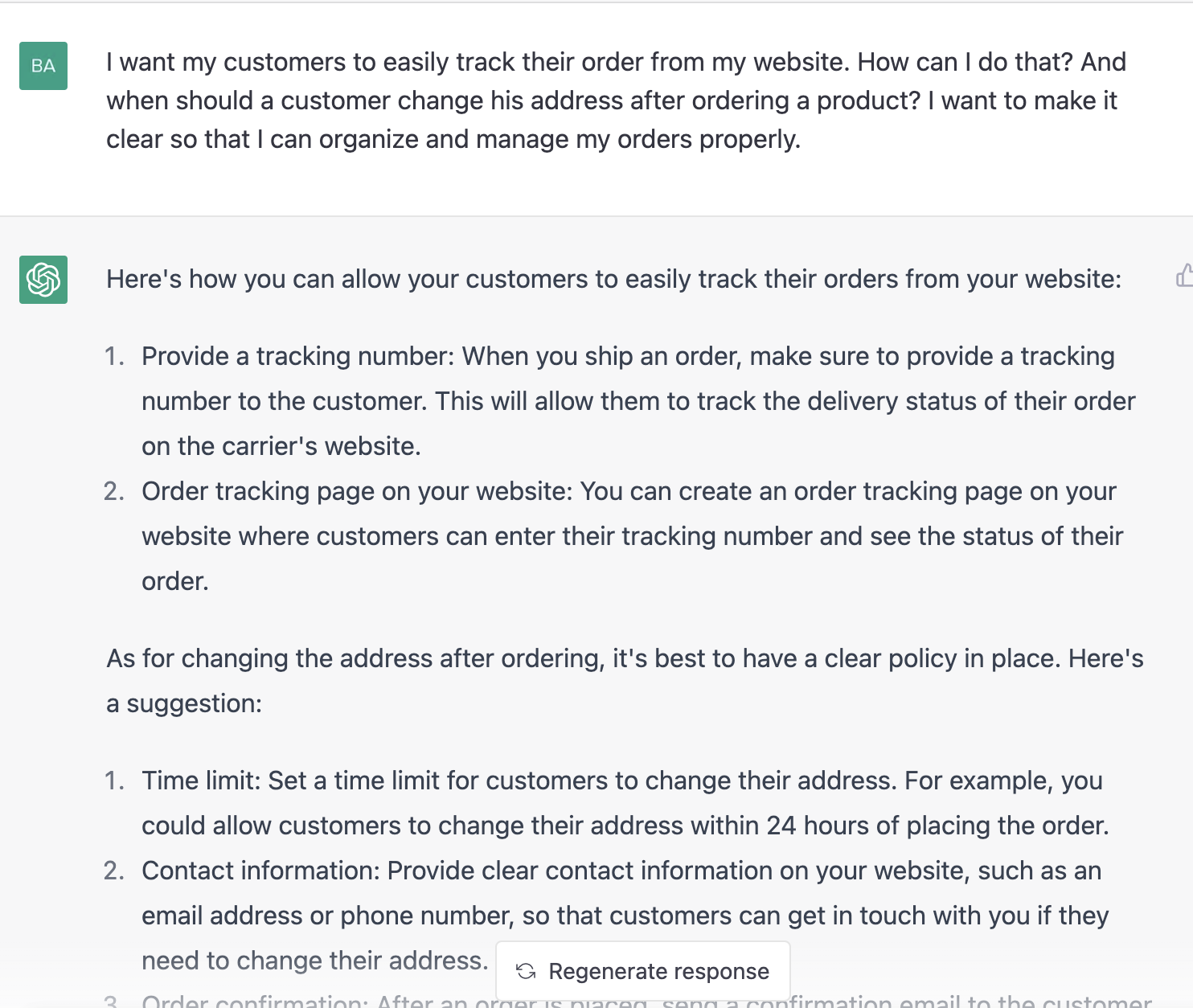 Suggest Payment and Shipping Options
Most customers ask for a company's available payment methods, and as an E-commerce business owner, you want to cater to everyone's convenience by providing as much payment and shipping options as possible.
If you don't know the common payment and shipping options, ChatGPT can help list down the payment and shipping options available. And once you have those available options on your website, you can let ChatGPT create a prompt to answer payment and shipping method questions. This will let customers know the options available and make informed decisions before buying a product.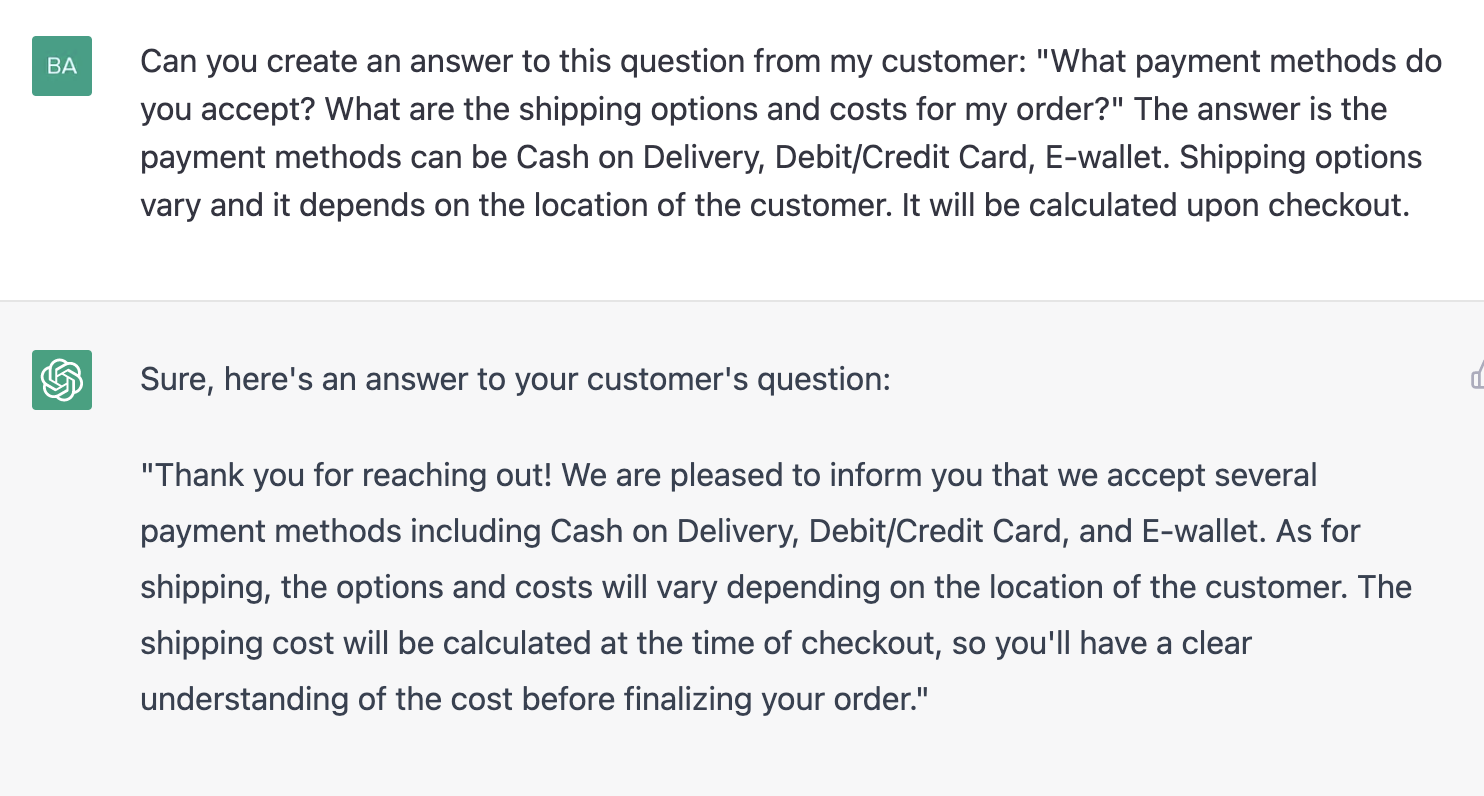 Answer Return Policy Questions
ChatGPT lets your company's return policy be laid out to your customers so they understand the process and requirements for returning items. A transparent and fair return policy can help build customer trust and reduce the risk of disputes.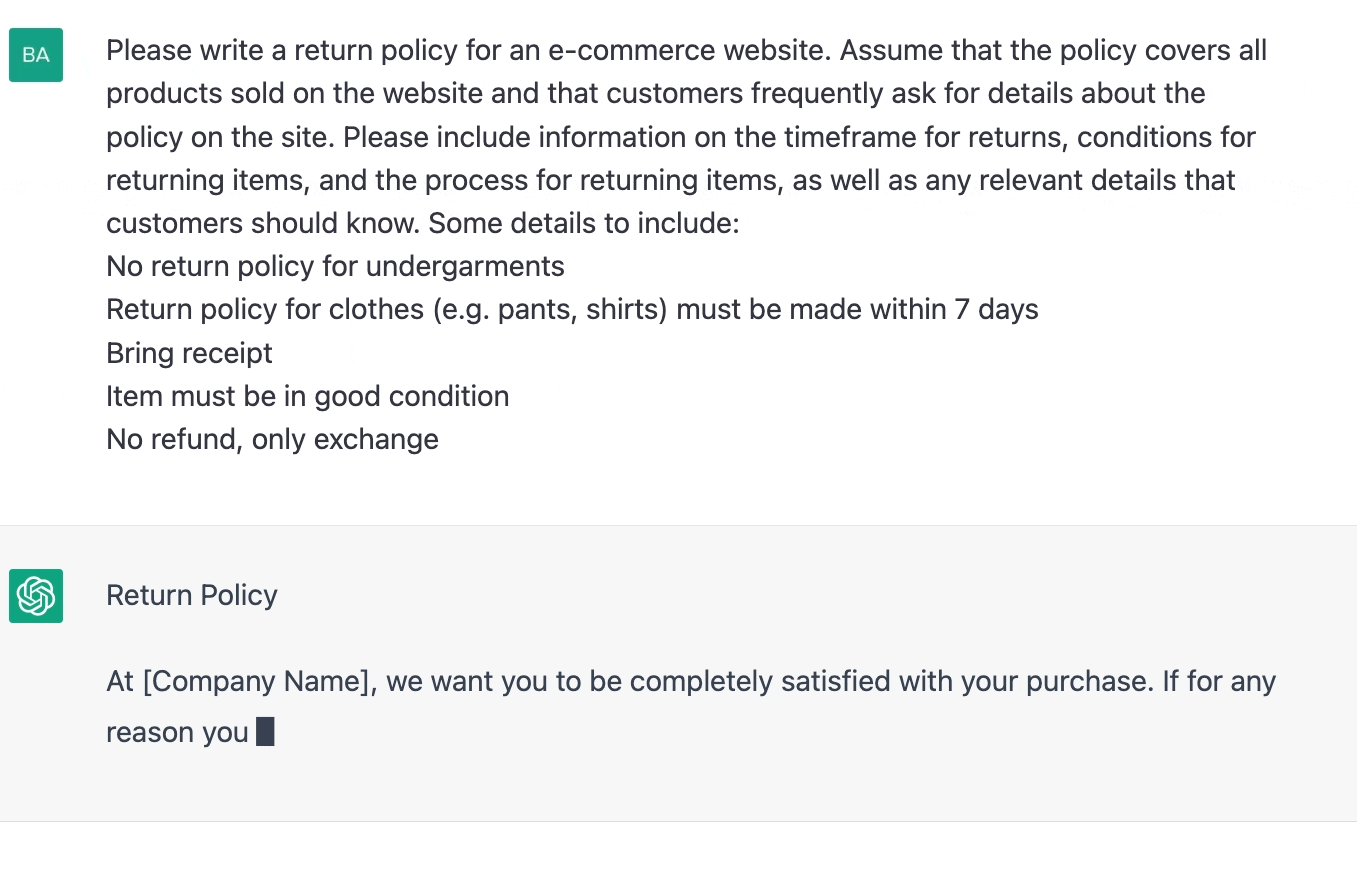 Describe Your Company's Loyalty Program
Let ChatGPT help you by crafting a description of your brand's loyalty programs, including enrollment, benefits, and rewards. Simply type the list of the benefits of joining your company's loyalty program and let ChatGPT create engaging content for you.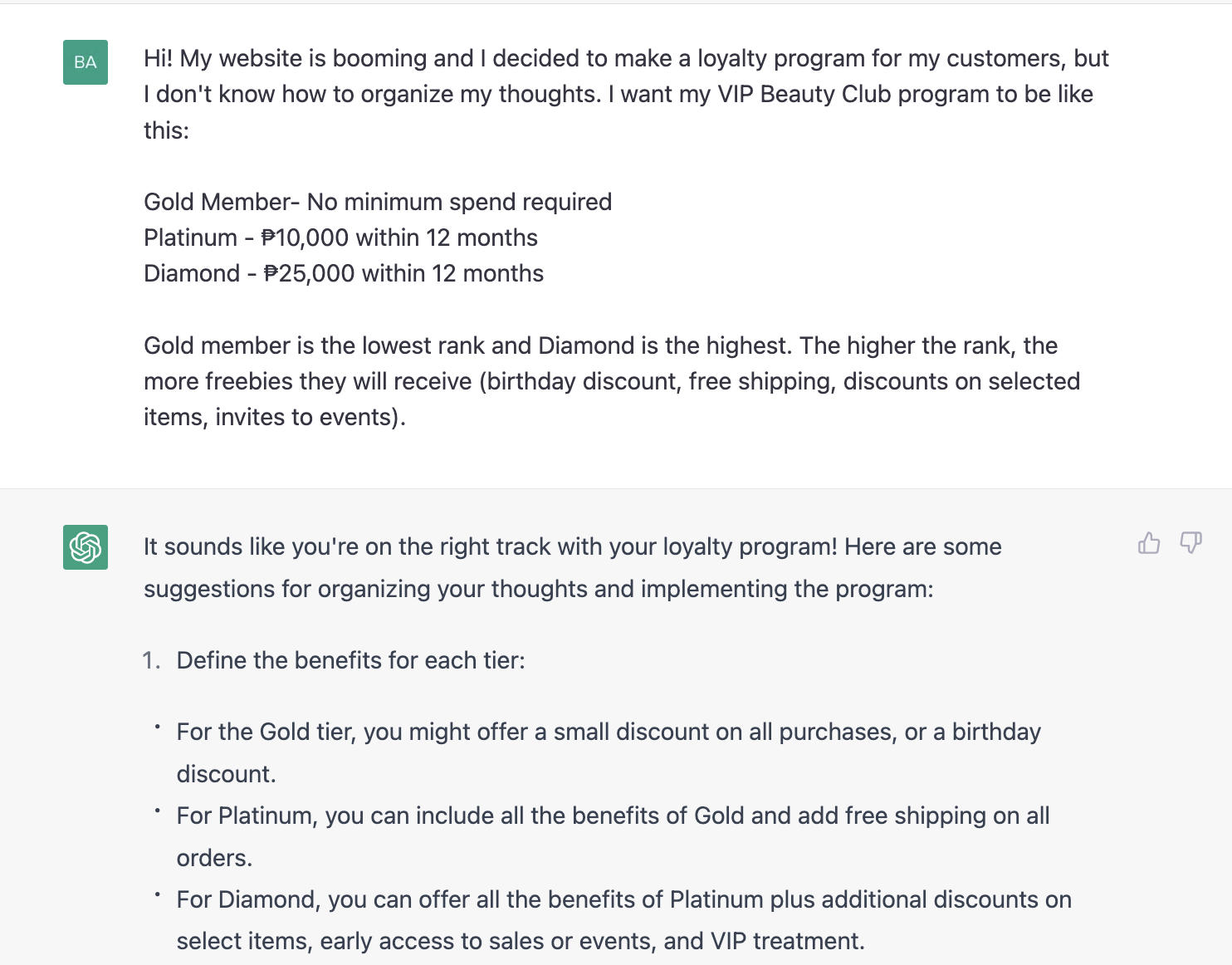 Assist Customer's Queries on Gift Cards
Gift cards can be a convenient and flexible gift option for customers, and sometimes, they resort to this option when they're in a rush or they want something to give to their friends or loved ones at the last minute. These customers want a straightforward and quick response regarding this, so ChatGPT can assist in answering questions on gift card options, including balance checks, redemption, and purchase options.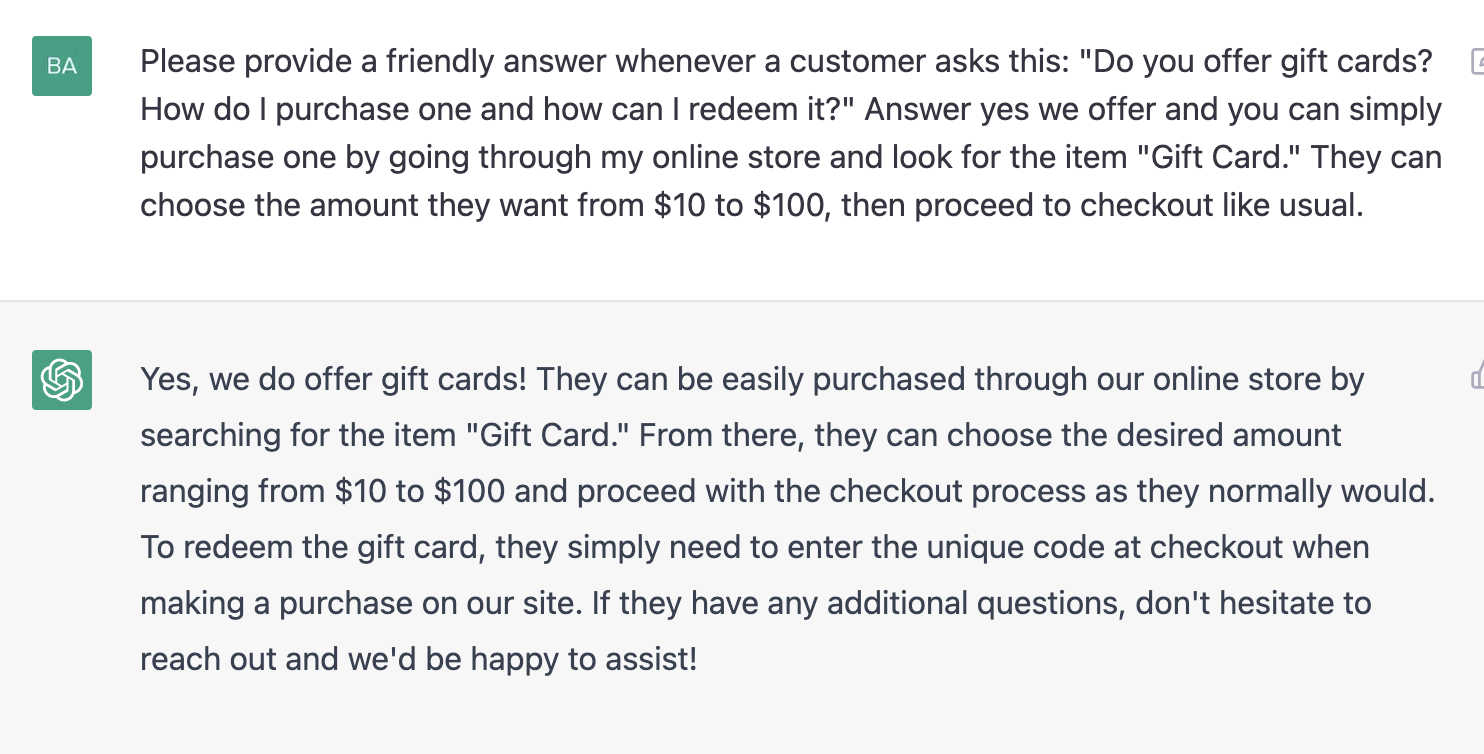 Suggest Social Media Posts
In regards to eCommerce, it's understandable that many businesses would desire increased engagement in the form of "Likes," "Shares," or "Views." Social media platforms offer eCommerce companies the opportunity to reach vast audiences and showcase their merchandise. ChatGPT can teach you ways of social media marketing, helping e-commerce companies reach and engage with customers through social platforms.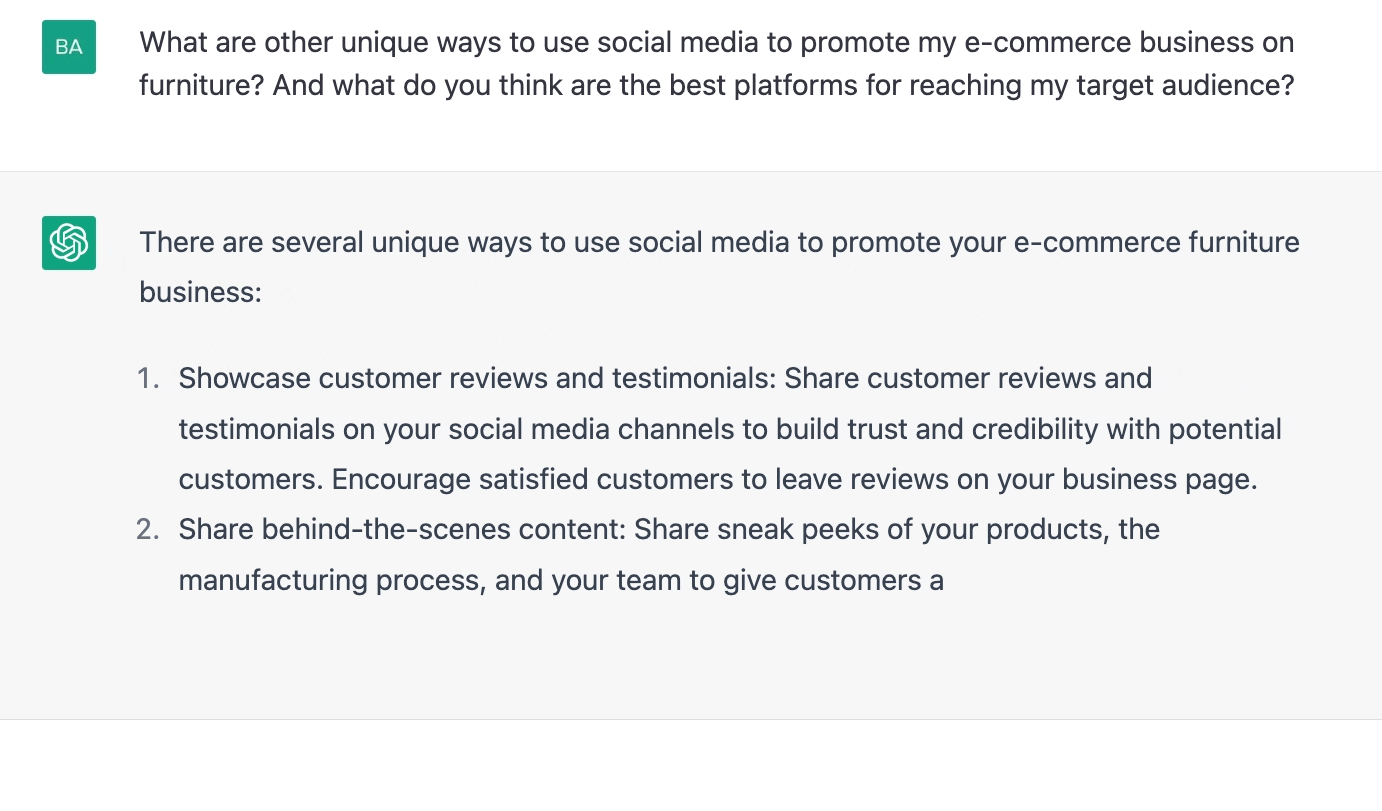 Draft Email Marketing Letters
Create personalized email campaigns with ChatGPT. You can ask for advice on email marketing, including best practices for creating and delivering effective campaigns.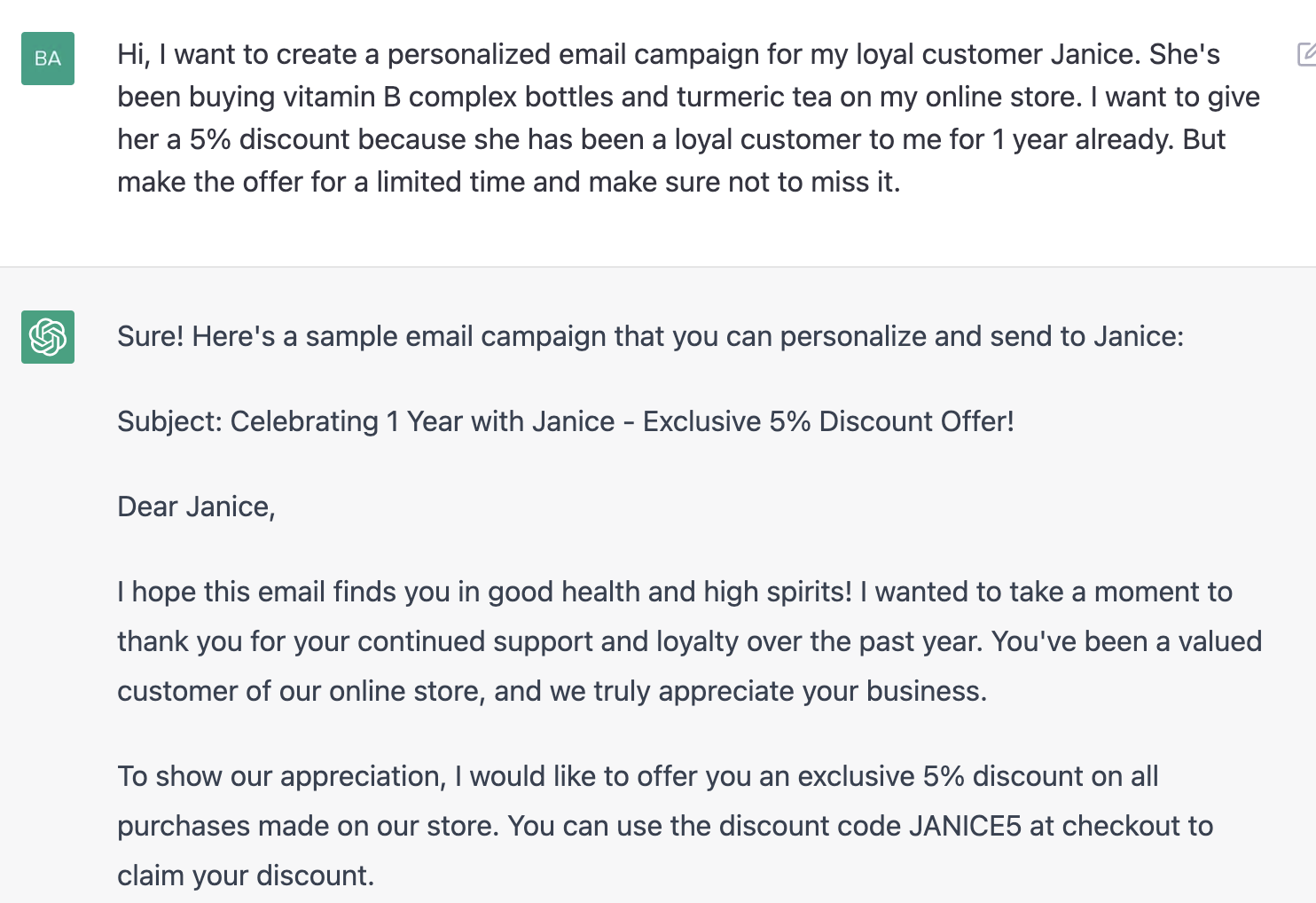 Discuss Affiliate Marketing
Most sales come from affiliate links or promotions by other companies or people. If you aren't aware of this strategy, ChatGPT can provide information and advice on affiliate marketing, including how to attract and retain affiliates and measure success.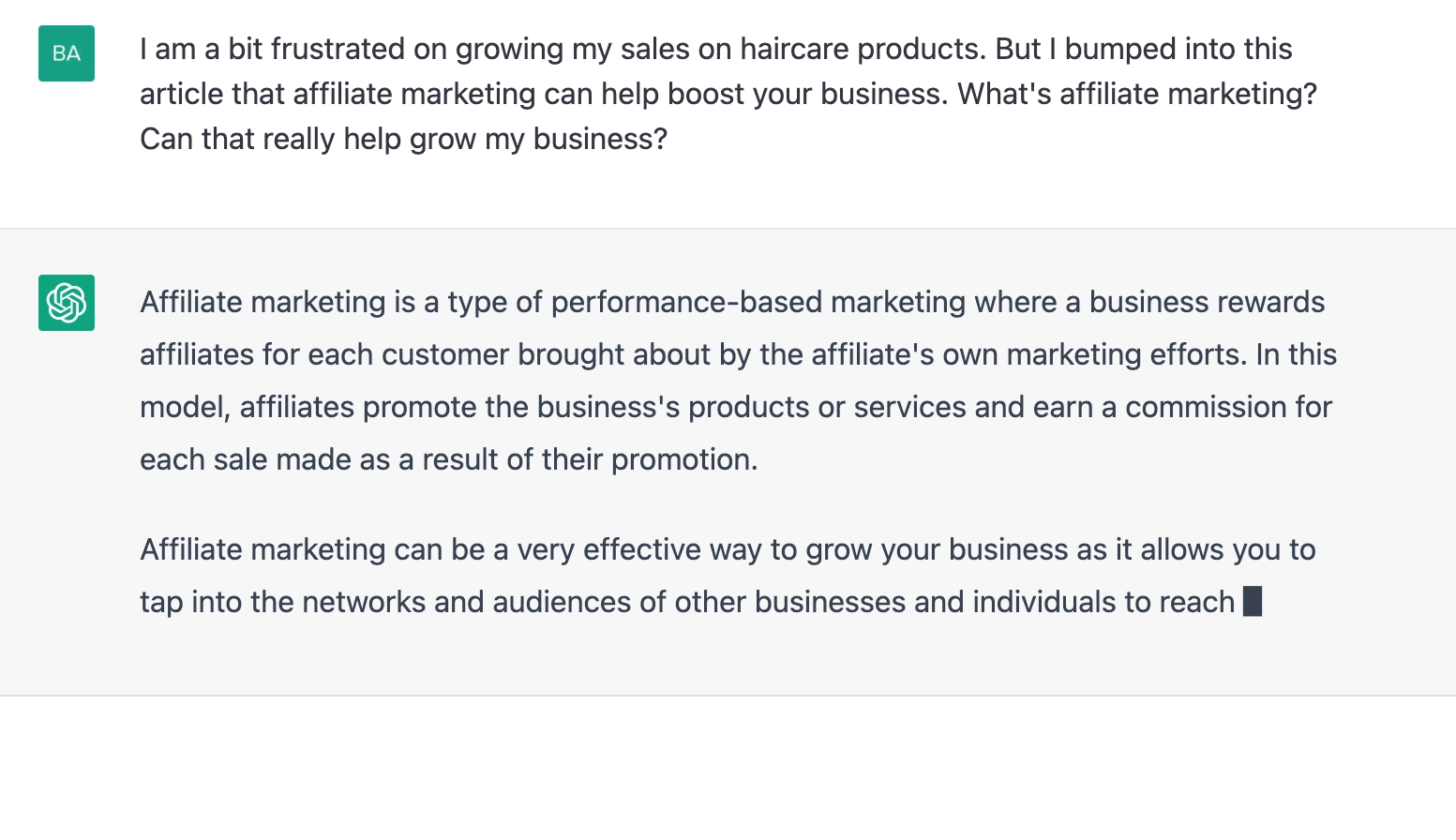 Explain How Influencer Marketing Works
Social media influencers and celebrities promoting products are one of the key factors why businesses and companies grow faster. ChatGPT can give advice on how to use influencer marketing, including identifying and working with relevant influencers and measuring success.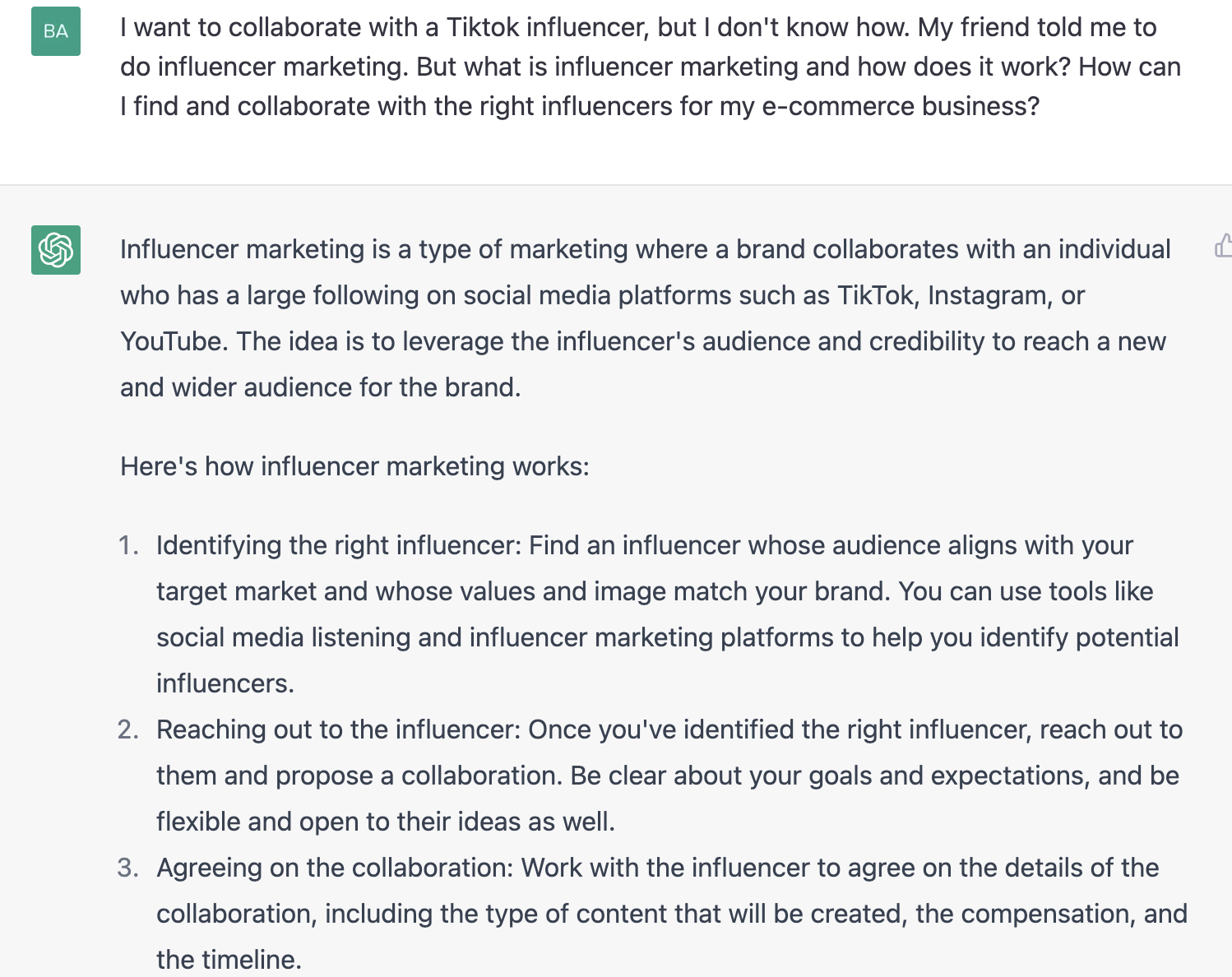 User Experience Insights
E-commerce customer experience centers around making the customer feel valued and satisfied, which leads to increased sales. Providing a positive experience can turn a one-time shopper into a dedicated customer. ChatGPT can provide information and advice on improving the user experience on e-commerce websites, including website design, navigation, and functionality.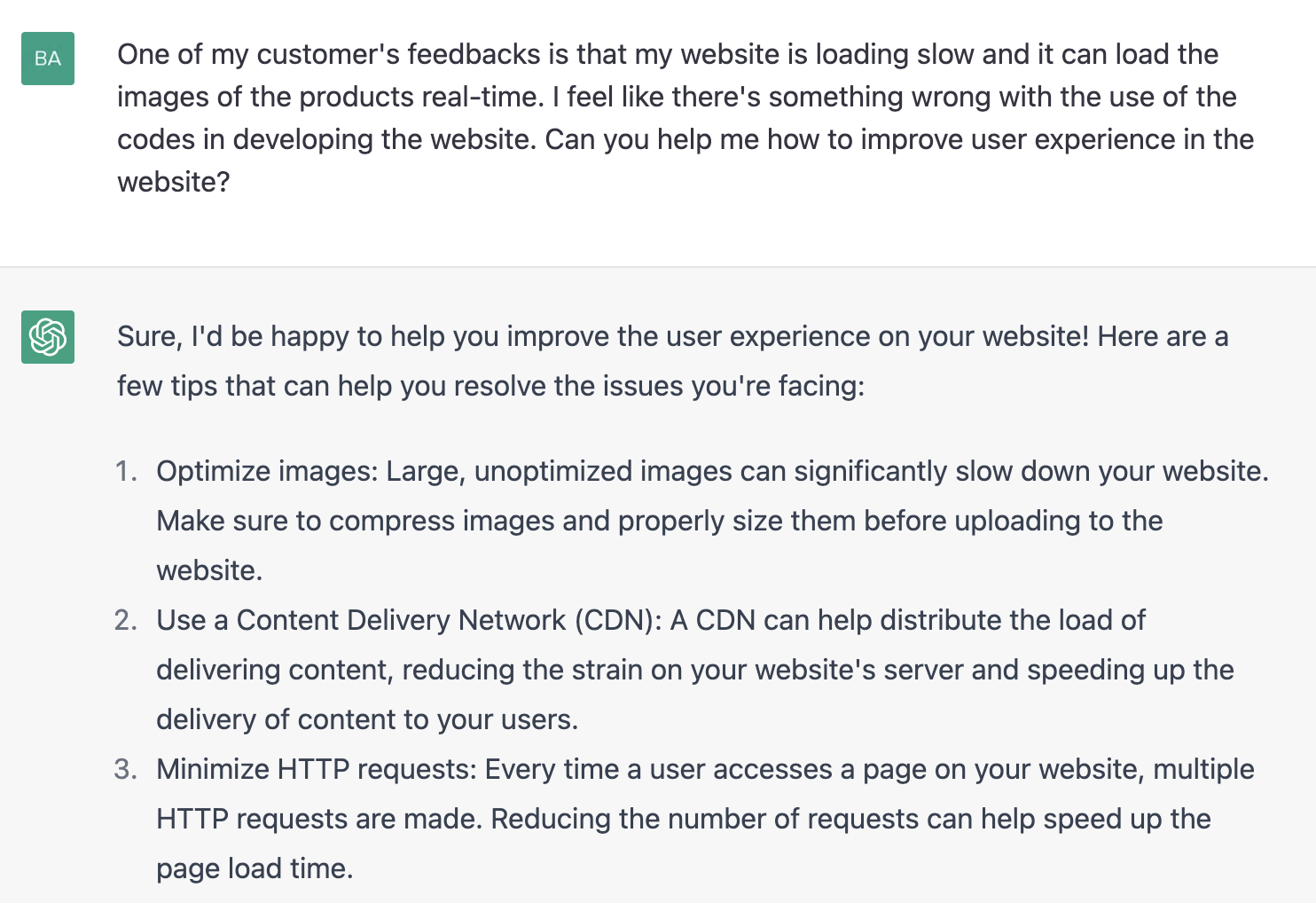 Provide Mobile Optimization Techniques
Now that most people use their mobile devices to look for the latest products and services, it's also high time for businesses to optimize their websites for mobile viewing. ChatGPT can suggest how to optimize e-commerce websites for mobile devices, including responsive design and mobile-friendly features.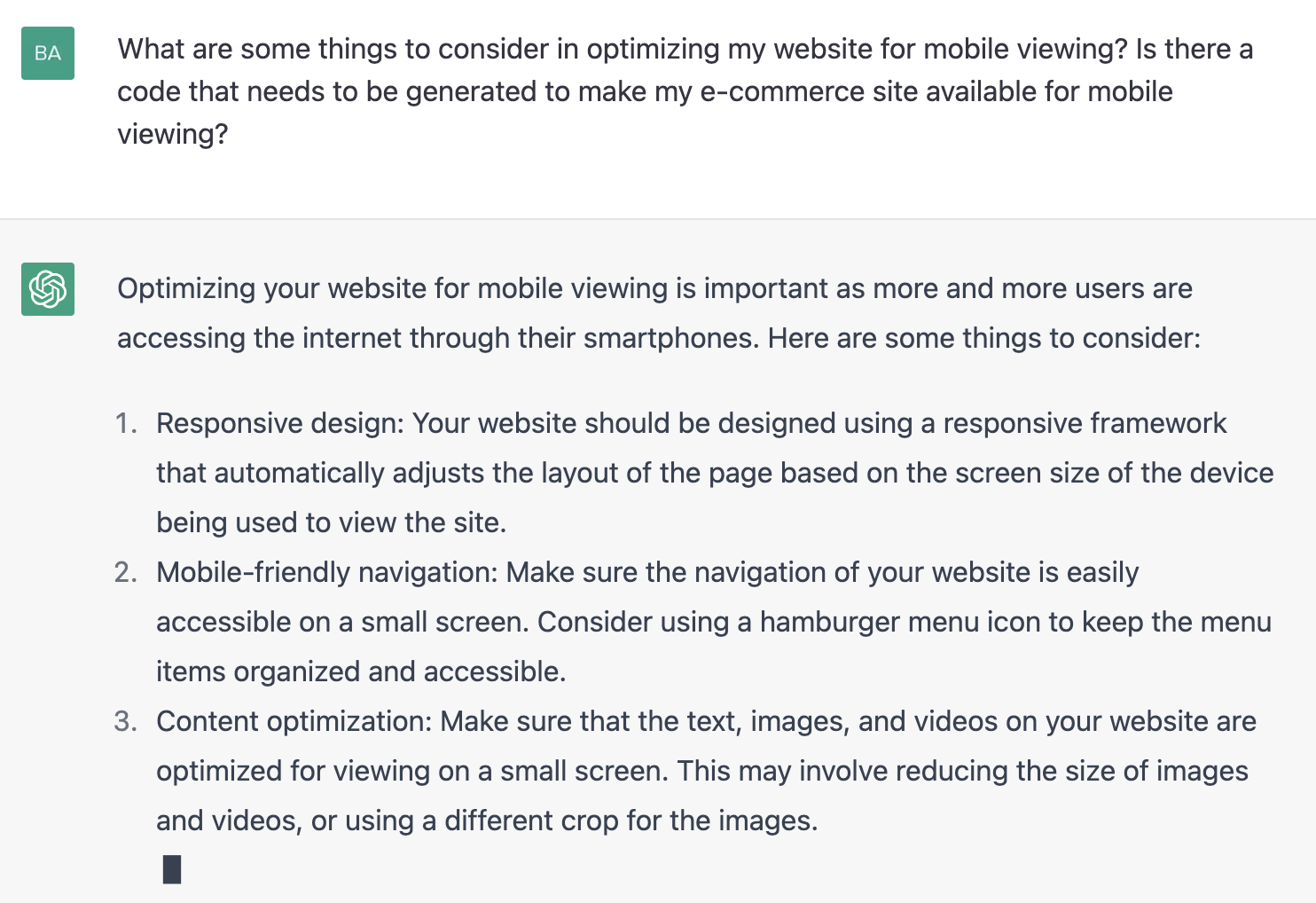 Suggest SEO-friendly Techniques
Most online sellers and businesses use SEO to make their websites rank higher in search results. ChatGPT can provide information and advice on search engine optimization to improve their search rankings and visibility.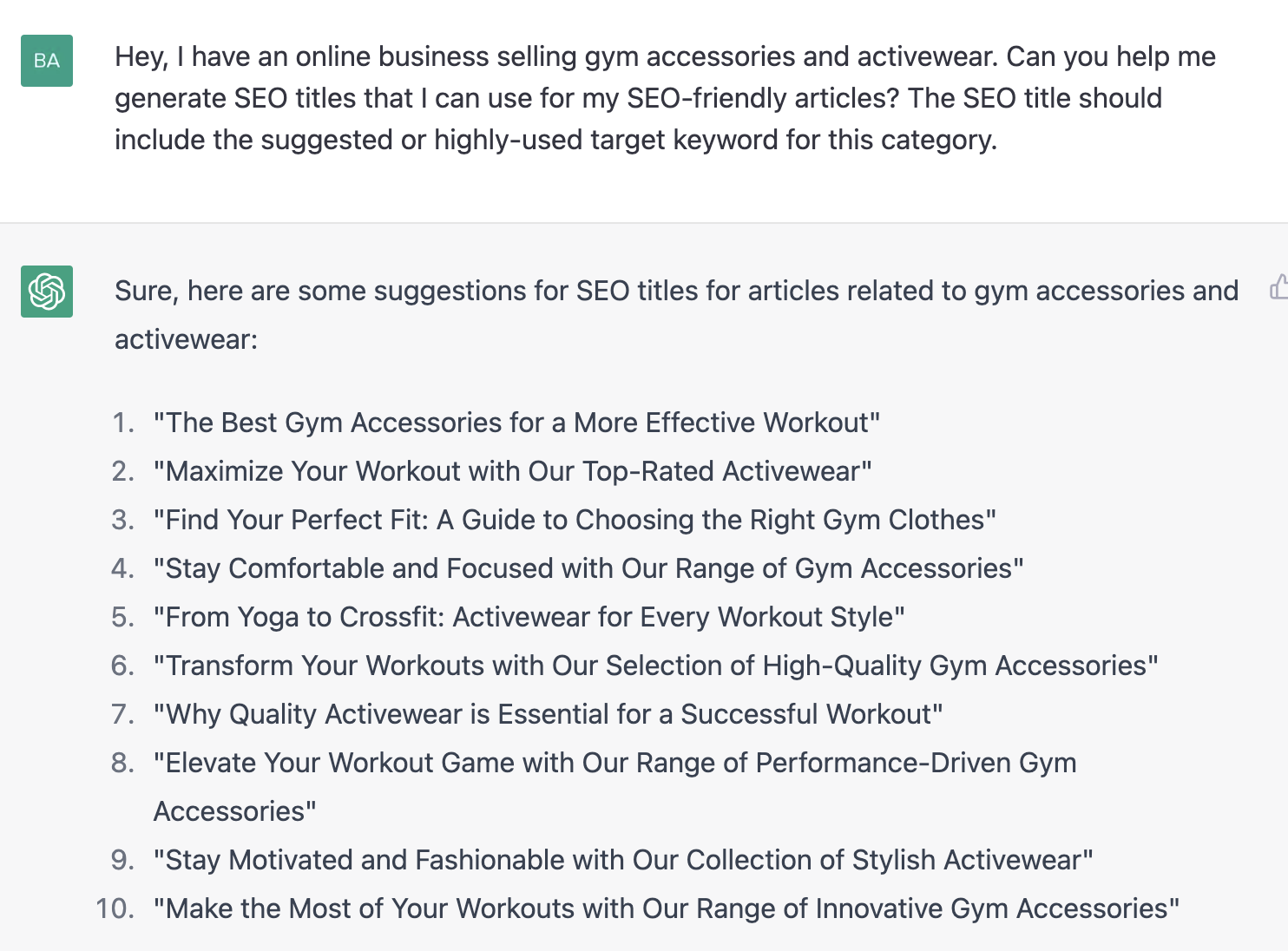 Proofread or Draft Content
Creating content and publishing on a daily basis helps gain traction online. ChatGPT helps E-commerce companies manage their website content, including product descriptions, images, and pricing information.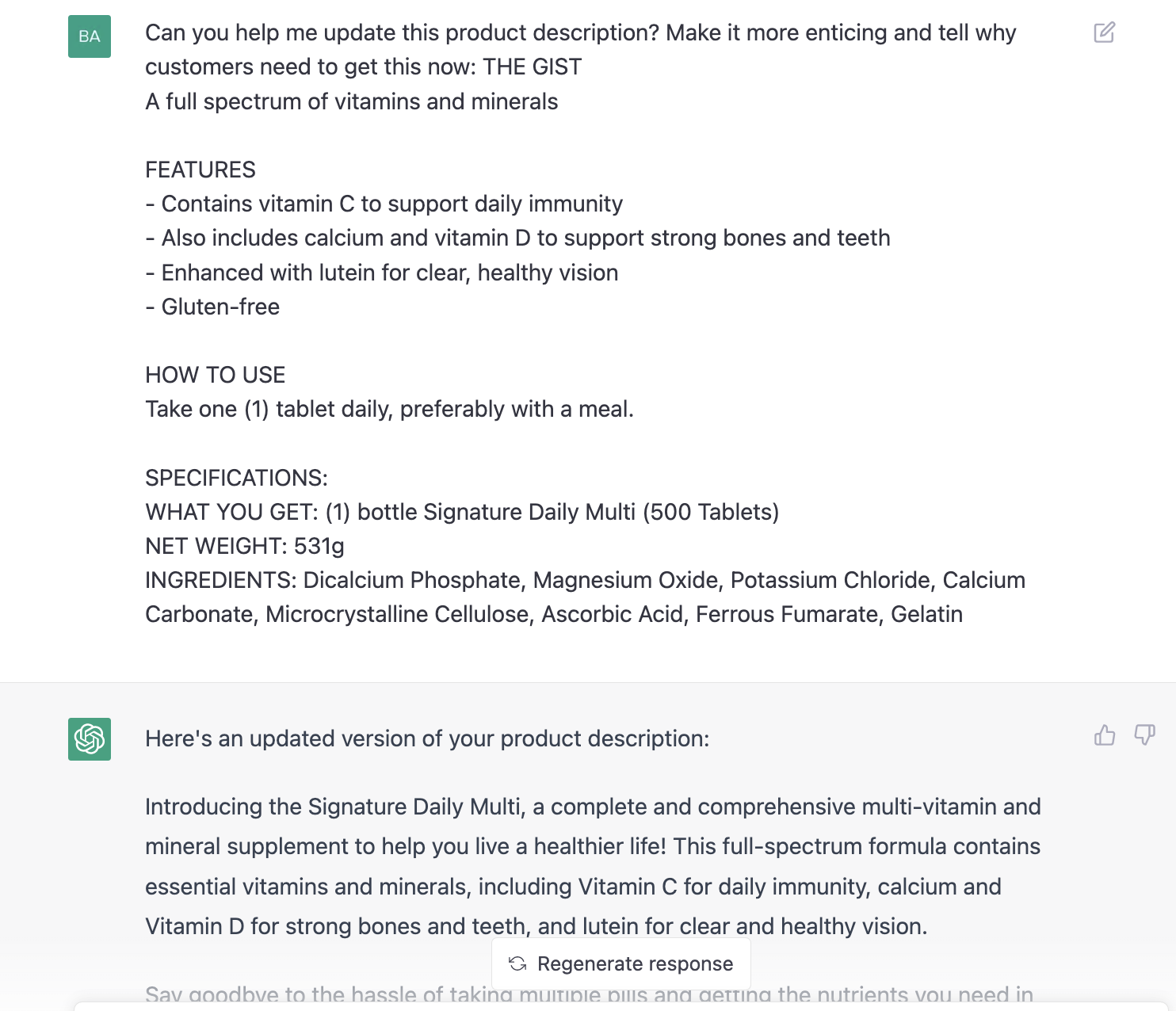 Suggest Analytics and Metrics
ChatGPT can give you useful tips on tracking and analyzing e-commerce data, including website traffic, conversion rates, and customer behavior. This will help you gain knowledge on how to properly map your customer's map journey on your website.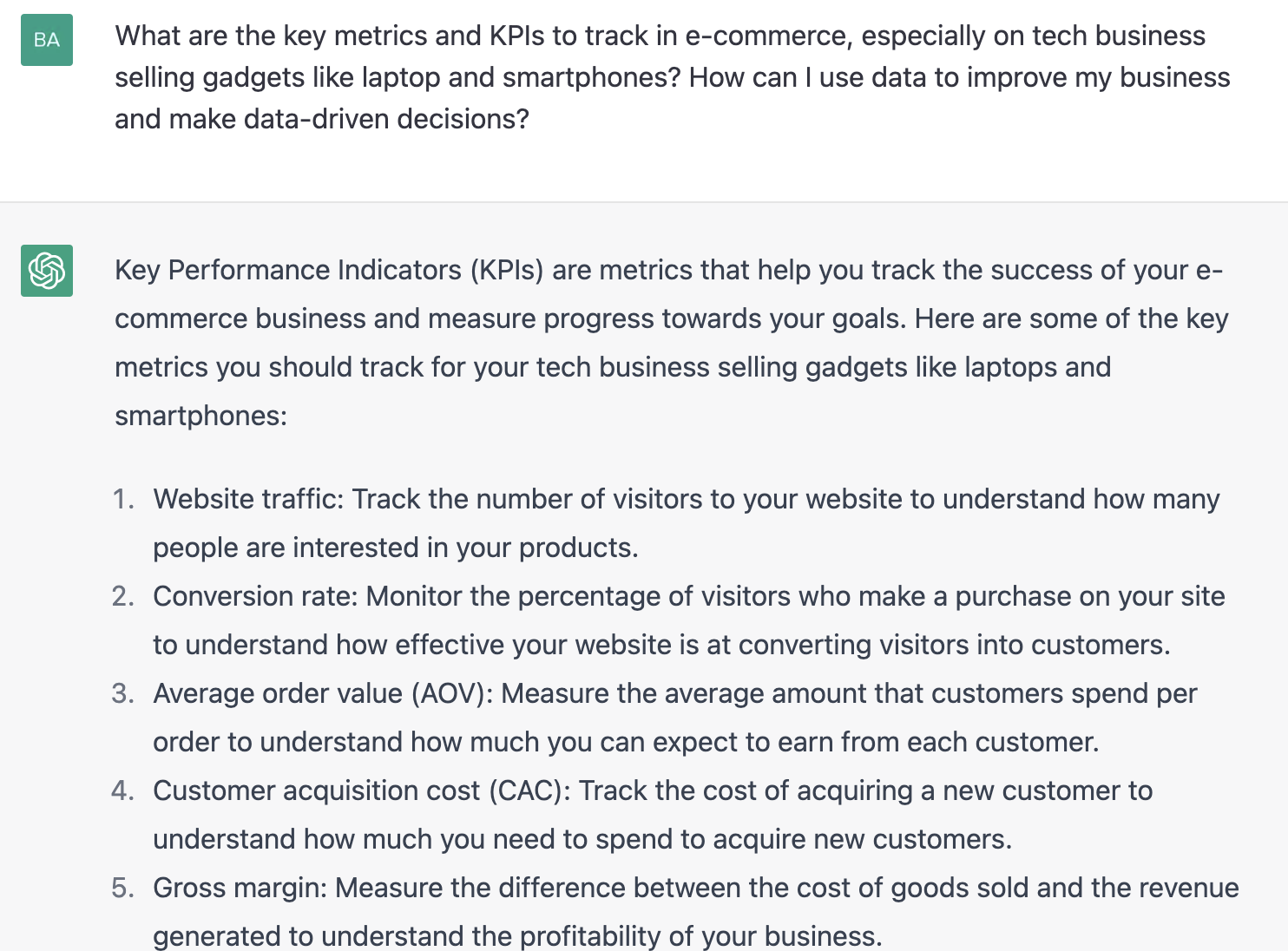 Final Thoughts
These are just a few examples of the many ways that ChatGPT can be used in e-commerce to improve efficiency, increase sales, and provide better customer experiences. By leveraging the advanced capabilities of ChatGPT, your e-commerce business can stay on top of the game and be at par with other booming businesses in the industry.
Go ahead and try these tips for yourself, and be amazed at what ChatGPT can do. If you have any other ideas on what ChatGPT can do to help your online business grow in the E-commerce field, feel free to share!