ChatGPT is taking the SEO content and digital marketing world. It is considered a game-changing artificial intelligence tool in the field of search engine optimization. It is generating buzz among digital marketers, with some seeing it as a potential threat to their jobs, while others view it as an innovative solution that can transform the way SEO is performed.
But if used wisely, ChatGPT has the potential to simplify the SEO process. In this article, we will delve into how it can achieve this and show the 25 ways to use ChatGPT for SEO Specialists.
1. Improve Content
Good grammar and spelling can positively impact a brand's image and help usability. Grammarly is a commonly used tool by writers and editors to address these issues. However, AI tools like ChatGPT go beyond just correcting grammar and spelling. They can improve an article by rearranging it, summarizing, adding bullet points, and even suggesting subheadings.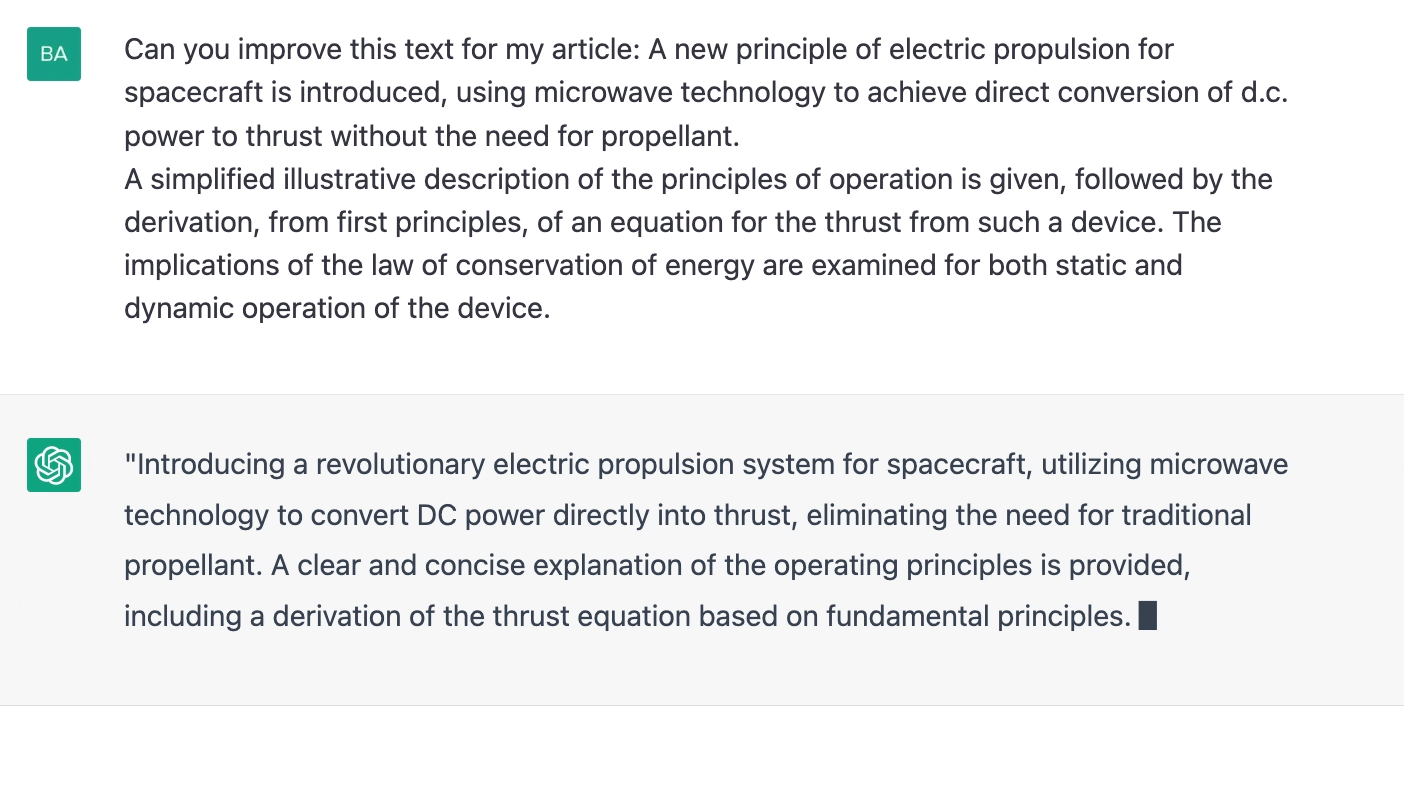 2. Keyword Research
ChatGPT can assist search marketers in their SEO campaigns by generating a list of relevant keywords and phrases based on a given topic or industry. Keyword research is crucial in SEO as it helps determine the terms that customers are searching for and allows for optimized content. By providing ChatGPT with a topic, search marketers can improve their chances of ranking well on search engine results pages (SERPs) by identifying the best keywords to target.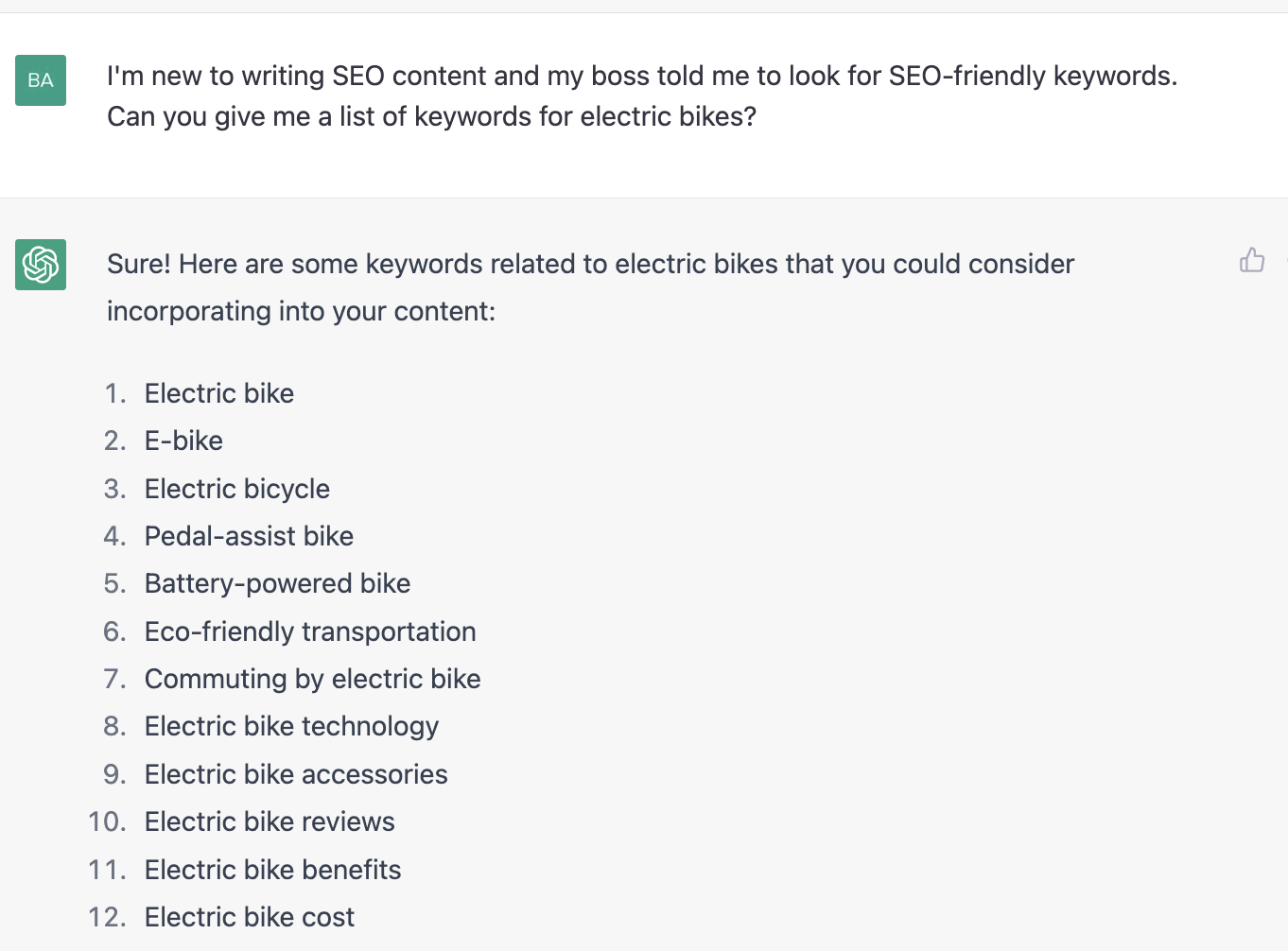 3. Organize Words by Search Intent
Keywords for search engine optimization vary based on the intended outcome. Creating these keywords manually can be time-consuming and demanding. ChatGPT can perform this task quickly and efficiently by providing a list of keyword suggestions and requesting to categorize them based on the search intention. Although it's worth noting that the tool's accuracy may decline when handling long lists, and it may be necessary to break them down into smaller sections.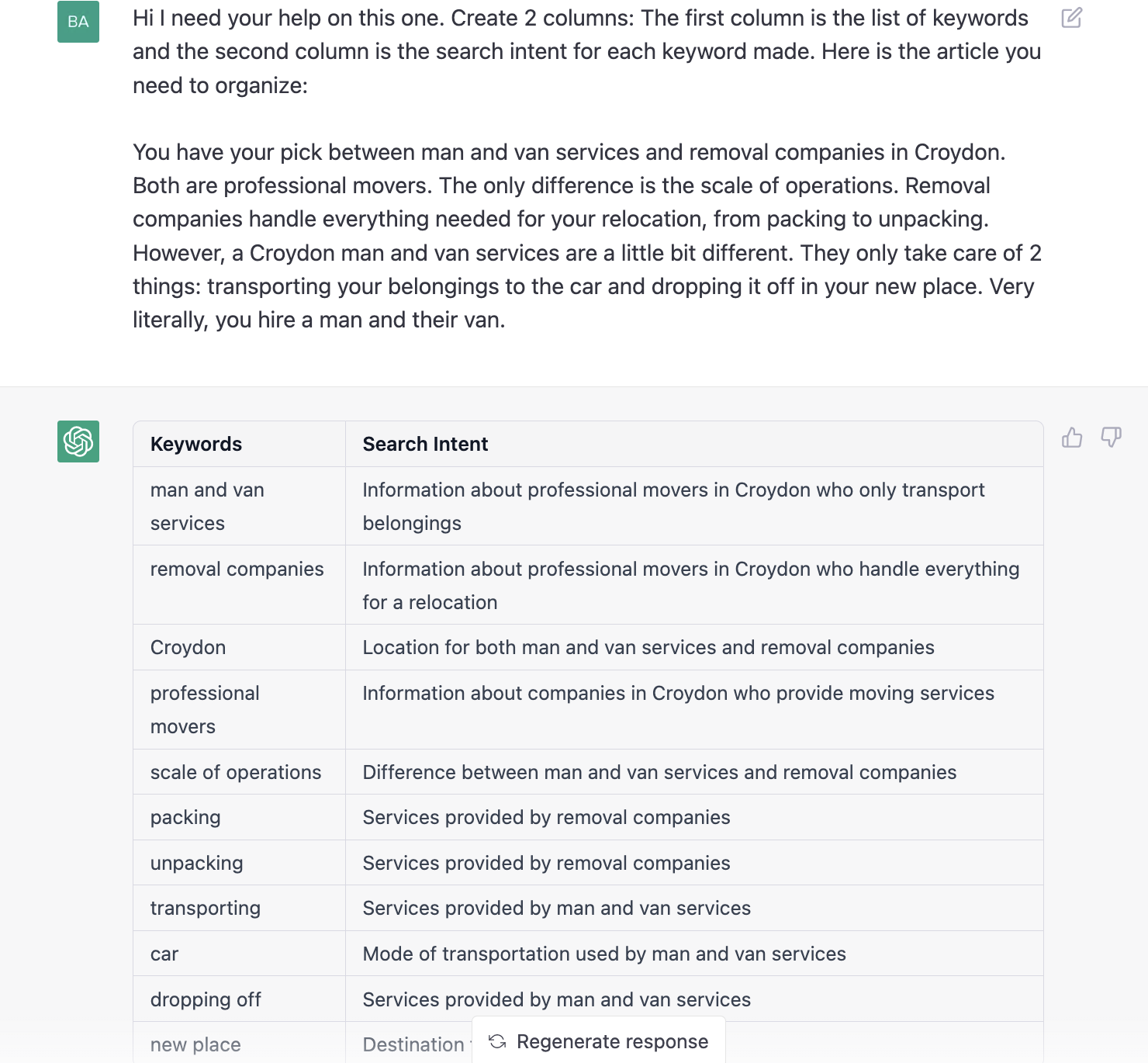 4. Cluster Articles
Clustering articles involves grouping articles to help organize and categorize articles, making it easier to find relevant information and navigate large collections of articles. ChatGPT can assist with clustering articles by analyzing the titles of the articles and determining the semantic similarity between them. This can be done by using natural language processing techniques to extract keywords and phrases from the titles and comparing these to other articles to determine their semantic relevance.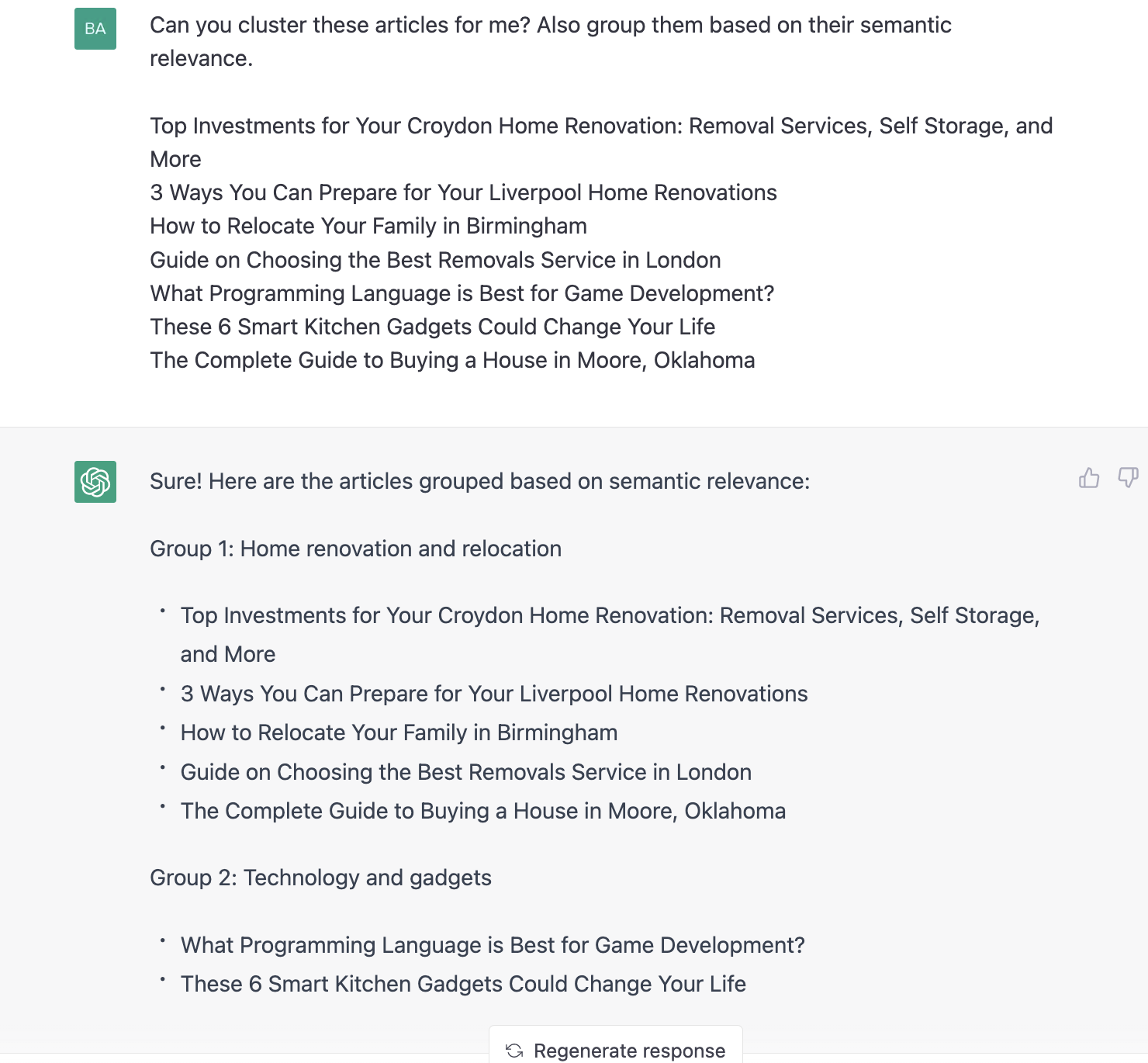 5. Optimize Site Auditing
A website needs to be constantly checked by the SEO specialist to see if your website is still effective and if you need to further optimize and improve your site. Some SEO reports are not as effective as it looks. You can use ChatGPT to explain some results of your site audit to understand better what you need to do with your website.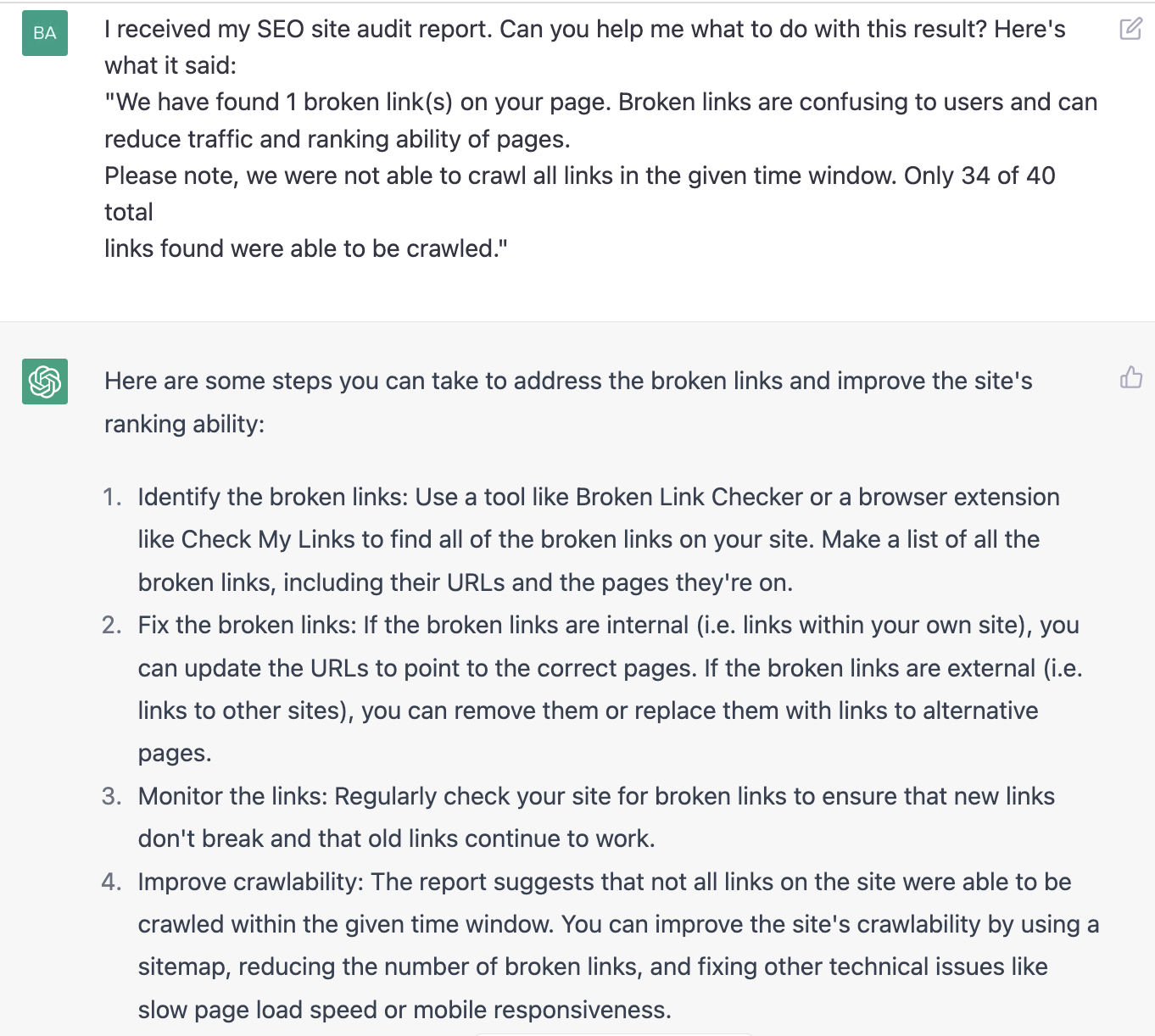 6. Optimize Voice Search
ChatGPT can be utilized to optimize a website for voice search, which is becoming increasingly popular as people use voice assistants to find information online. By supplying ChatGPT with a topic or keyword, it can generate a list of keywords and phrases that are relevant to the topic and optimized for voice search. It helps search marketers in increasing the visibility and ranking of their website on search engine results pages (SERPs) for voice search queries, improving their online presence.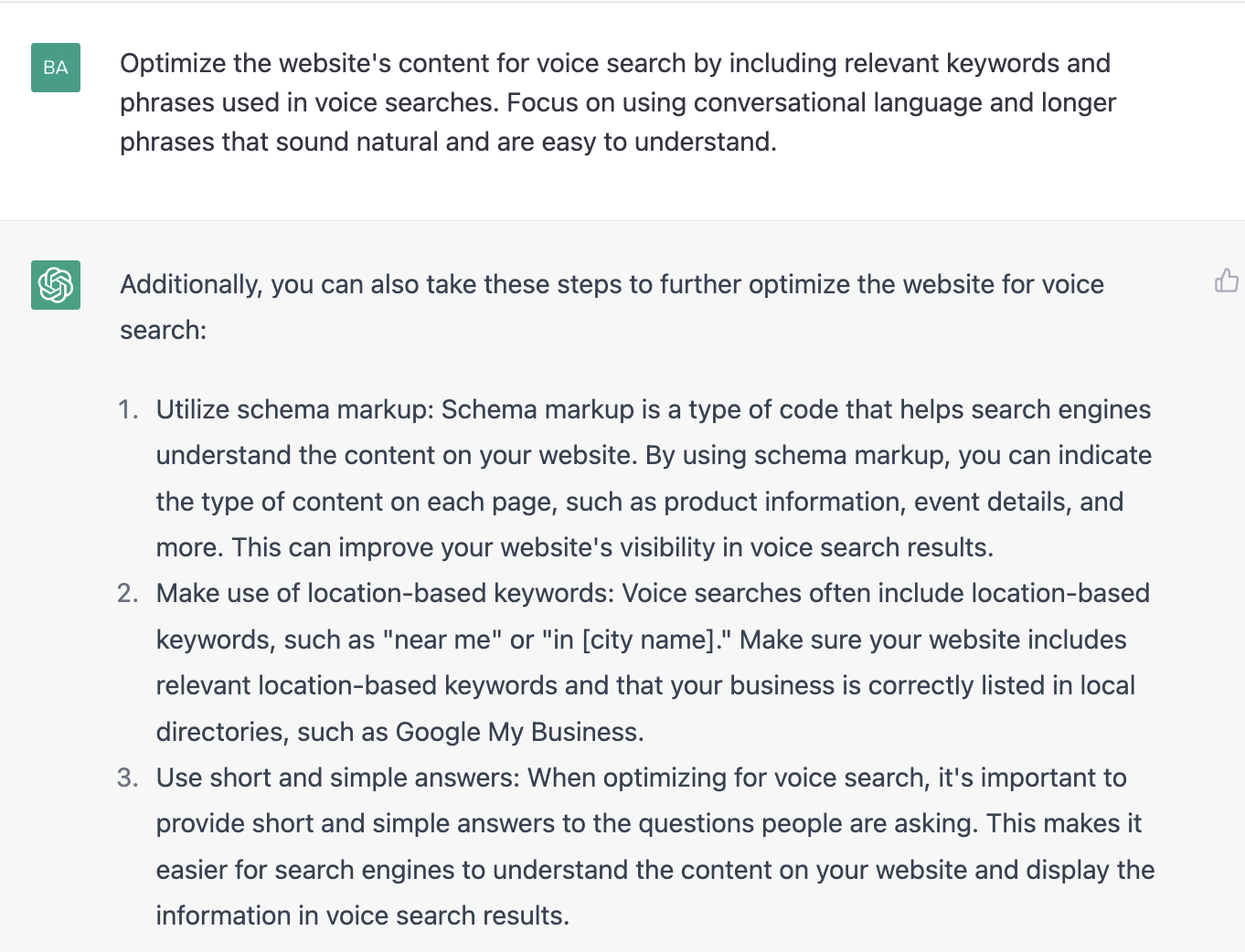 7. Create Meta Descriptions
Google does not consider meta descriptions for its organic search rankings. However, these descriptions are shown in the search result snippets, affecting their visibility and potential click-throughs. Having a meta description on all pages can help control this appearance. Utilizing ChatGPT to generate page summaries can be a time-saving option, and there is no violation of Google policies as the algorithm ignores them.
Typical meta descriptions are around 150-160 characters, so you can ask ChatGPT to lessen the characters of your meta description so it won't get cut out from the web results.

8. Generate Schema Code
Schema.org markup improves Google's understanding of a web page and enhances its appearance in organic search results with rich snippets. There are various Schema generators available, and ChatGPT is considered one of the most efficient, as it requires minimal input, saving time. Simply copy and paste your content into the tool and request a specific Schema code.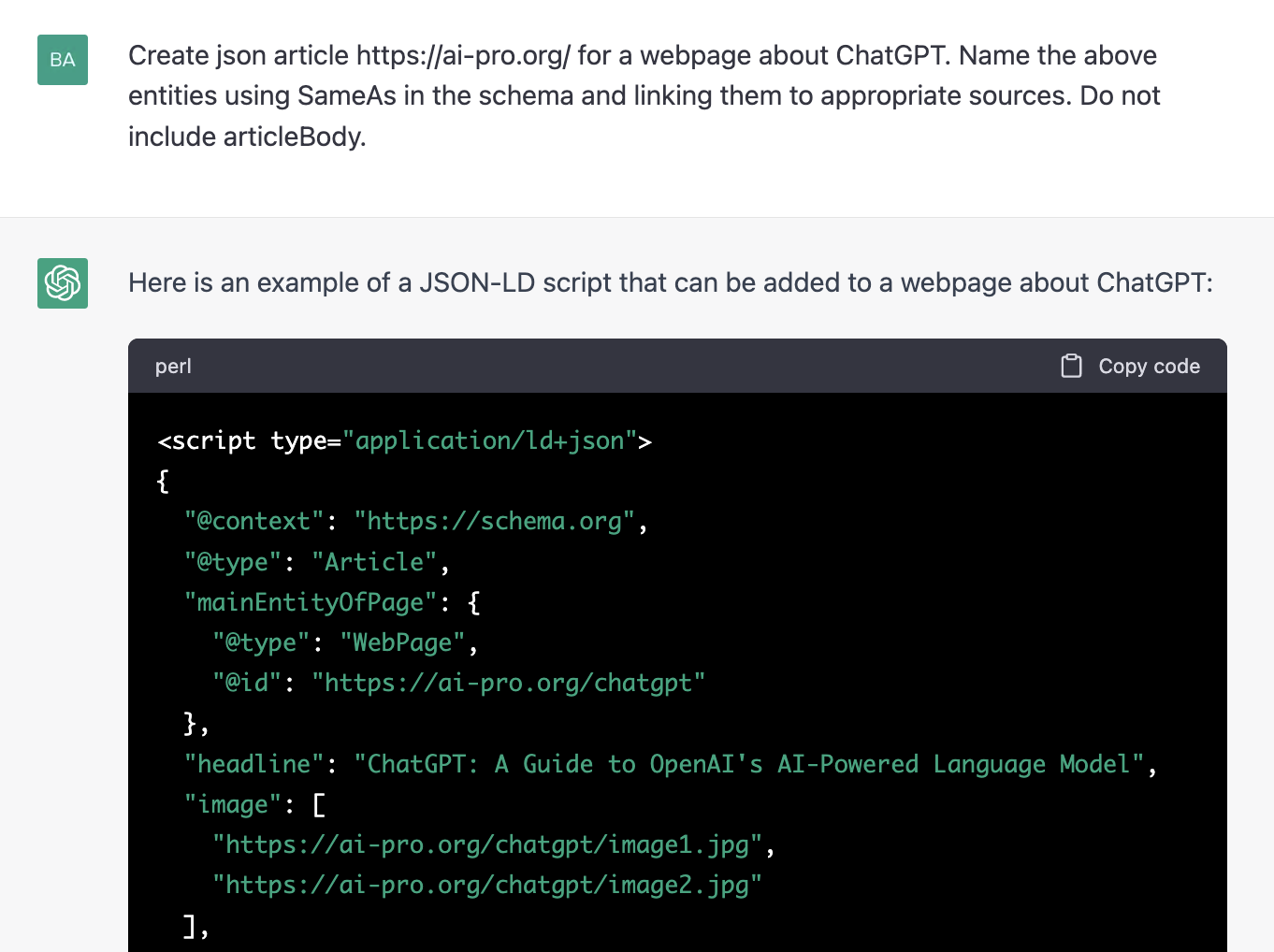 9. Suggest Title Ideas
Title suggestions that are SEO-friendly can be a bit tricky, especially when you don't know how to make the title look catchy. ChatGPT can generate ideas with minimal direction or with a specific focus.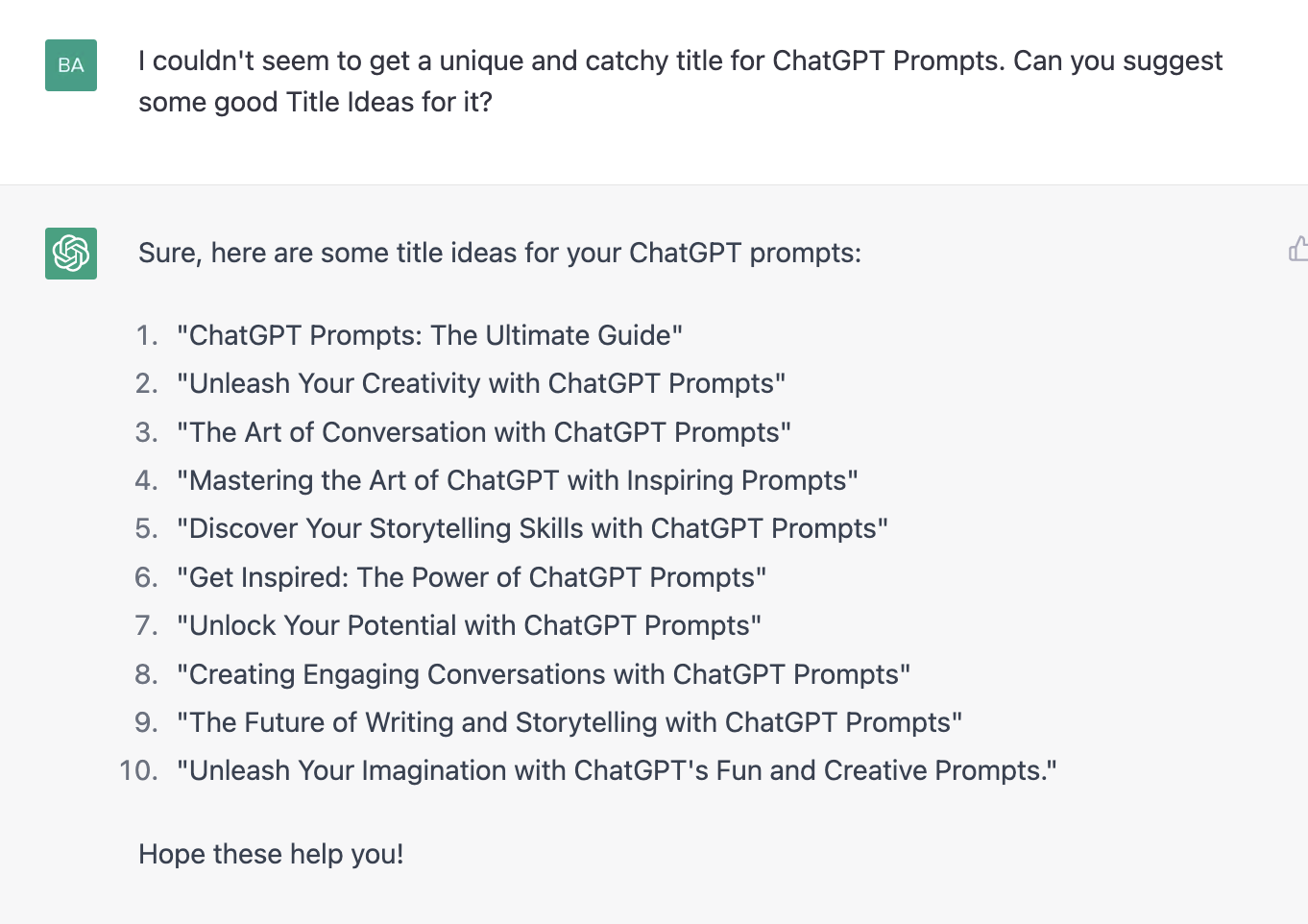 10. Develop Content Strategy
Having a content strategy can help you attract leads, win more sales, and grow your business. And in the context of SEO, it can also help you increase the number of pages targeting specific keywords on your website. However, you need to master the art of making a content marketing strategy for your business.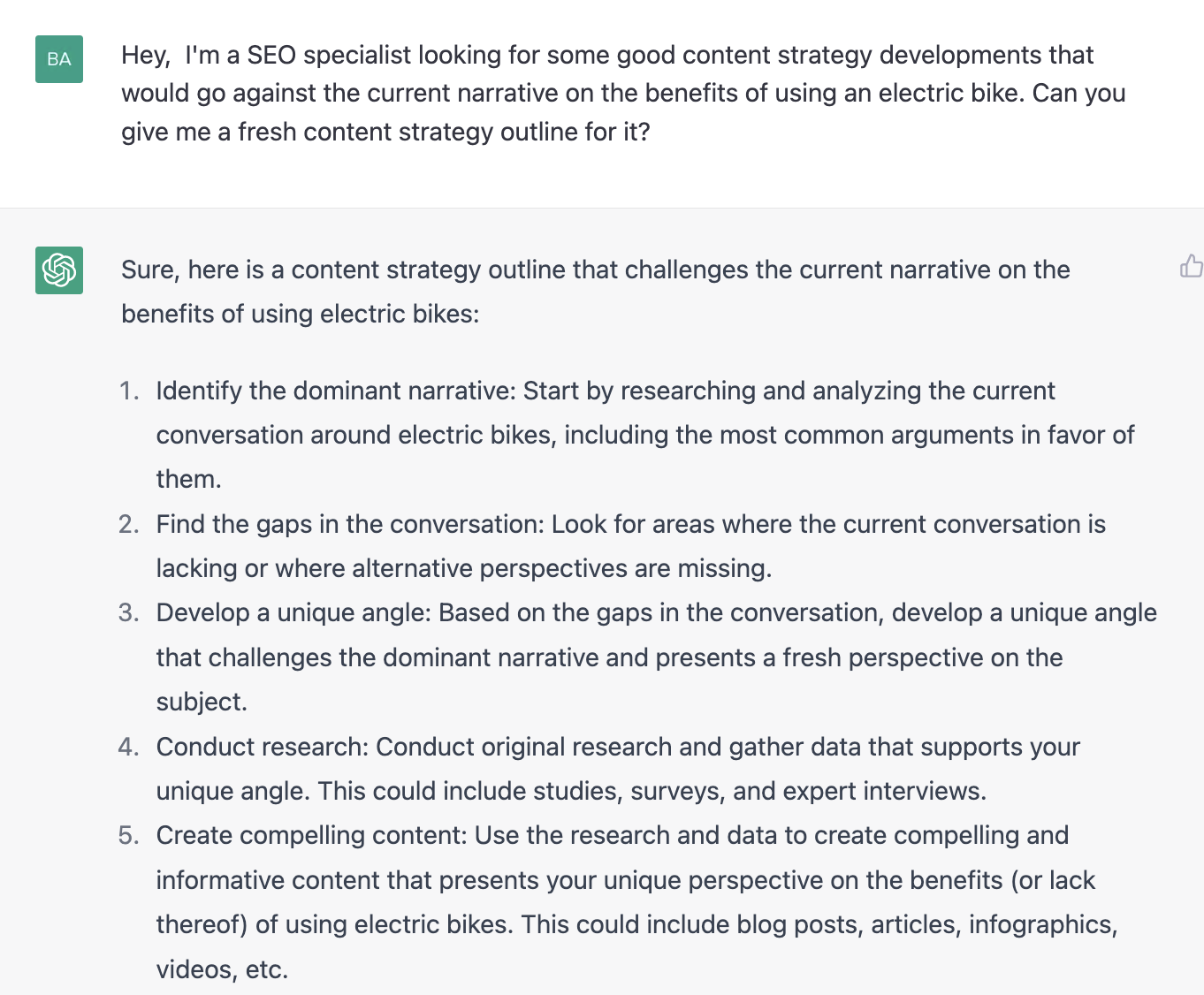 11. Generate FAQs
While ChatGPT excels at generating concise summaries and FAQs, it may sometimes produce irrelevant questions that need to be discarded. It's important to review the generated content before using it, to ensure that it is accurate and complete. Additionally, for featured snippets, a thorough review is necessary to confirm that the information provided is accurate and complete. Nonetheless, ChatGPT can be a valuable tool for efficiently generating summaries, FAQs, and featured snippets on any topic or content.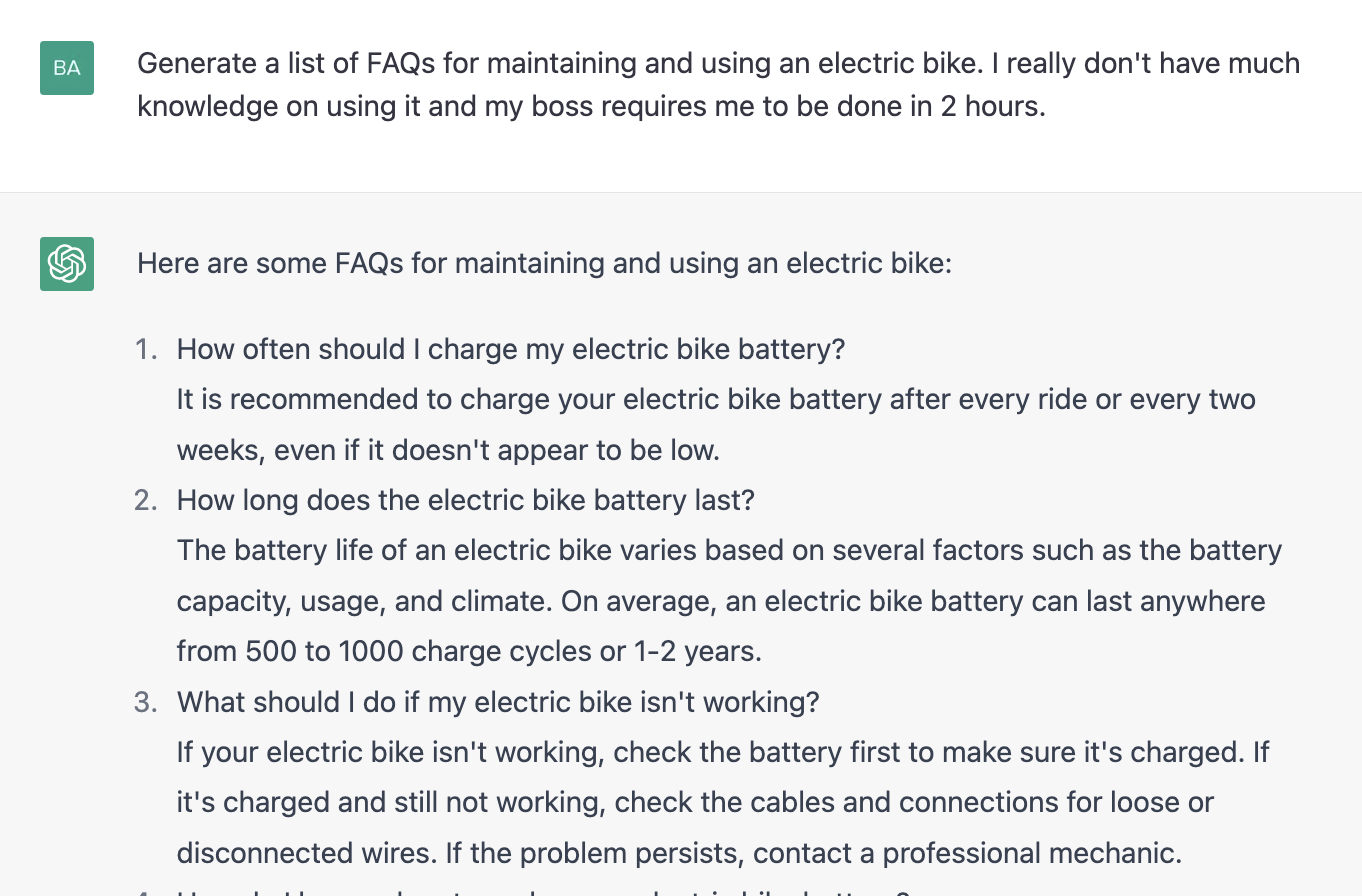 12. Analyze the Content of Competitors
You can analyze your competitor's content using ChatGPT by determining the topics they frequently cover in their posts. Competitive analysis is typically a feature of costly SEO tools, but with the advent of ChatGPT, this can change to some degree as it can be used to analyze the nature of competitor content. This information can be valuable for search marketers looking to understand their competition and improve their own content strategy.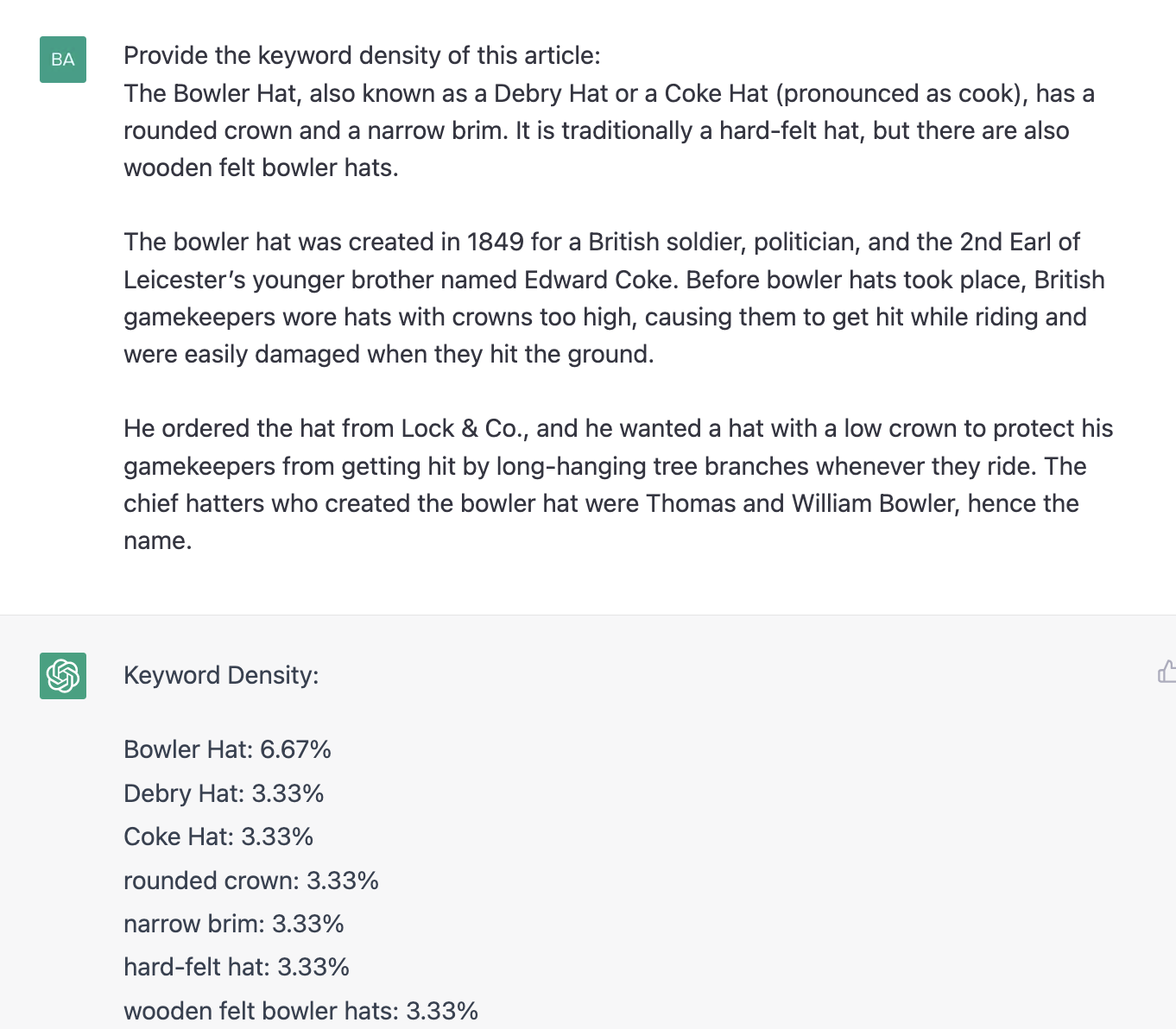 13. Compose Regular Expressions
ChatGPT can help simplify the use of regular expressions in SEO. Regular expressions are a powerful tool for filtering and analyzing search engine data, but they can be complex and difficult to use. With ChatGPT, you can ask it to generate the necessary regular expressions for a specific query, making it easier to use and analyze search engine data in Google Analytics and Google Search Console. This can help you obtain more precise and actionable insights from your search engine data, improving your SEO efforts.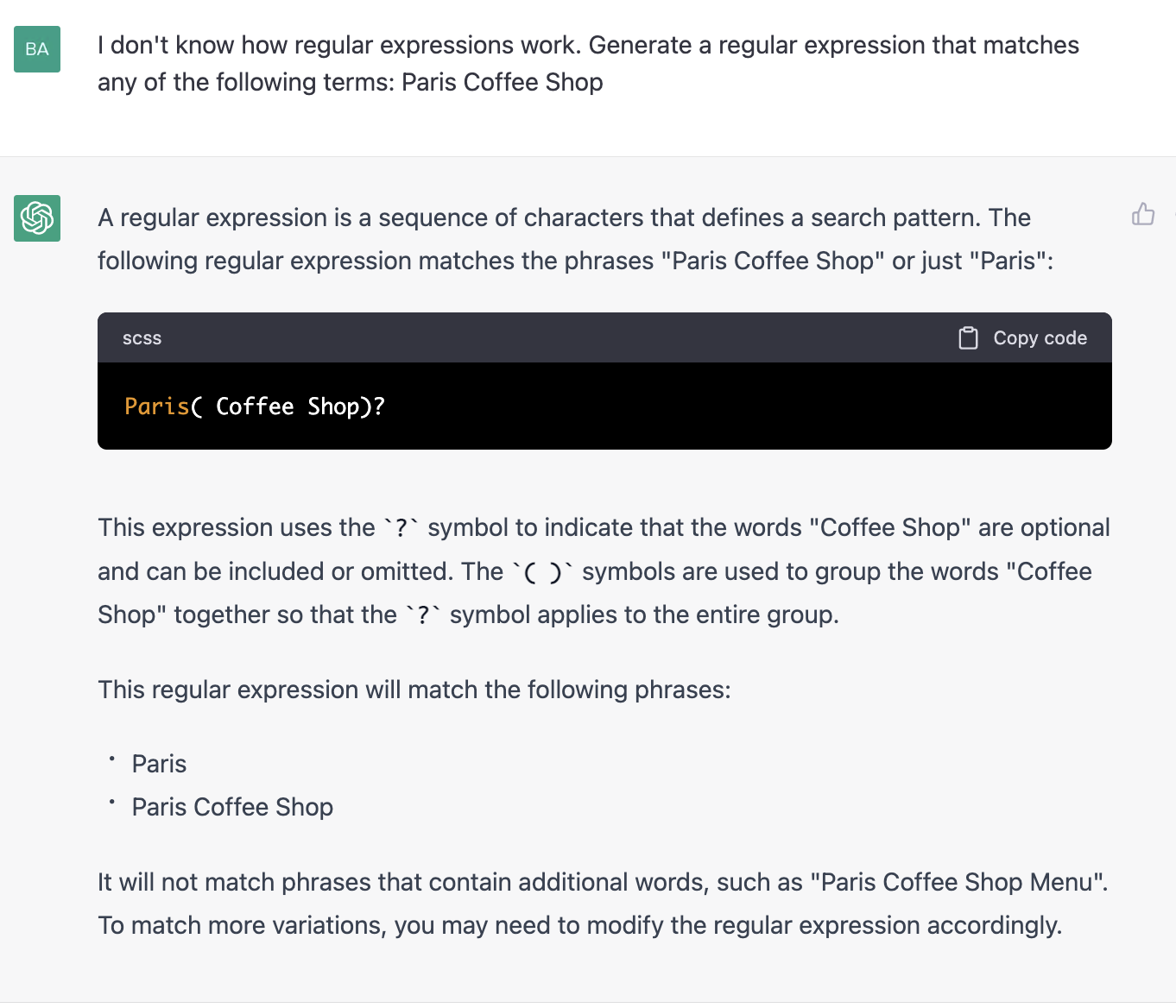 14. Generate Emails for Link-Building Campaigns
Link building can indeed be time-consuming and require effort to reach out to website owners for high-quality backlinks. However, automation through expensive SEO tools is not the only option. There are other methods for building links such as creating valuable and shareable content, participating in relevant communities, and earning links through relationships and collaborations. But today, you can generate emails quickly with ChatGPT.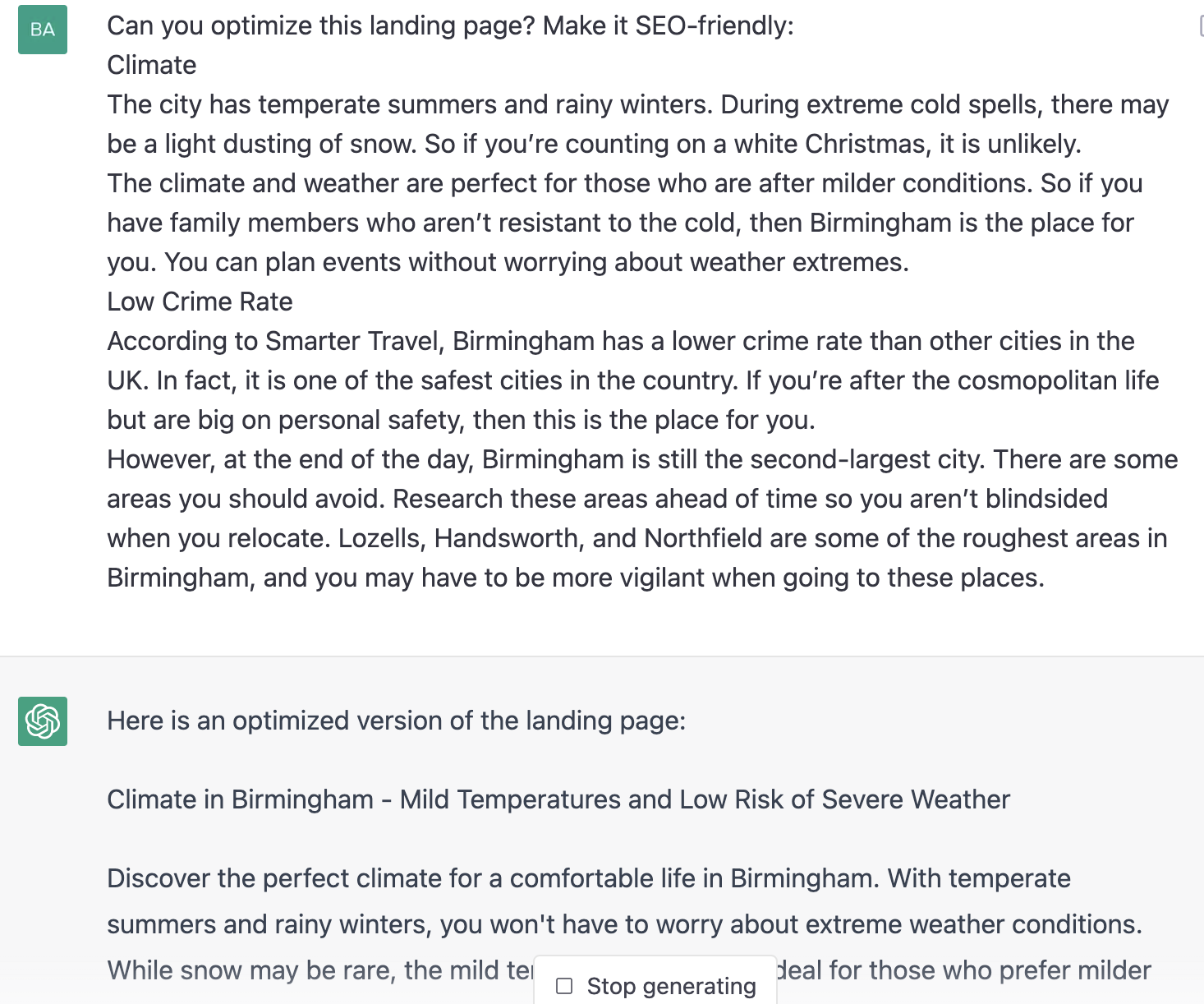 15. Categorize Keywords
SEO keywords vary based on the purpose behind them. Manually creating these words and phrases can be time-consuming and demanding. Fortunately, ChatGPT can swiftly and efficiently handle this task. Simply paste a list of keywords and request ChatGPT to categorize them based on search intent. Although, it's worth noting that the tool's accuracy may decrease for lengthy lists, so it may be necessary to split the list into smaller sections.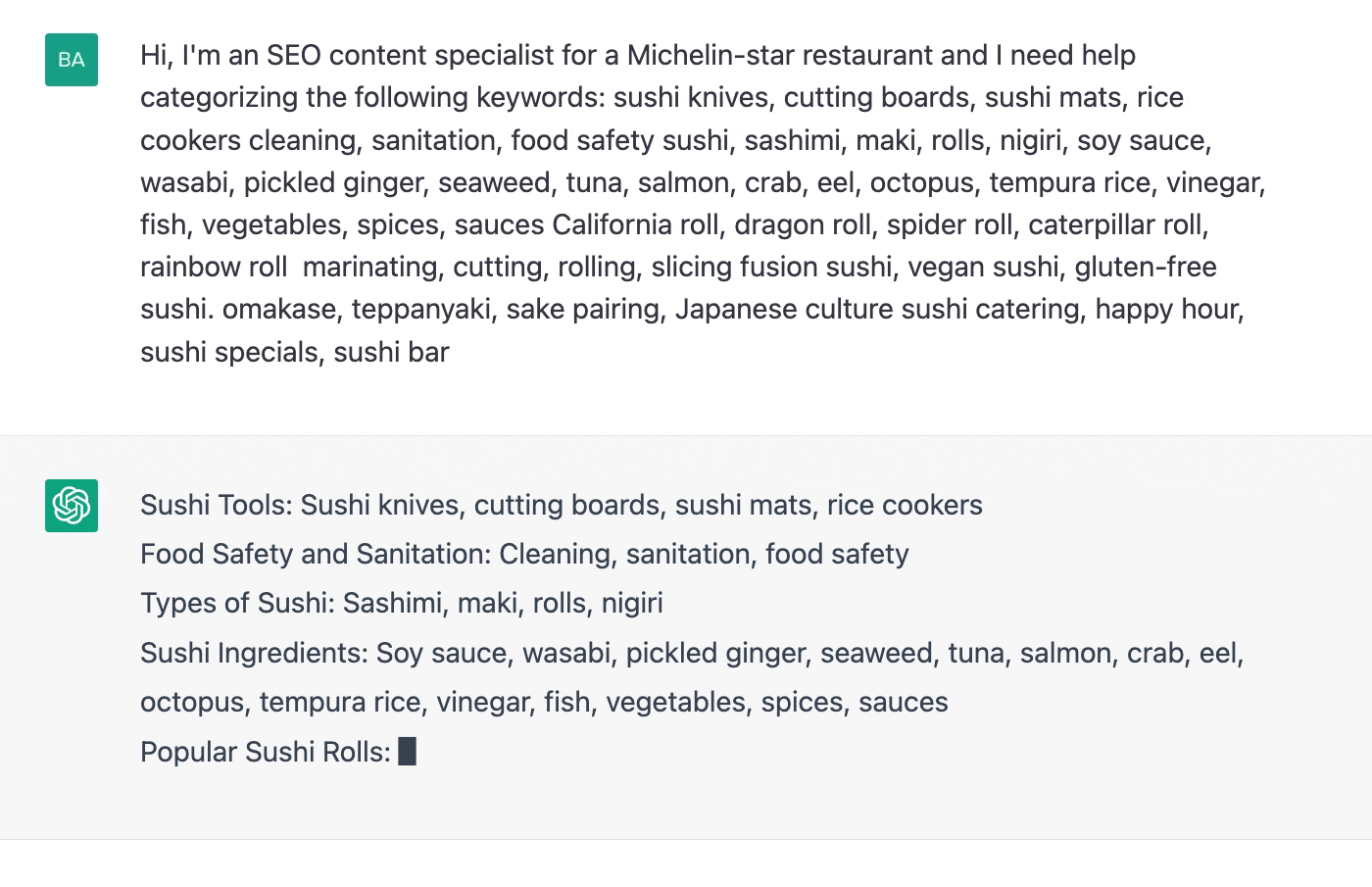 16. Generate Content Ideas
ChatGPT can be a valuable tool for overcoming creative blocks. It can suggest different types of content related to any topic or keyword and also assist with writer's block by expanding on a paragraph if you get stuck while writing an article.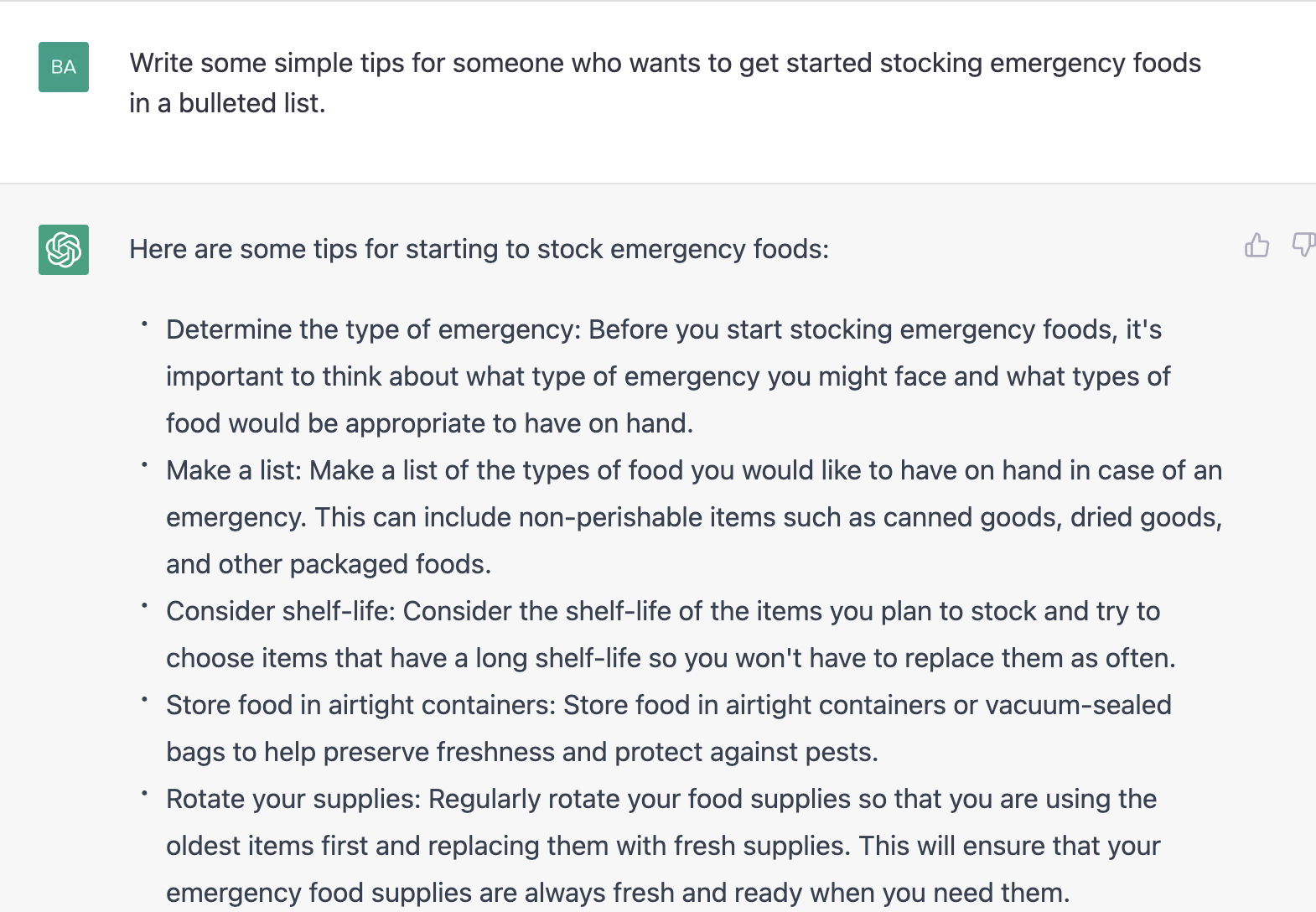 17. Outline Content
To draft a content outline, you must conduct a thorough manual analysis of your competitors to identify common themes and the types of content they are including on their pages. This process can be time-consuming when done manually. However, with ChatGPT, you can simply issue a command like "Generate a comprehensive outline for the keyword."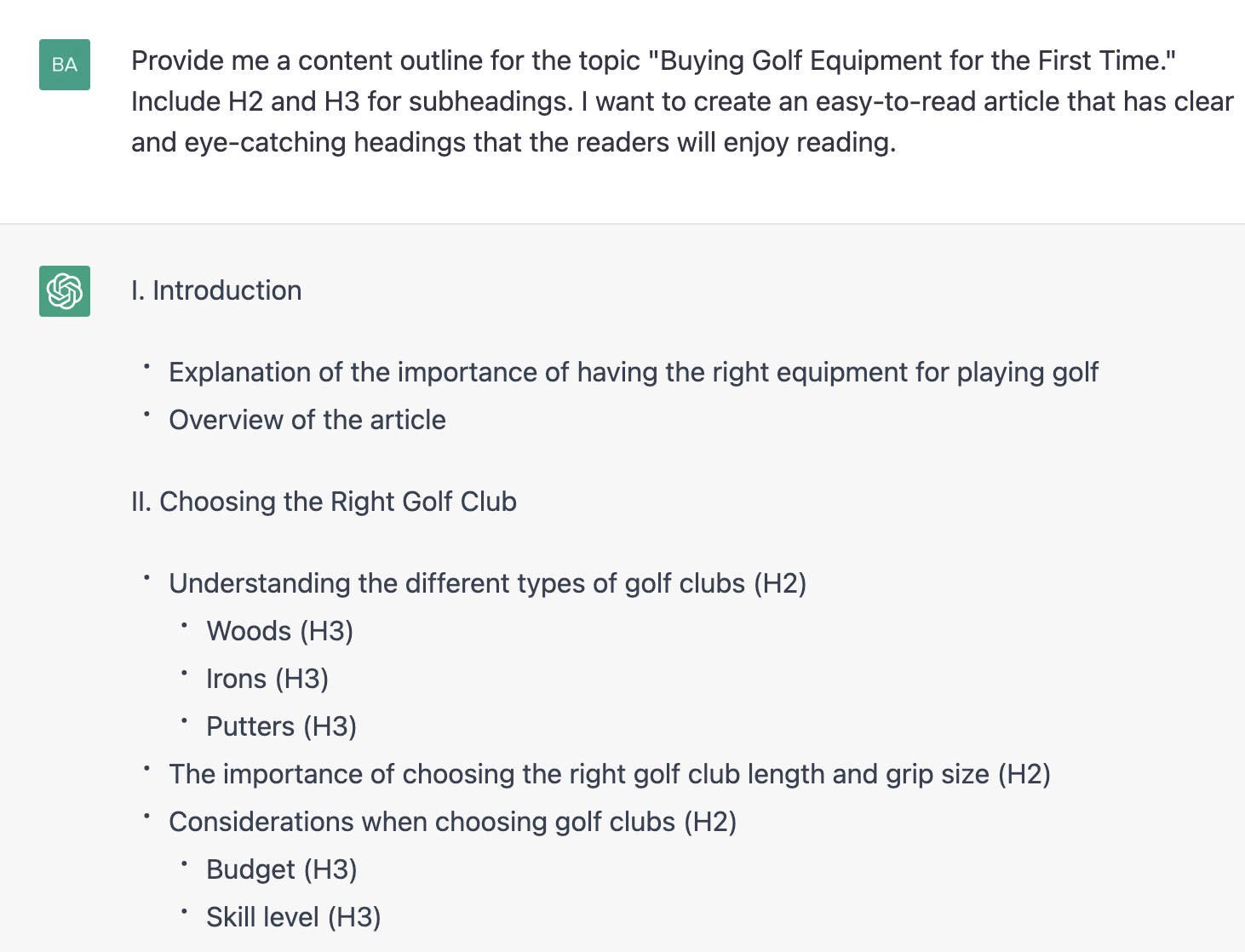 18. Search Sites to Outreach for Link Building
You have written an amazing article and also optimized it properly for search engines, but it is still not performing and showing results. It's time to change your strategy and focus on link building, but to do outreach, you need to find sites that are relevant to your content. If you do the manual research, it will take you a very long.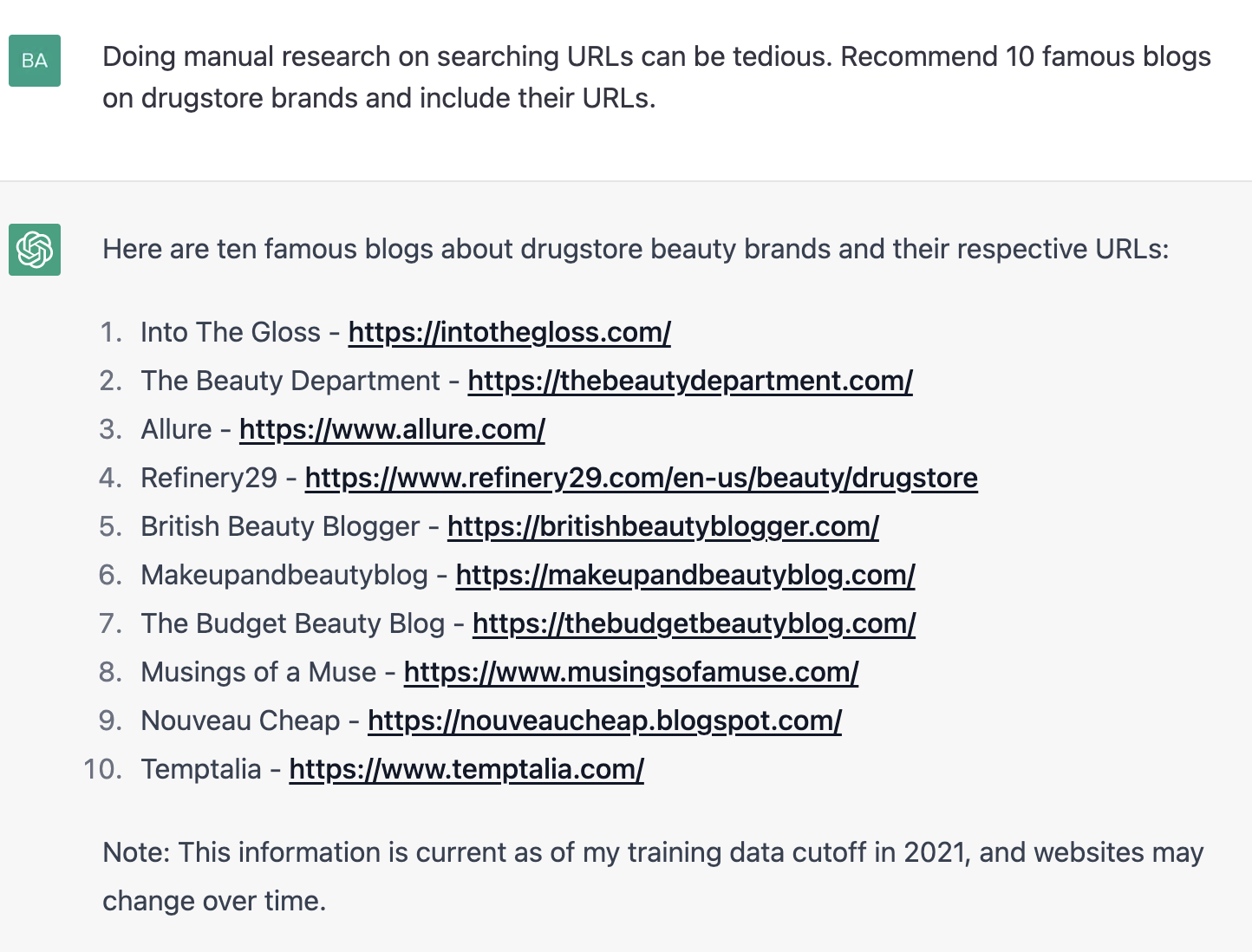 19. Reputation Management
ChatGPT can offer guidance on how to keep track of and enhance a company's reputation online. This includes reacting to unfavorable reviews and promoting positive content. Reputation Management is the act of monitoring and enhancing a company's online reputation, which can affect SEO as search engines tend to prioritize companies with good online reputations.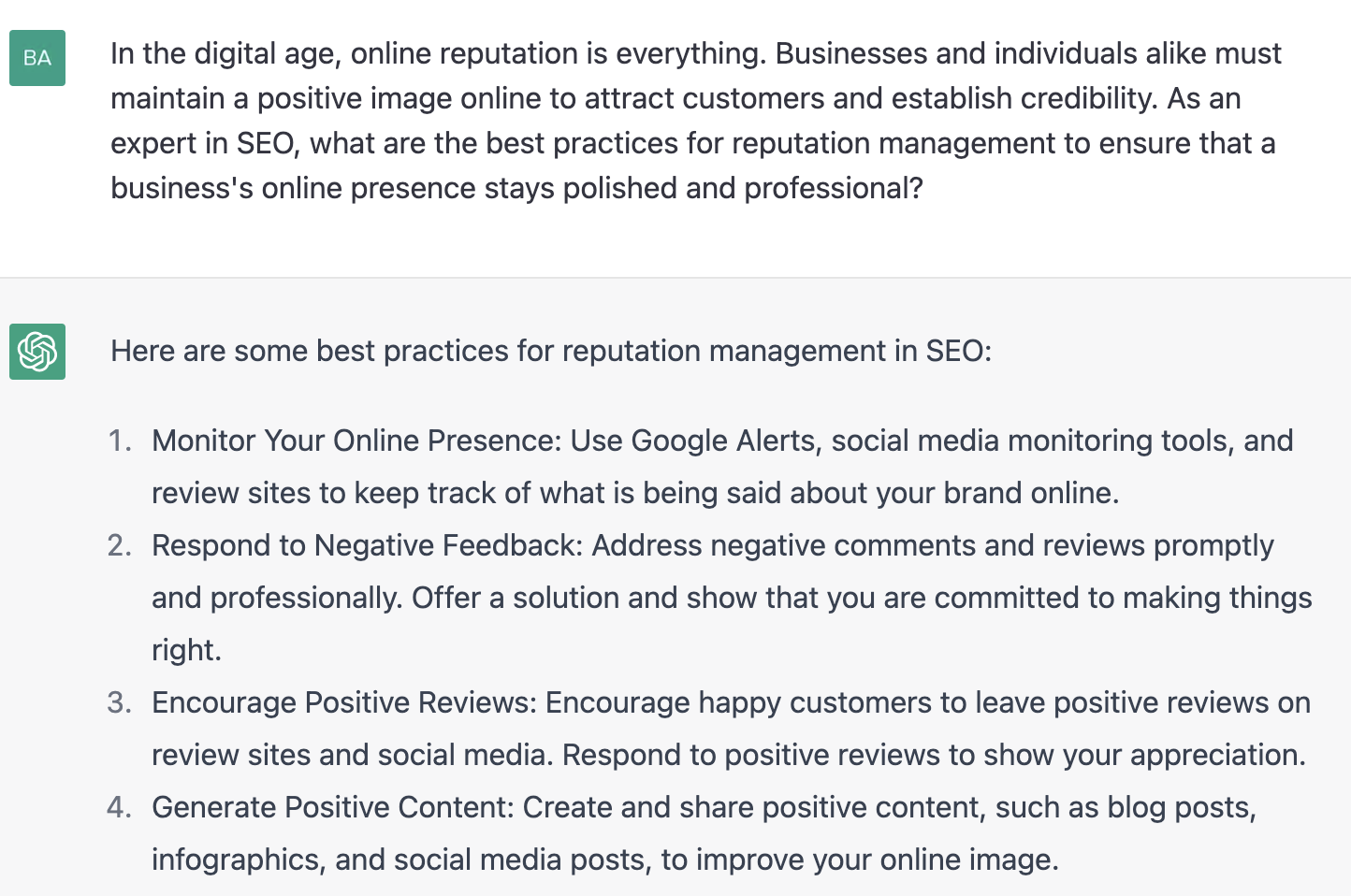 20. Improve User Experience
Improving User Experience (UX) involves designing a website that offers a smooth and satisfying experience for visitors. This is crucial for search engine optimization (SEO) since search engines tend to rank sites higher that offer good UX. ChatGPT can give insight into enhancing UX by, for example, reducing page loading speed and ensuring accessibility for all users.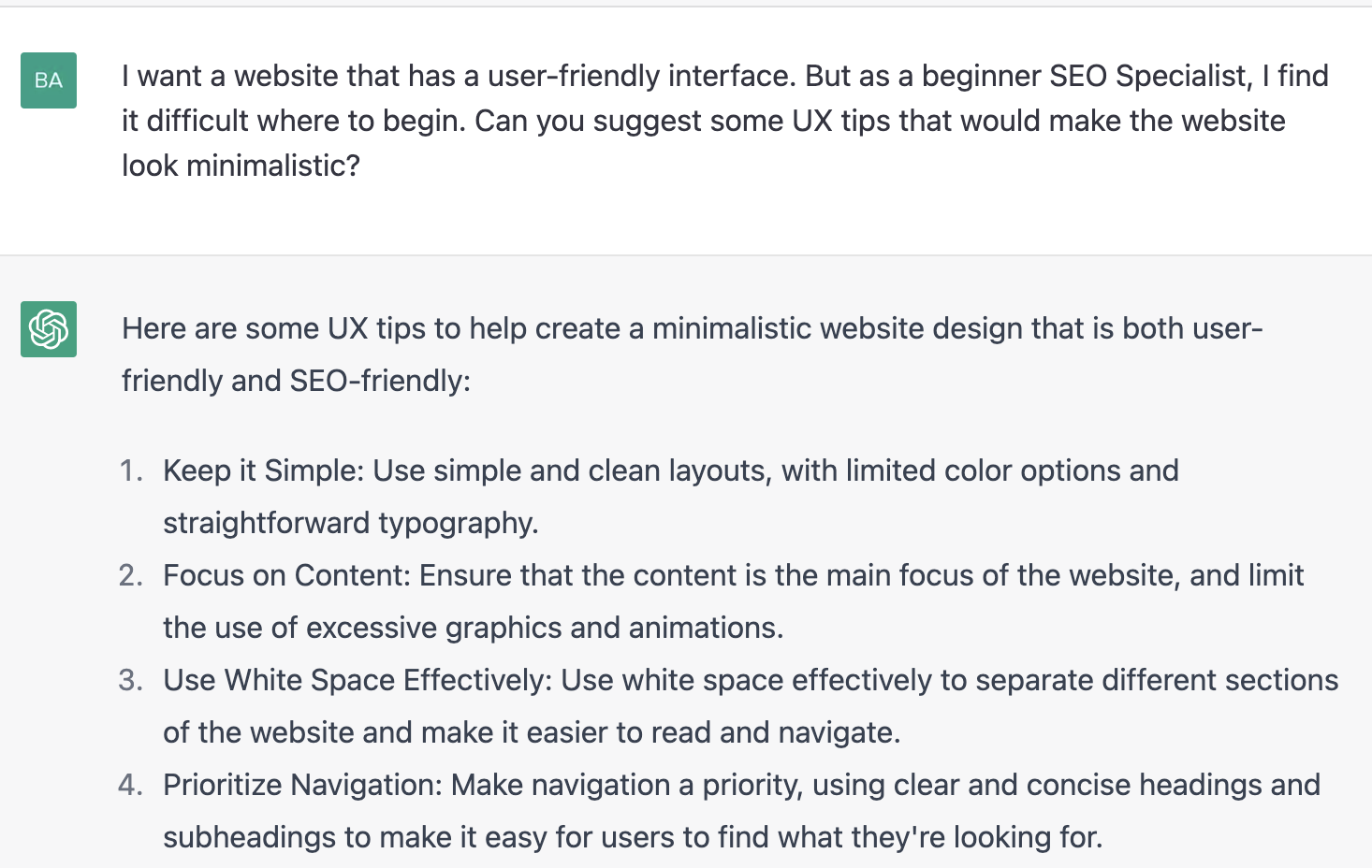 21. Optimize Landing Pages
Landing pages are an essential part of digital marketing, and a well-optimized landing page can enhance the user experience and boost the conversion rate, resulting in better outcomes for the website. This can include higher sales, leads, or engagement, which can have a significant impact on the success and search engine ranking of the website. ChatGPT can offer advice on how to optimize landing pages for maximum conversions, such as incorporating clear calls-to-action and minimizing obstacles.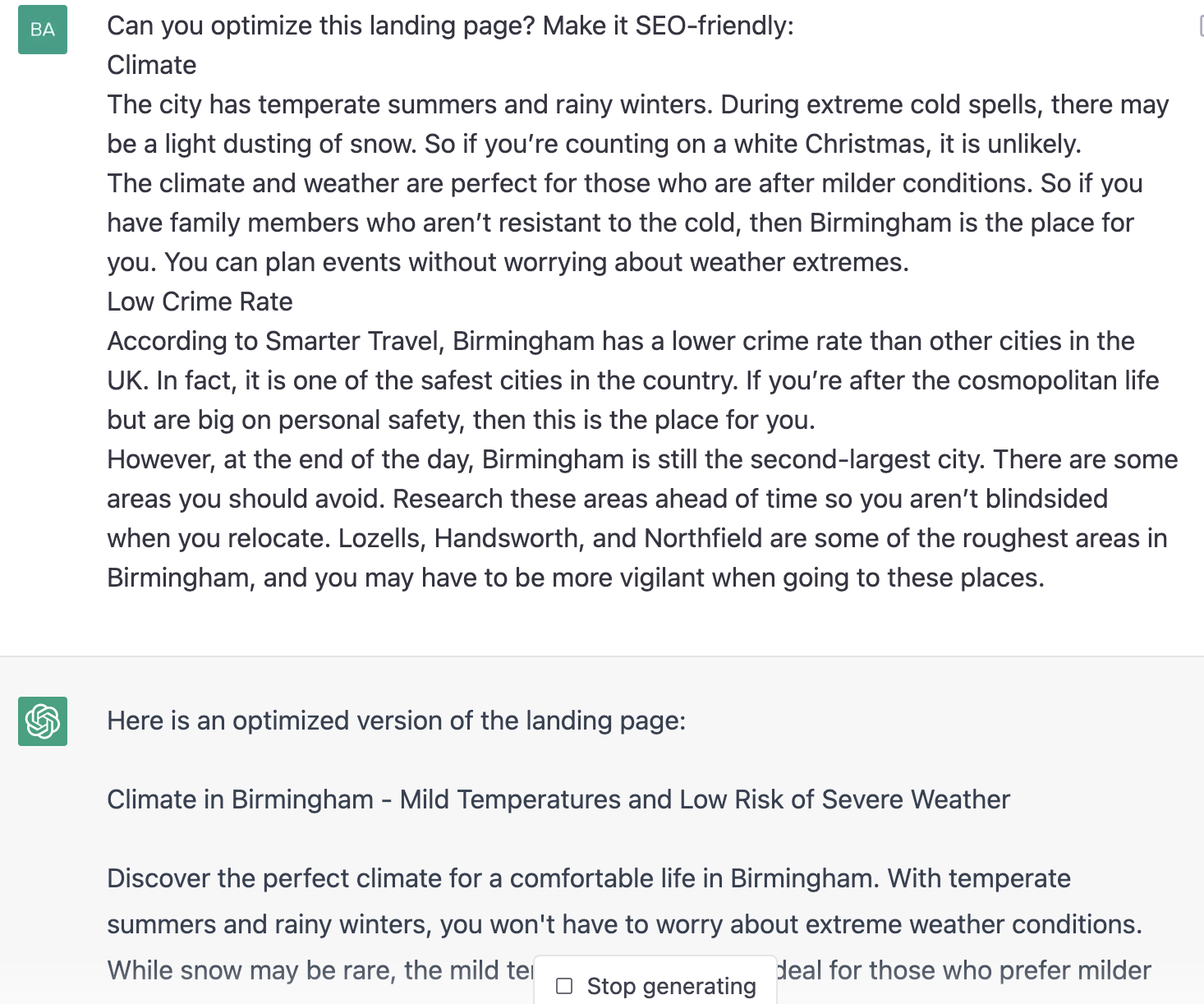 22. Summarize Content
ChatGPT can be used to generate concise summaries of articles and website pages, which can be useful for promoting content across multiple channels. By summarizing the content, you can provide a quick and clear overview of what the content is about, making it easier for people to understand and encouraging them to read the full article.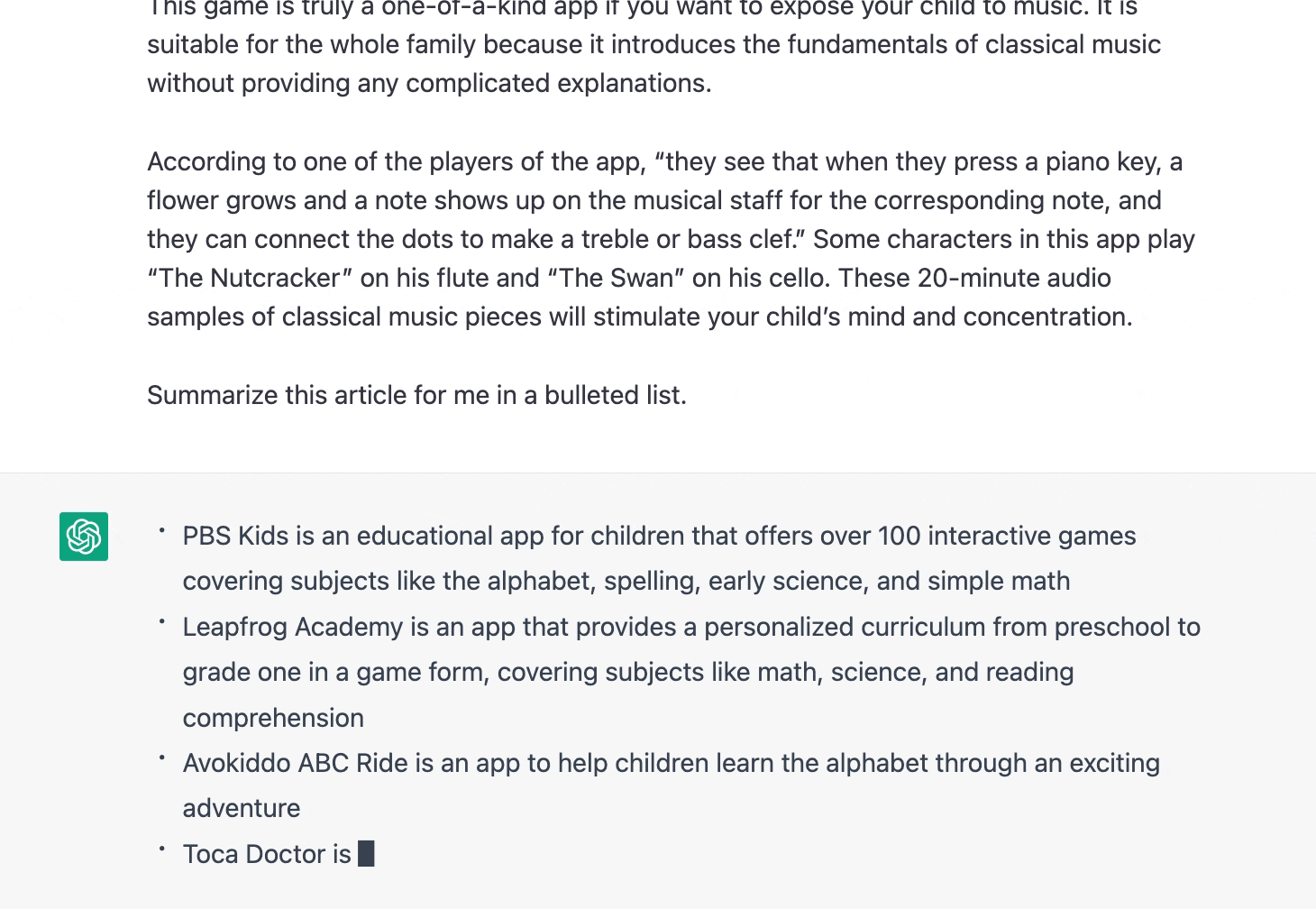 23. Describe in Simpler Terms
When writing an SEO article or managing a website, you must walk into your audience's shoes. This means that you have to use terms or words that are easily understandable, and not hifalutin words that only a few know what means. You need to consider your target audience so that your website can always be visited. You can ask ChatGPT about words and their simpler meanings or synonyms.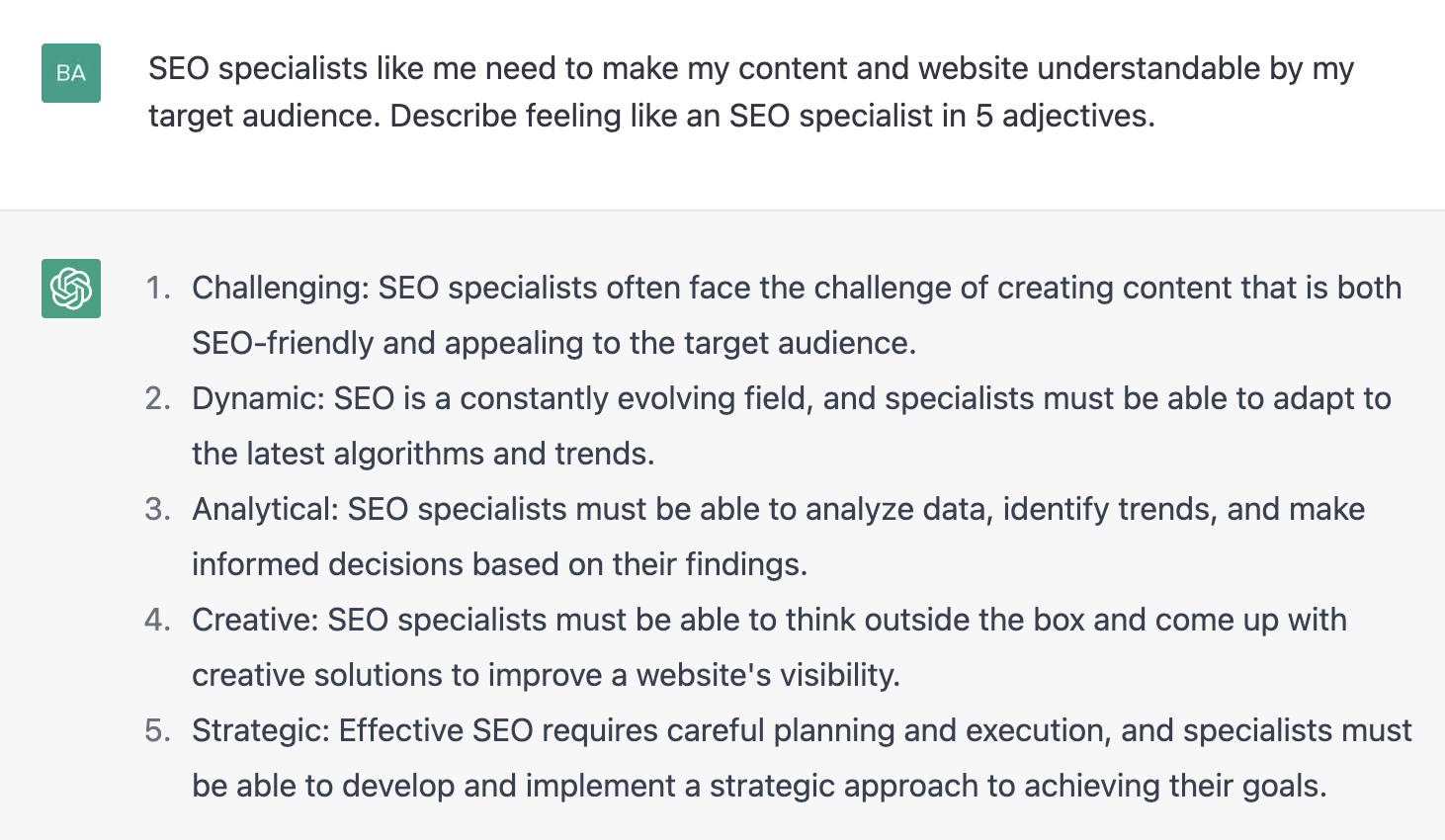 24. Generate Quotes
Quotes can serve as evidence or add credibility to your content. They can be generated for use in blog posts, articles, and other forms of content to enhance engagement, which can positively impact SEO. ChatGPT can produce captivating quotes that build trust with your audience.

25. Create XML Sitemaps
Many current Content Management Systems (CMS) have the capability of automatically generating dynamic XML sitemaps, eliminating the need for manual creation by the SEO. However, there are instances where the SEO may encounter a set of static web pages or content managed with a unique CMS that lacks a sitemap. In these situations, the SEO may have to manually create a static XML sitemap. ChatGPT can simplify this process by providing a list of URLs to be included in the XML sitemap along with straightforward instructions for the next steps.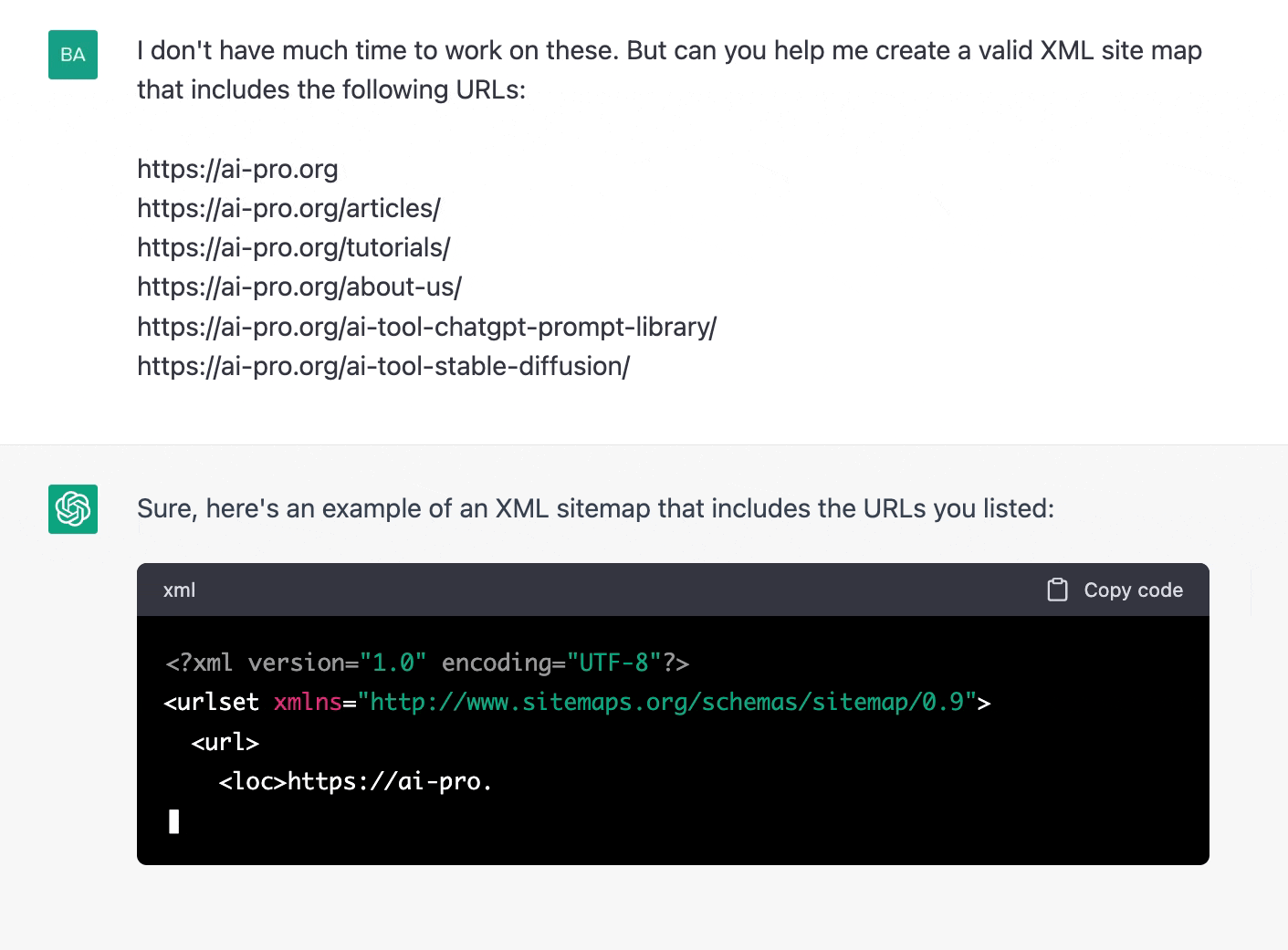 Key Takeaway
With these 25 ways, SEO specialists can wisely use ChatGPT to streamline their work and improve the results. By harnessing the power of advanced AI technology, SEO specialists can work more efficiently, effectively, and creatively, and stay ahead of the competition in the constantly evolving world of search engine optimization. Whether you're an experienced pro or just starting out in the field, there's no reason not to put ChatGPT to work for you today!