Finding the right property can be a challenging and time-consuming task for real estate professionals. Now that the real estate industry is evolving and the competition is increasing, more real estate professionals find it even more difficult to stay ahead and provide the best service to their clients. Time and resources are being wasted, leading to missed opportunities and dissatisfied customers. ChatGPT can greatly aid real estate professionals in streamlining their work. Whether it be through assistance in research, marketing, or customer service, ChatGPT has the capability to transform the real estate industry and make finding the right property a simpler and more efficient process. This article will explore 25 ways in which ChatGPT can be utilized in real estate to improve efficiency, increase productivity, and drive results.
Property Search
ChatGPT can help buyers find their dream home by providing information on available properties, including location, price, and other important details. This feature allows users to search for properties that are currently on the market based on specific criteria, such as location, price, number of bedrooms and bathrooms, and more. Users can save their favorite properties and get alerts for new listings that match their criteria.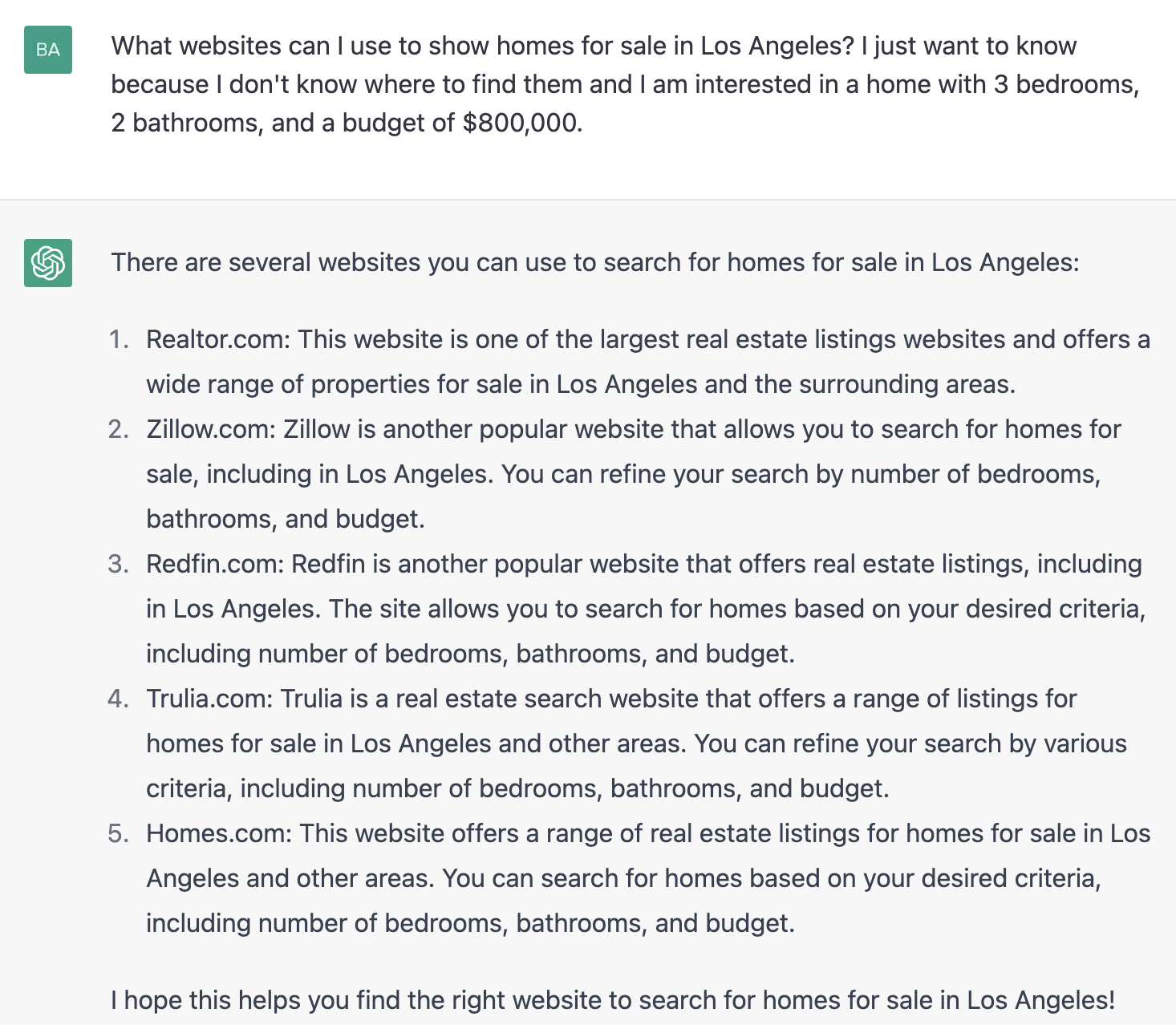 Lead Generation
In real estate, lead generation involves identifying and targeting individuals who are interested in buying or renting a property and capturing their information for follow-up by real estate agents. ChatGPT can help with lead generation by providing an automated and personalized communication experience for potential buyers and renters.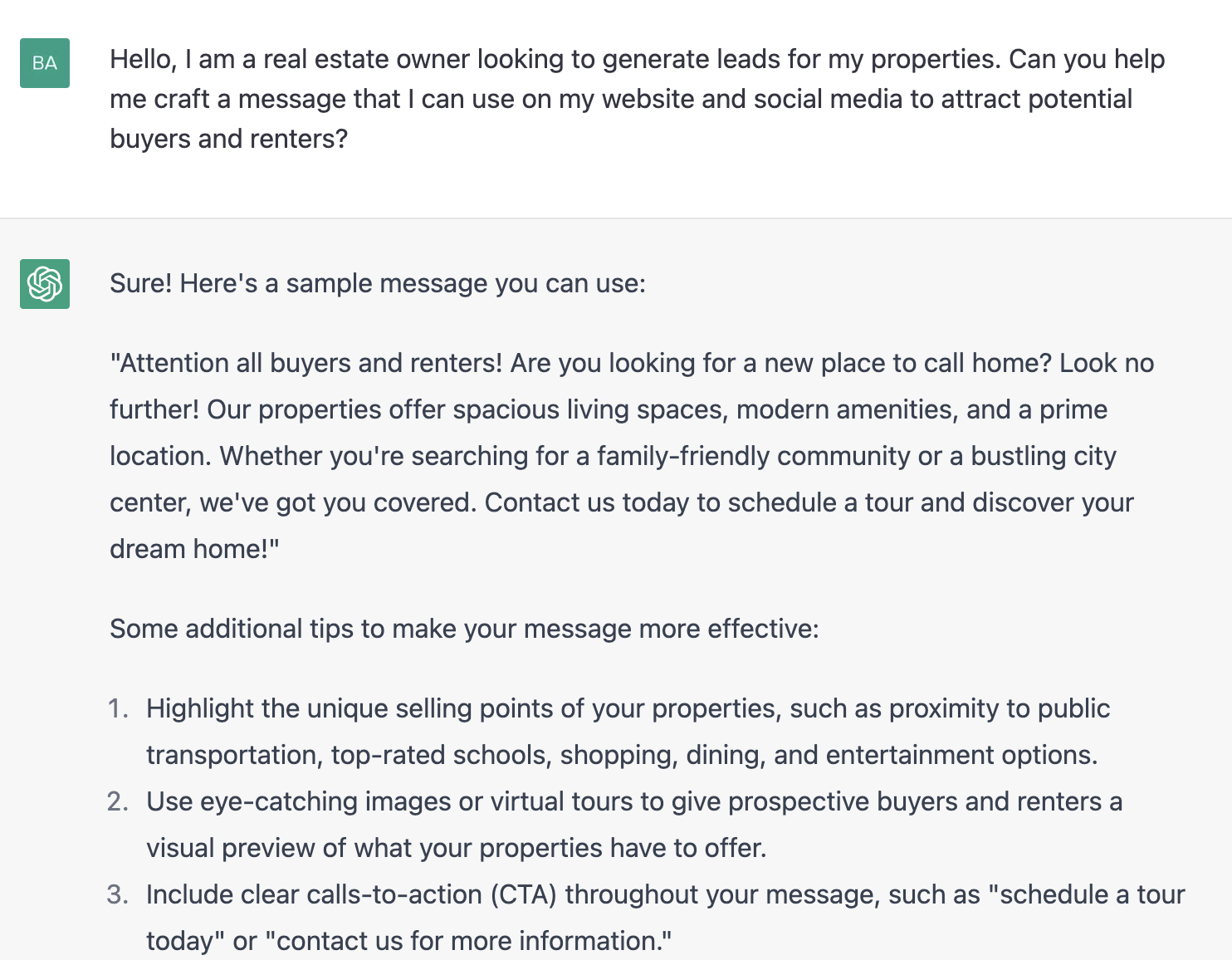 Mortgage Calculator
A mortgage calculator helps users determine the monthly payment, down payment, and other costs associated with buying a home. By inputting information such as the purchase price, interest rate, and loan term, users can get a better idea of what they can afford and what kind of mortgage they may qualify for. You can ask ChatGPT to assist you with mortgage calculations, so you can determine your monthly payments and determine what you can afford.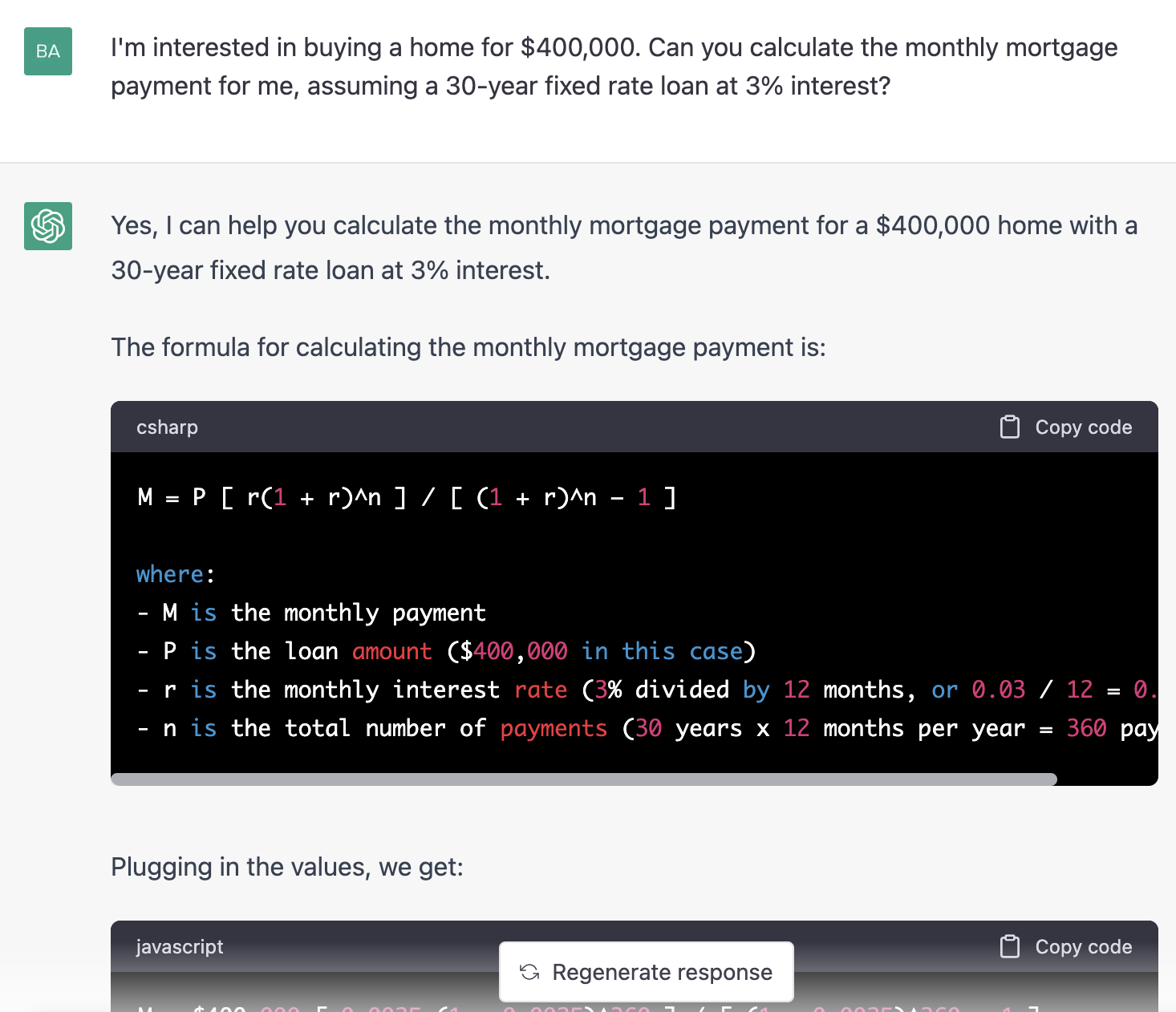 Real Estate Terminology
There are various terminologies or jargon in real estate that you aren't familiar with. Type in the real estate term you encountered and ask ChatGPT to explain real estate terms and concepts.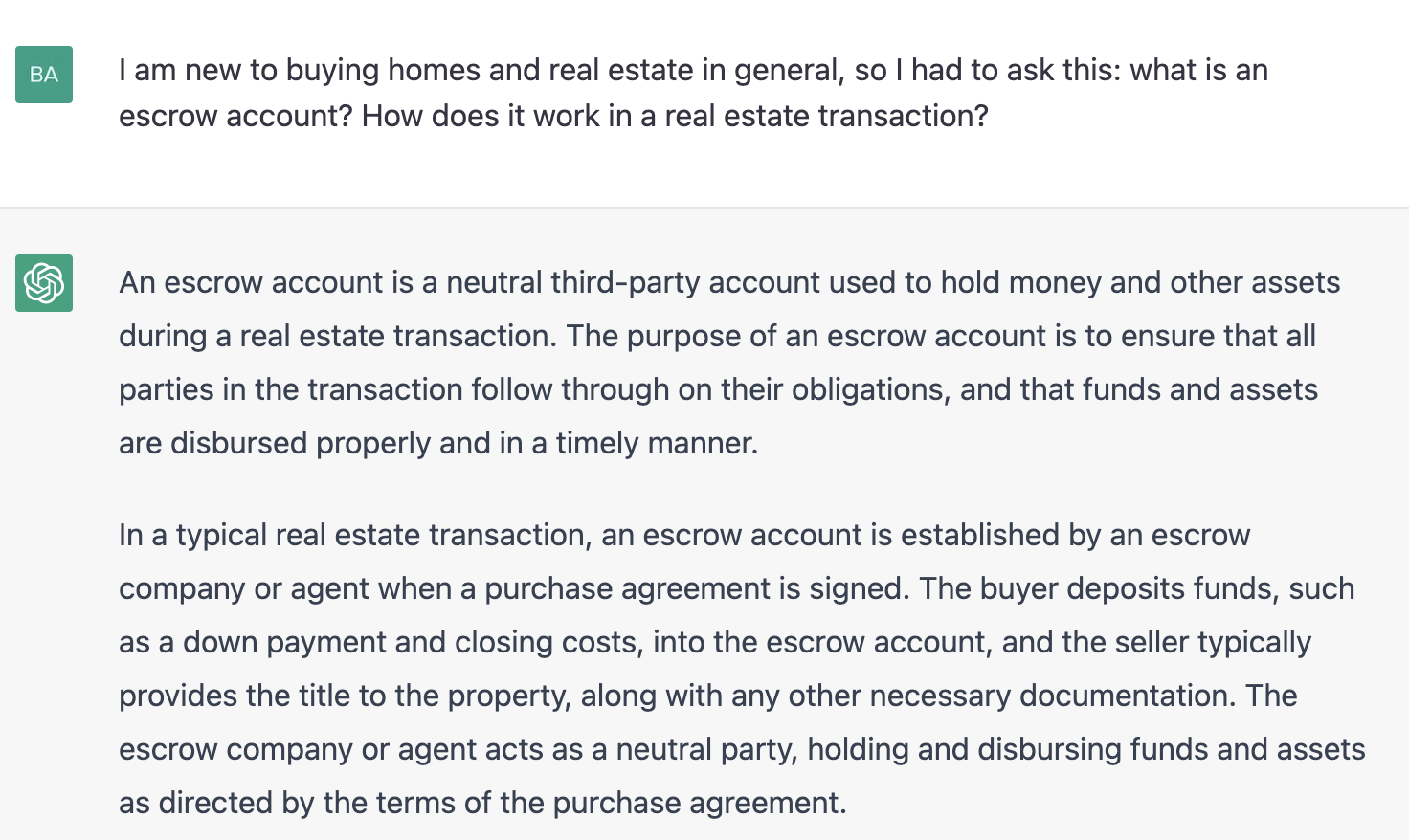 Home Valuation
ChatGPT can provide information on home valuations, helping homeowners determine the value of their property for sale or refinance purposes. Having an estimate of the value of a property based on factors such as location, size, age, and current market conditions is helpful so you can determine the fair price of the house you're planning to sell or buy.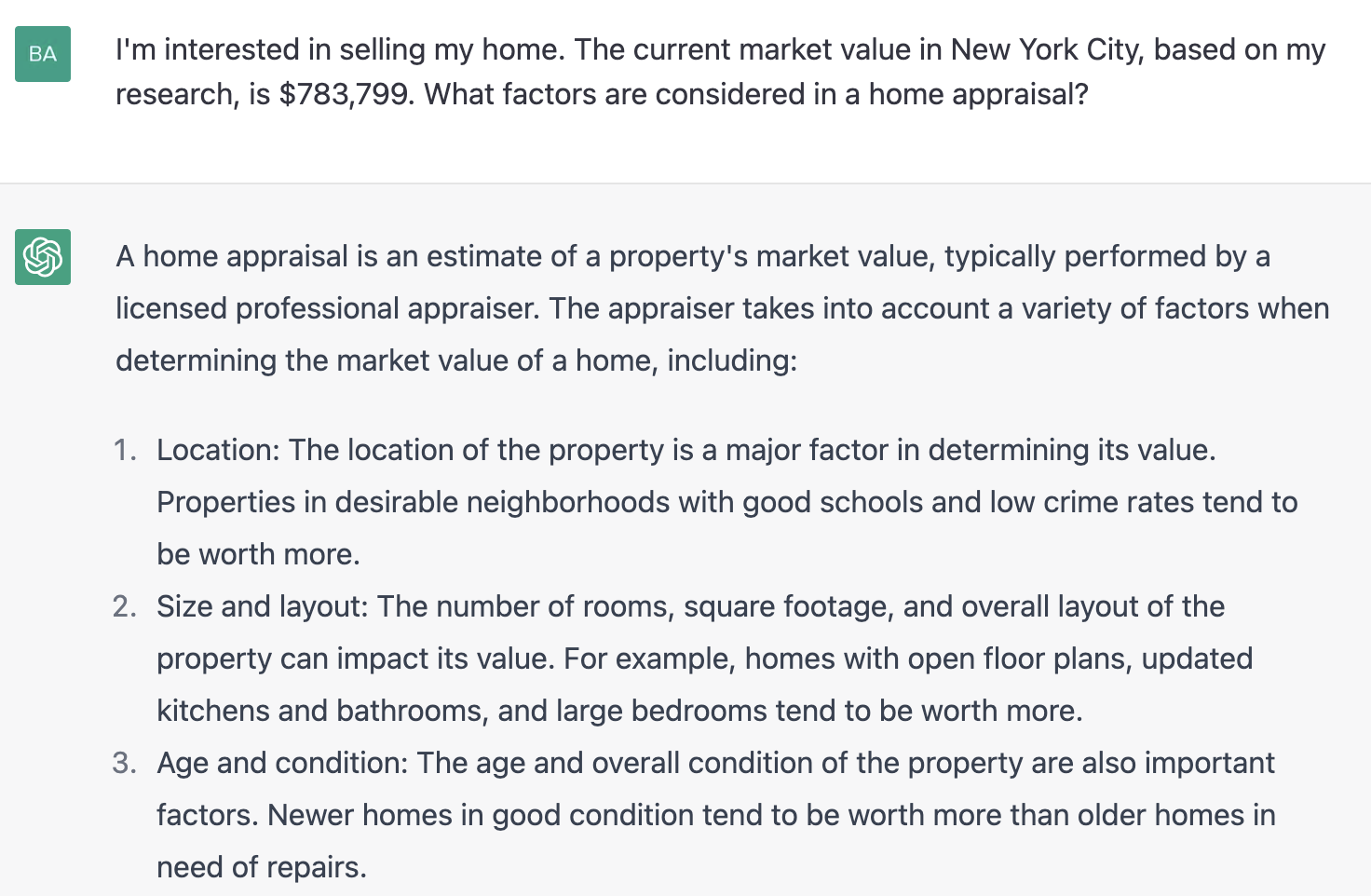 Home Renovation
Home renovation varies, and it may include remodeling ideas, tips for budgeting and planning a renovation, and suggestions for working with contractors. ChatGPT can provide information and advice on home renovation, helping homeowners make informed decisions on upgrades and remodeling projects.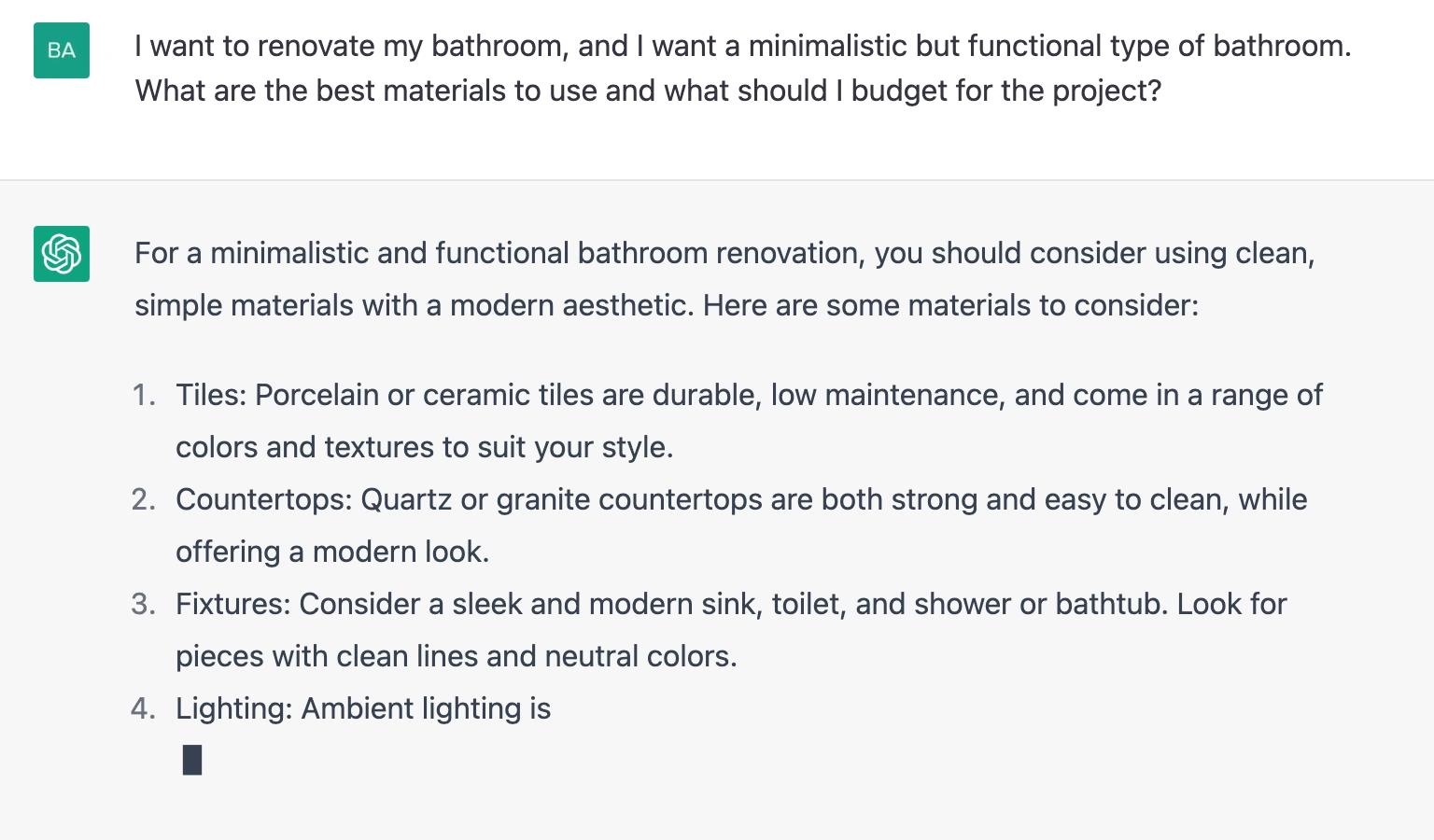 Real Estate Investment
Most people want to invest in real estate because it has a high ROI. Real estate investment provides information and advice for individuals who are interested in investing in real estate, including tips for finding investment properties, understanding rental income and cash flow, and managing rental properties. ChatGPT can teach you about real estate investment, including property types, investment strategies, and market conditions.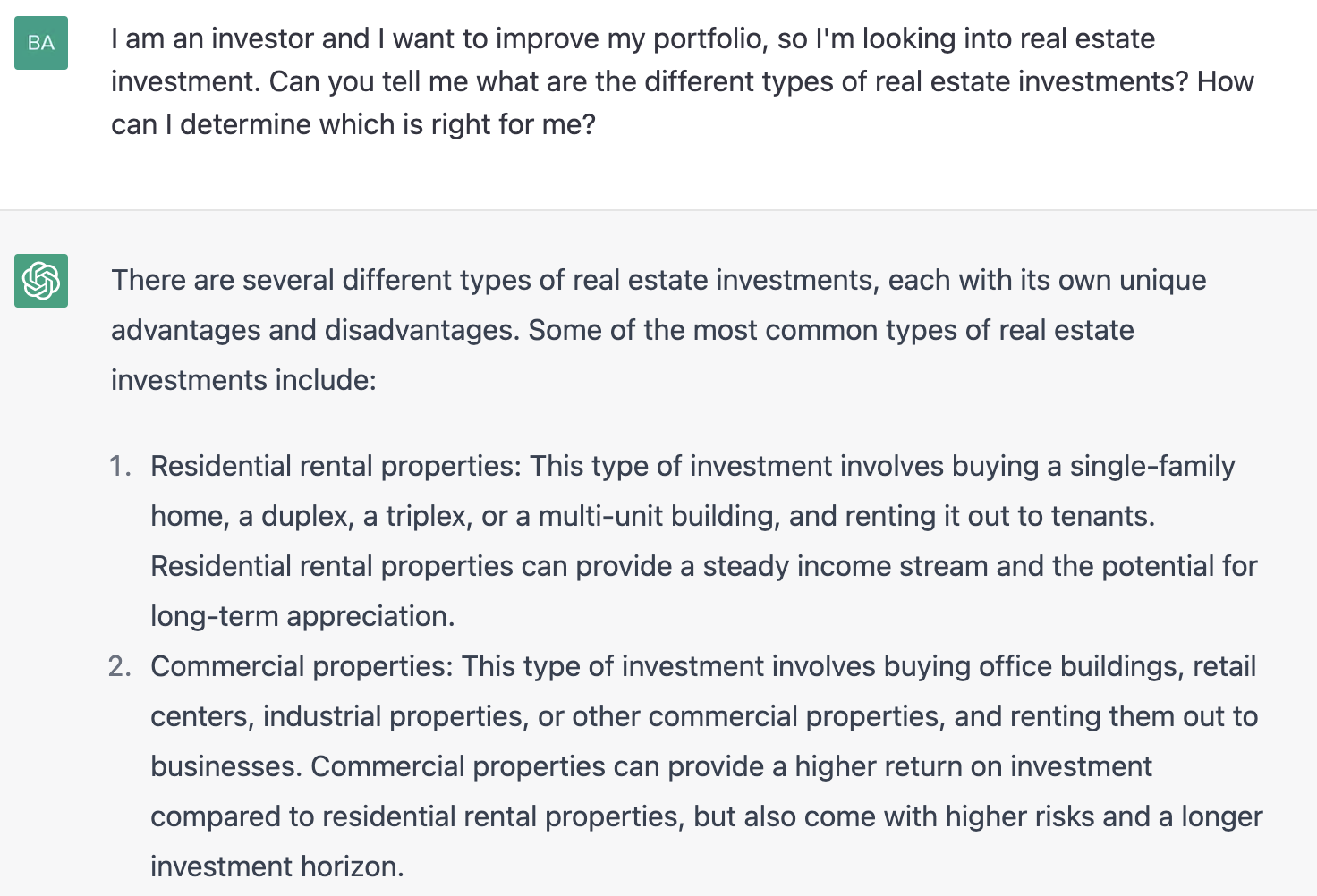 Home Buying Process
ChatGPT can give information on the home buying process, helping buyers understand the steps involved and what to expect. You may want to consider having a step-by-step process and curating it by making an interactive flowchart so that customers can easily understand how to buy a home.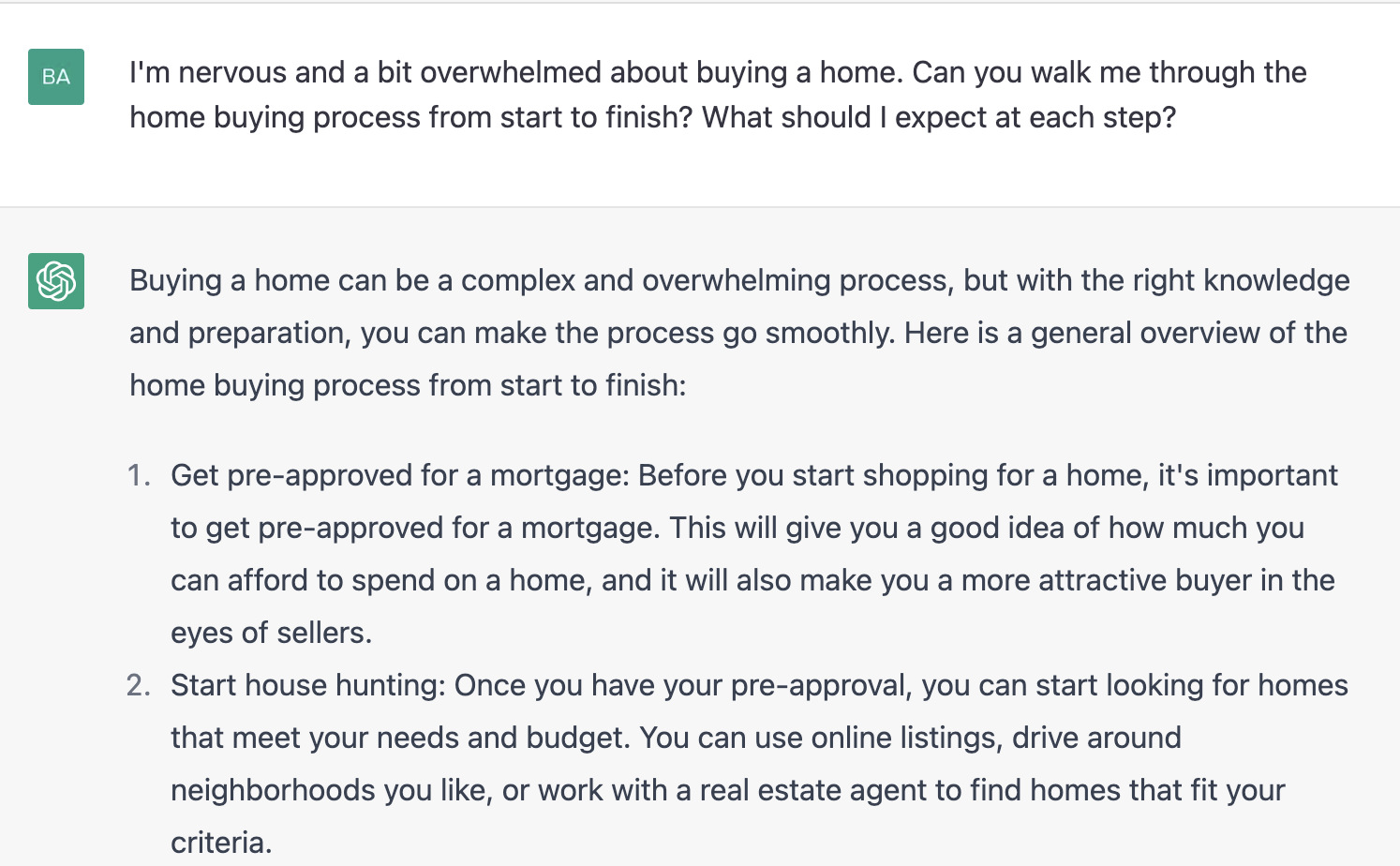 Real Estate Agent
Real estate agents are the first people you deal with when you're buying a home. Being a real estate agent requires a lot of skill and knowledge about real estate. ChatGPT can assist with finding a real estate agent, helping buyers and sellers determine their needs, and finding the right agent for their transaction.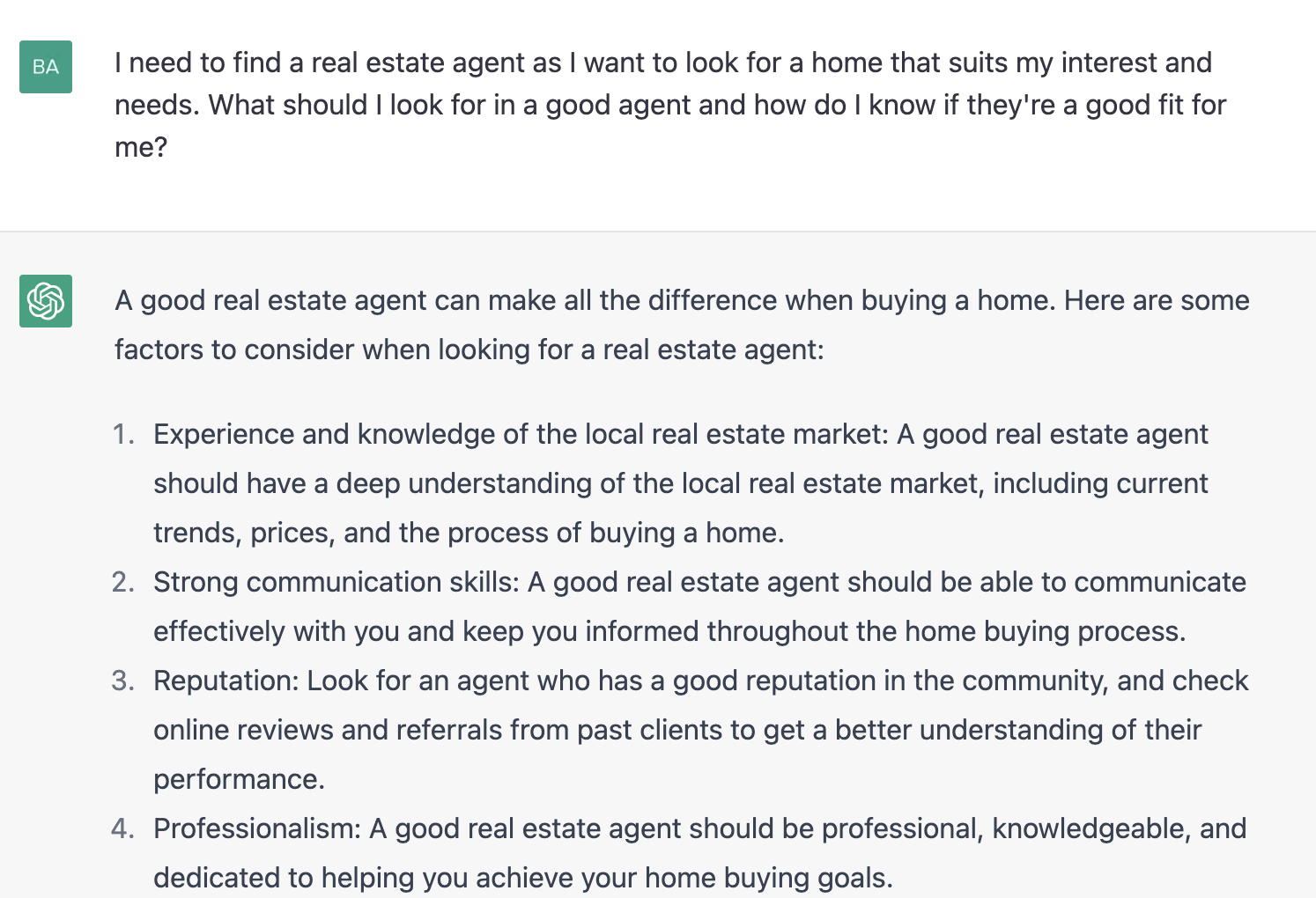 Home Selling Process
Similar to the home-buying process, ChatGPT can help you with the home-selling process, helping sellers understand the steps involved and what to expect.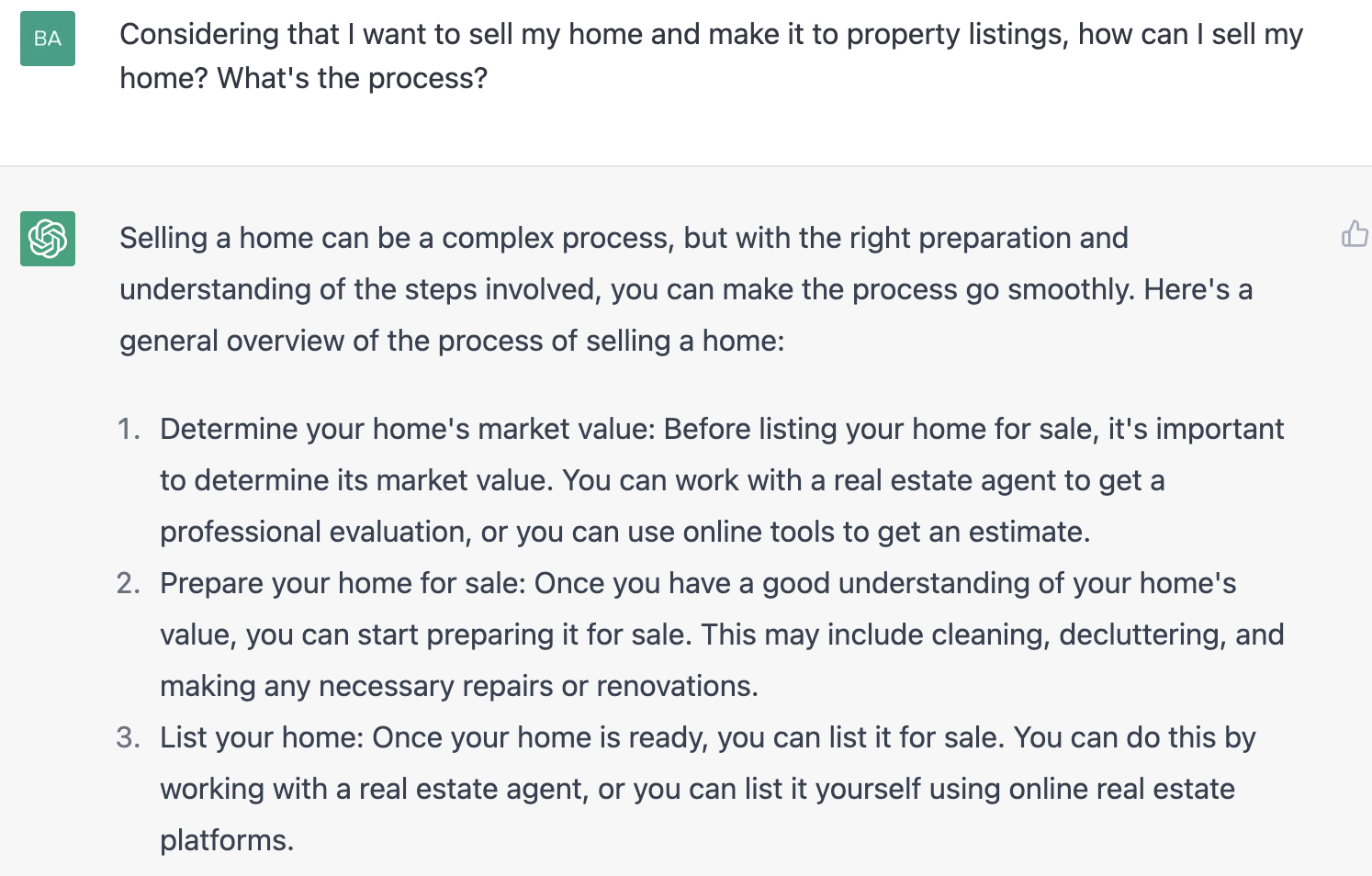 Rental Properties
Not everyone affords to buy a property, so they consider renting properties. ChatGPT can help you with what to look for in rental properties. This also helps landlords and renters find the right property and make informed decisions.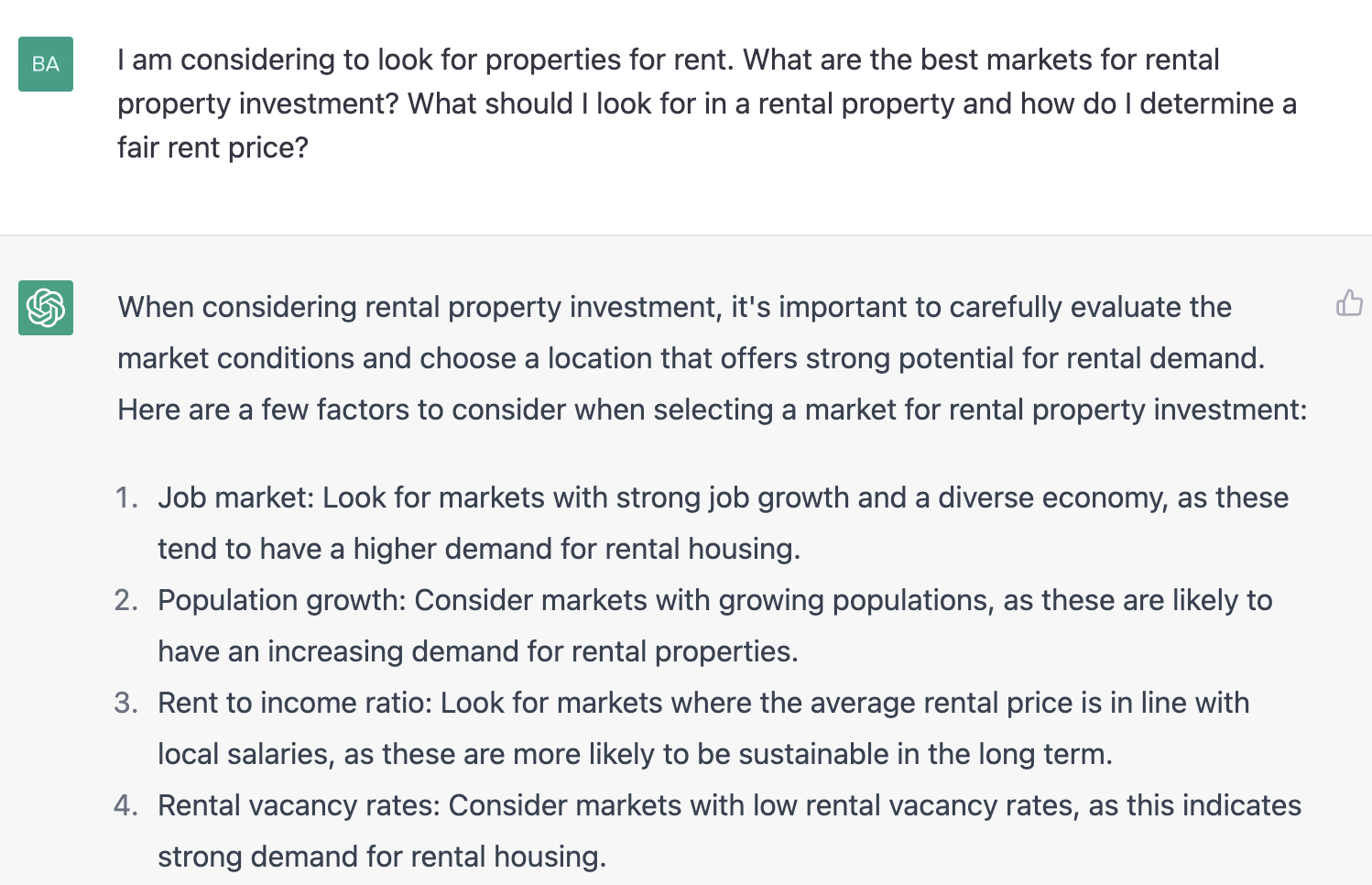 Real Estate Tax Benefits
While it is required to pay taxes, there are also tax benefits for homeowners who pay their taxes in advance. If you are not aware, you can ask ChatGPT about tax benefits for real estate, helping homeowners and investors understand the deductions and credits available to them.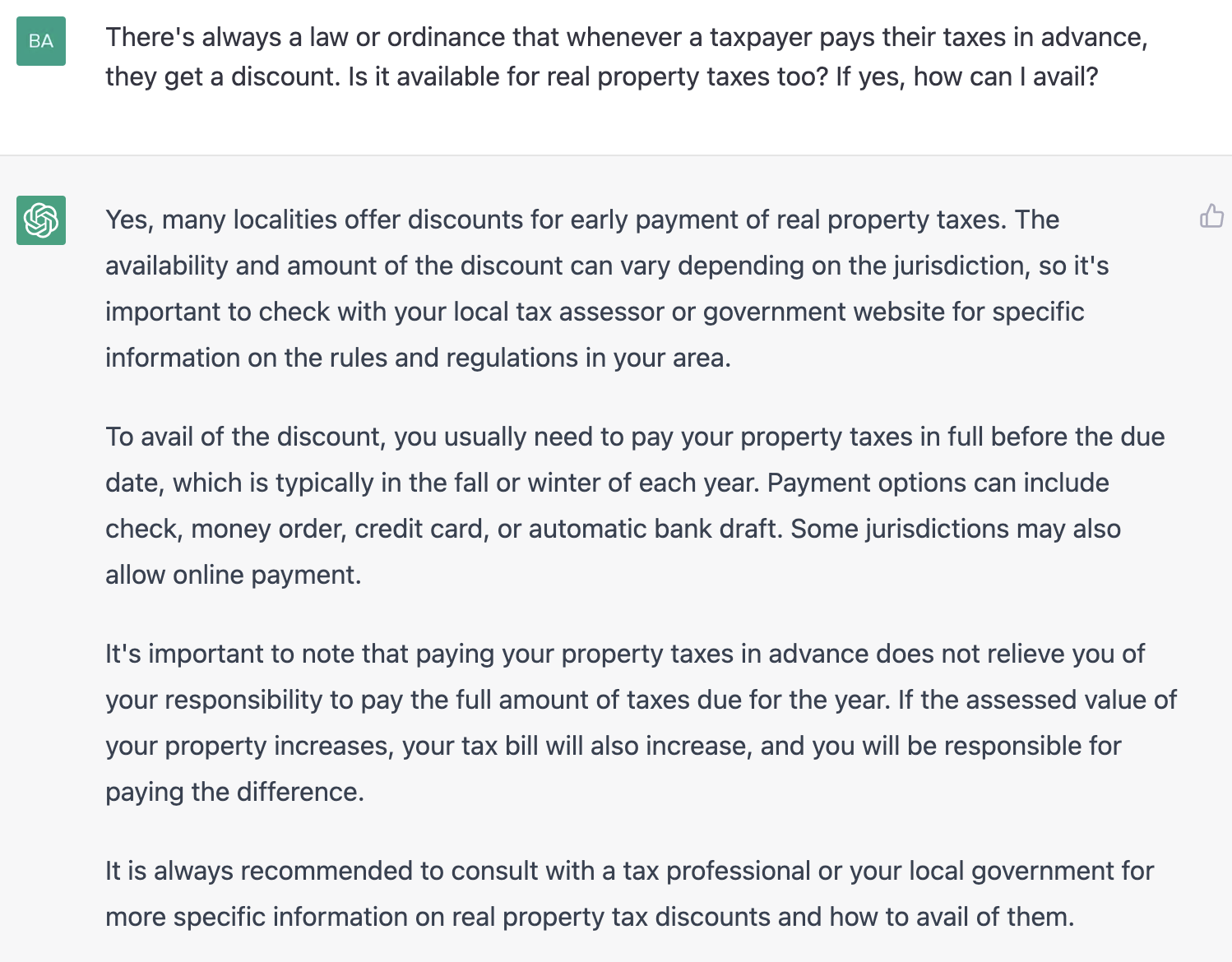 List Home Inspection Tips
When buying a new home, the homebuyer's task is to inspect if there are any issues with the home. But you need a list of what you need to do or expect when doing a home inspection. ChatGPT can provide information about home inspections, such as what to expect during an inspection, what to look for, and what to ask the inspector.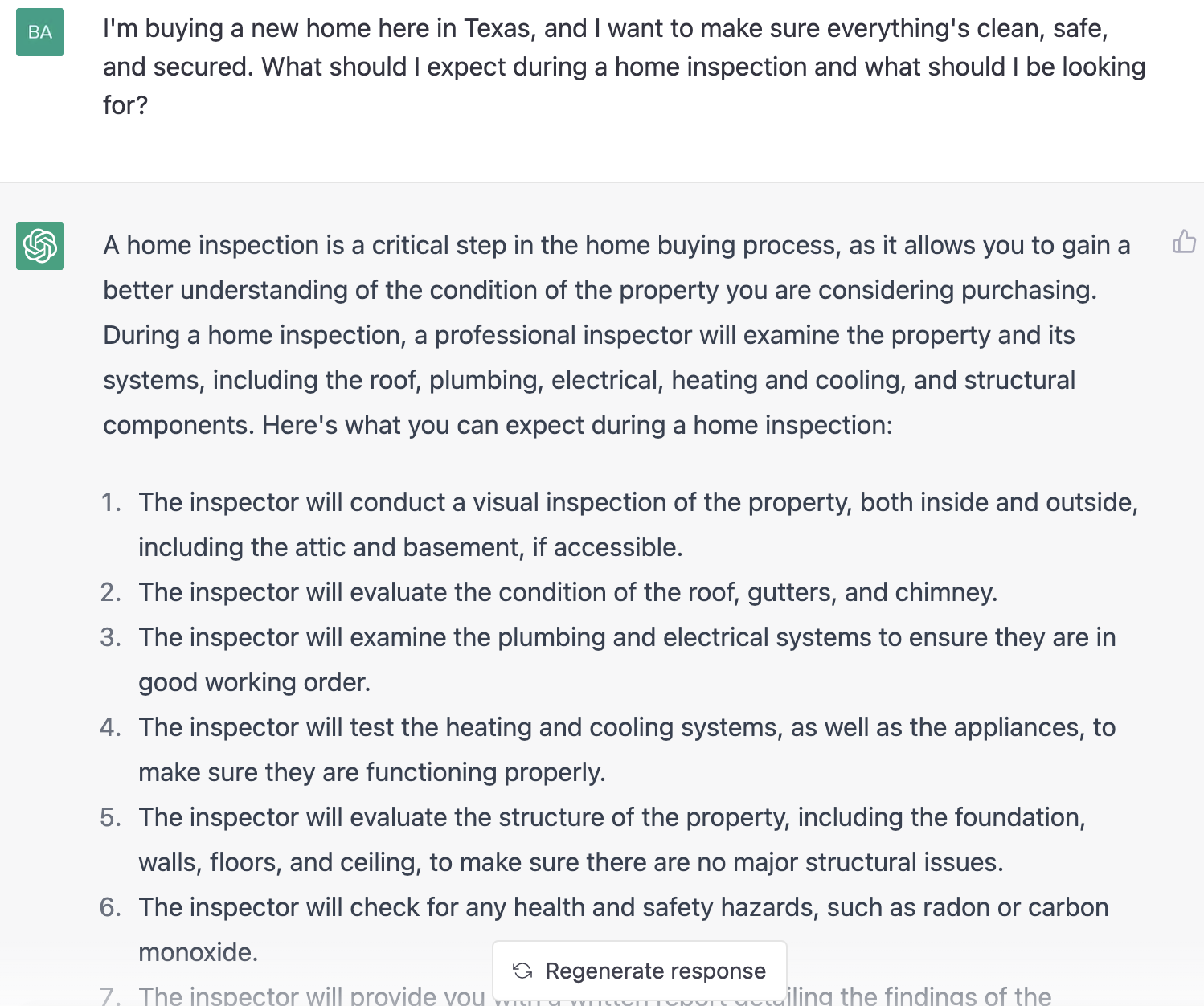 Property Management
ChatGPT can provide information on property management, helping landlords and property owners understand the responsibilities involved and how to manage their properties effectively.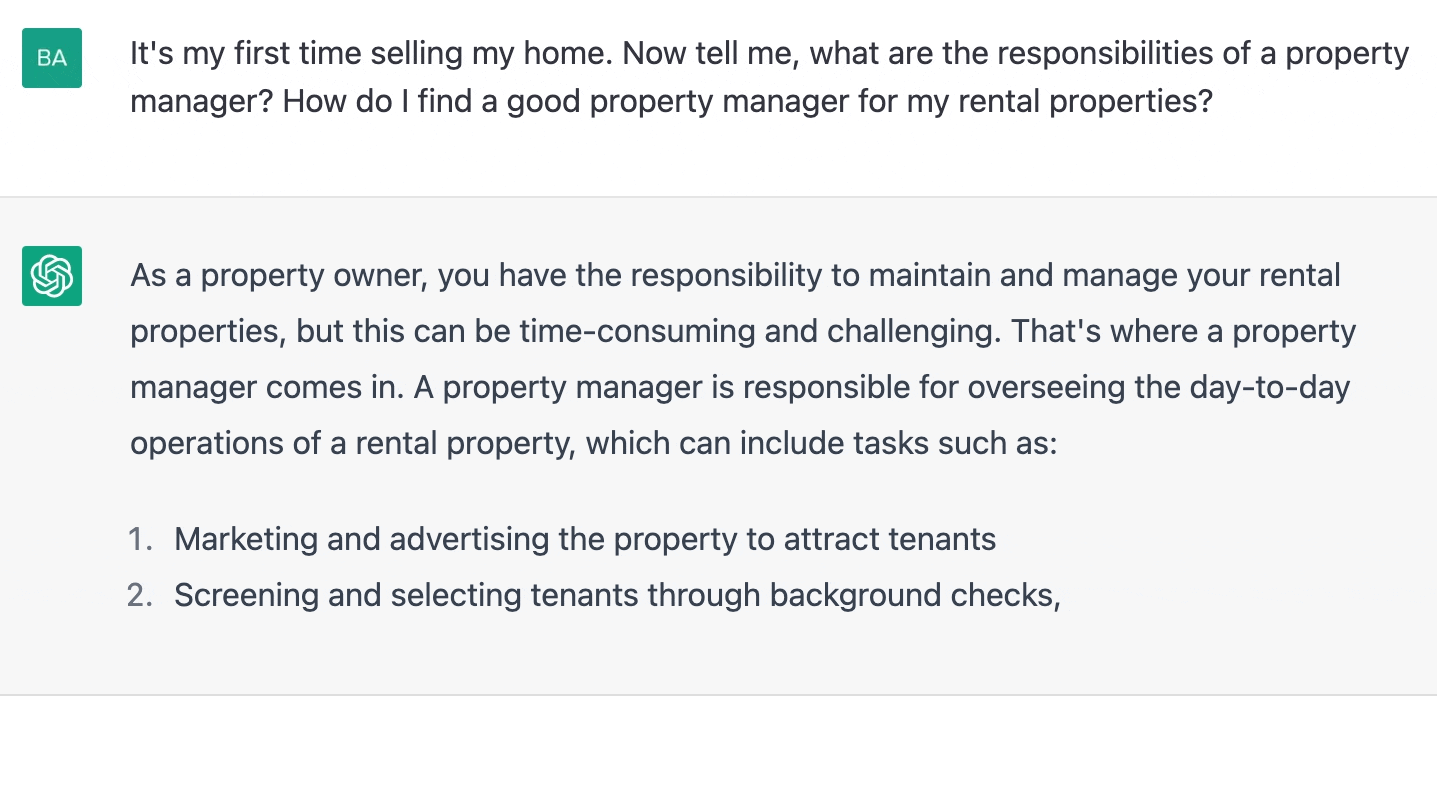 Real Estate Marketing
Marketing properties are the most essential and crucial tool in the real estate business. ChatGPT can advise on real estate marketing, helping agents and homeowners effectively promote their properties and reach potential buyers. ChatGPT can also assist you in marketing your real estate through the use of social media and email campaigns, providing scripts for your promotional video on Youtube, and suggesting other promotional ideas to gain more online presence.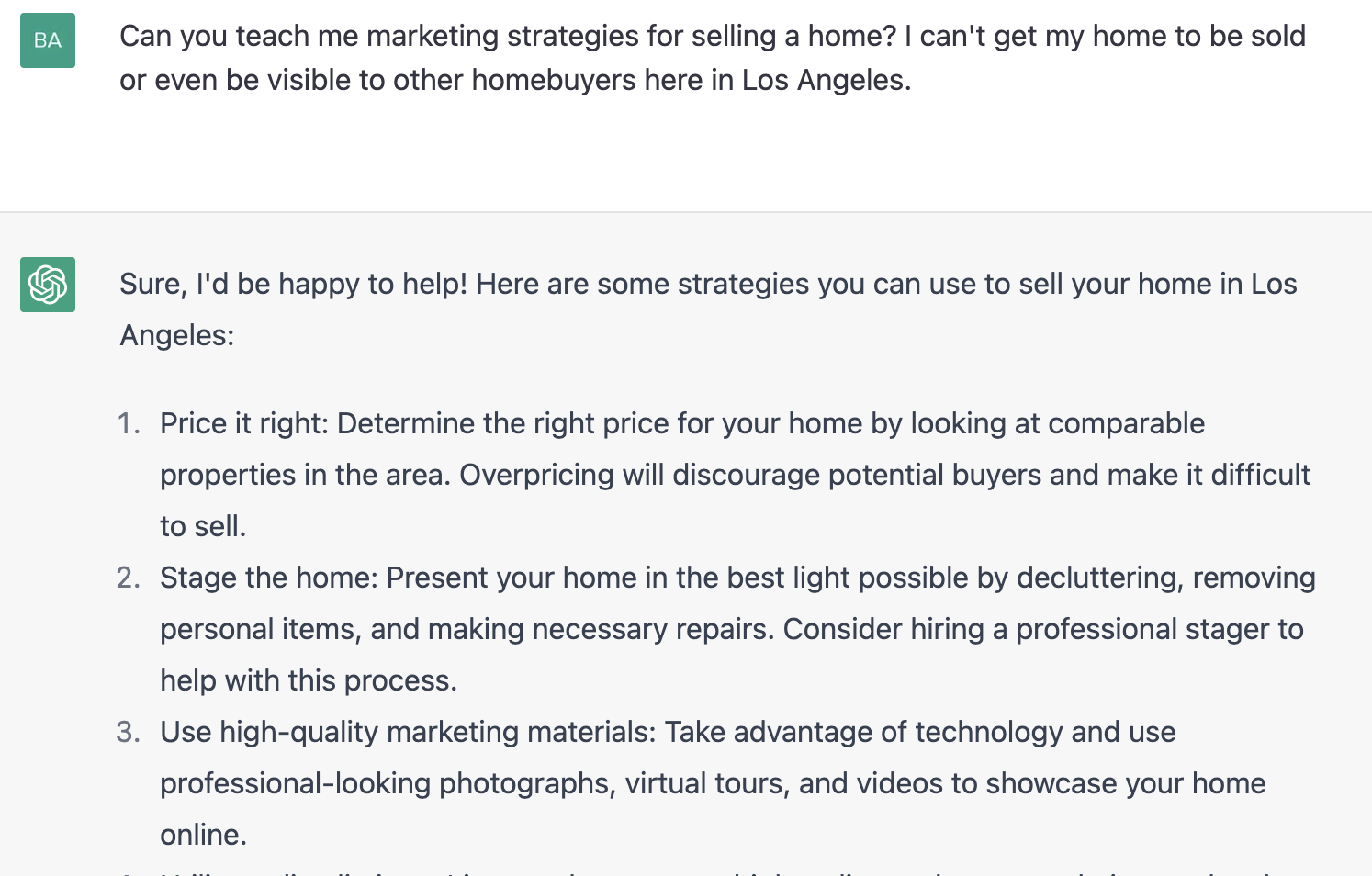 Property Listings
Property listing is a comprehensive list of properties that are currently for sale or for rent in a given area. On a real estate website, potential homebuyers can search for properties based on specific criteria and view detailed information, including photos and descriptions. ChatGPT can provide information on property listings, so buyers and sellers understand what to expect and what information to include.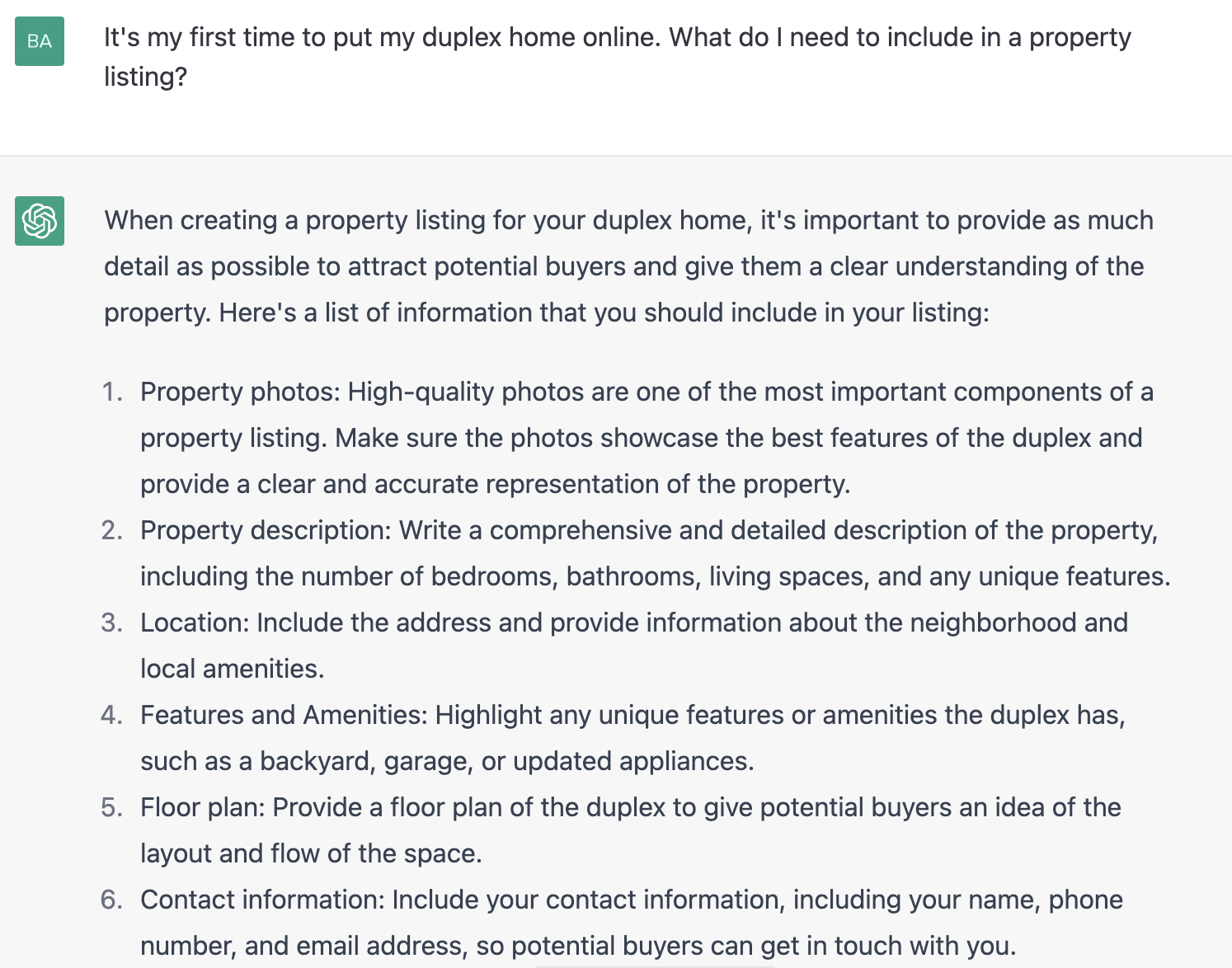 Home Staging
Home staging refers to the preparation of the home to present to a potential homebuyer. It involves decluttering, rearranging furniture, and creating a warm and welcoming atmosphere to attract potential buyers. ChatGPT can provide information and advice on home staging, helping sellers prepare their homes for showings and increase their chances of a successful sale.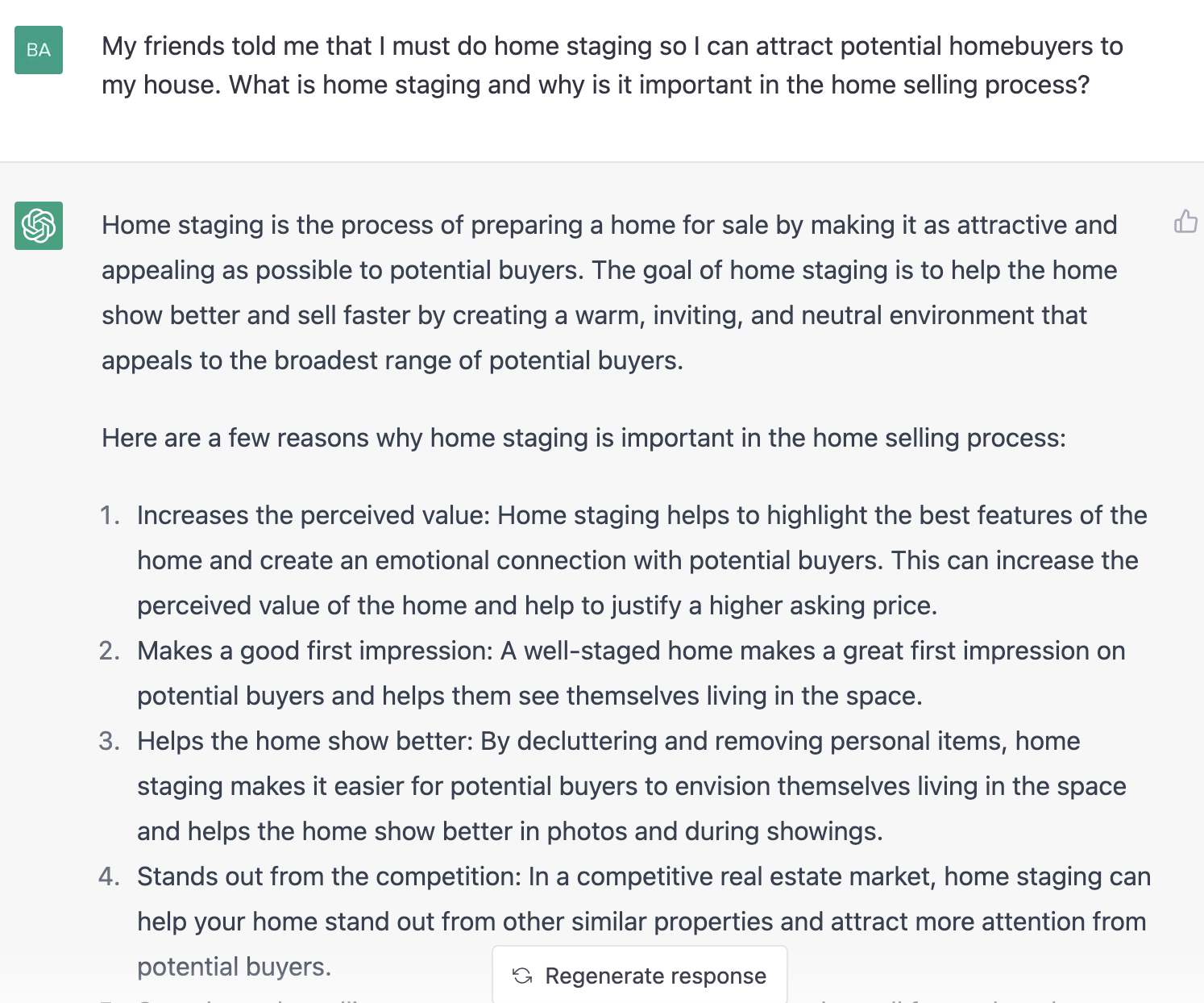 Real Estate Negotiation
ChatGPT can provide information and advice on real estate negotiation. ChatGPT may also help how to handle common challenges that arise during negotiations, such as lowball offers and counter demands.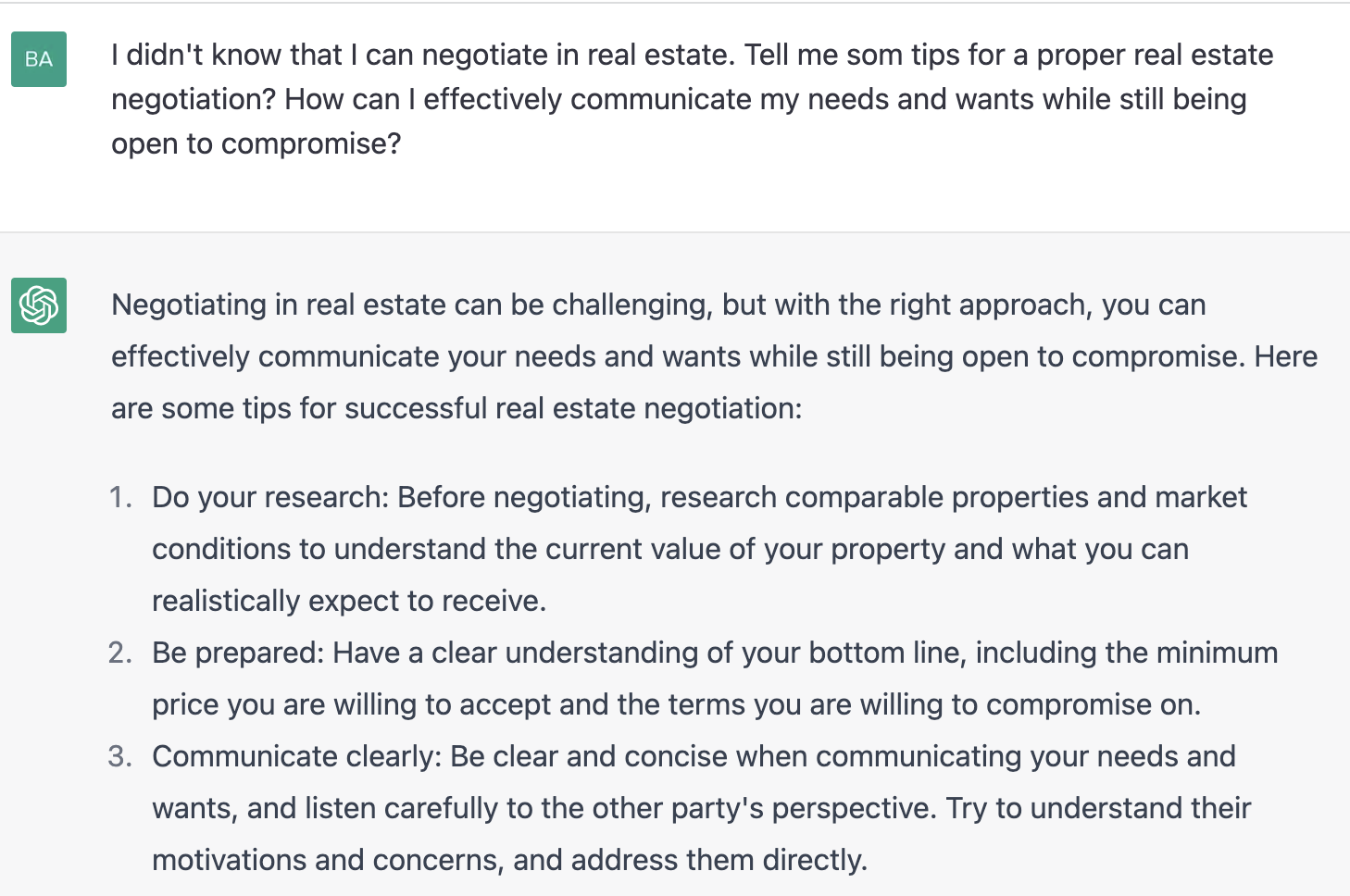 Property Taxes
Buying a home doesn't end with the transfer of title. You also need to pay real estate tax. ChatGPT lay down the rules on property taxes, including how they are calculated and what deductions may be available.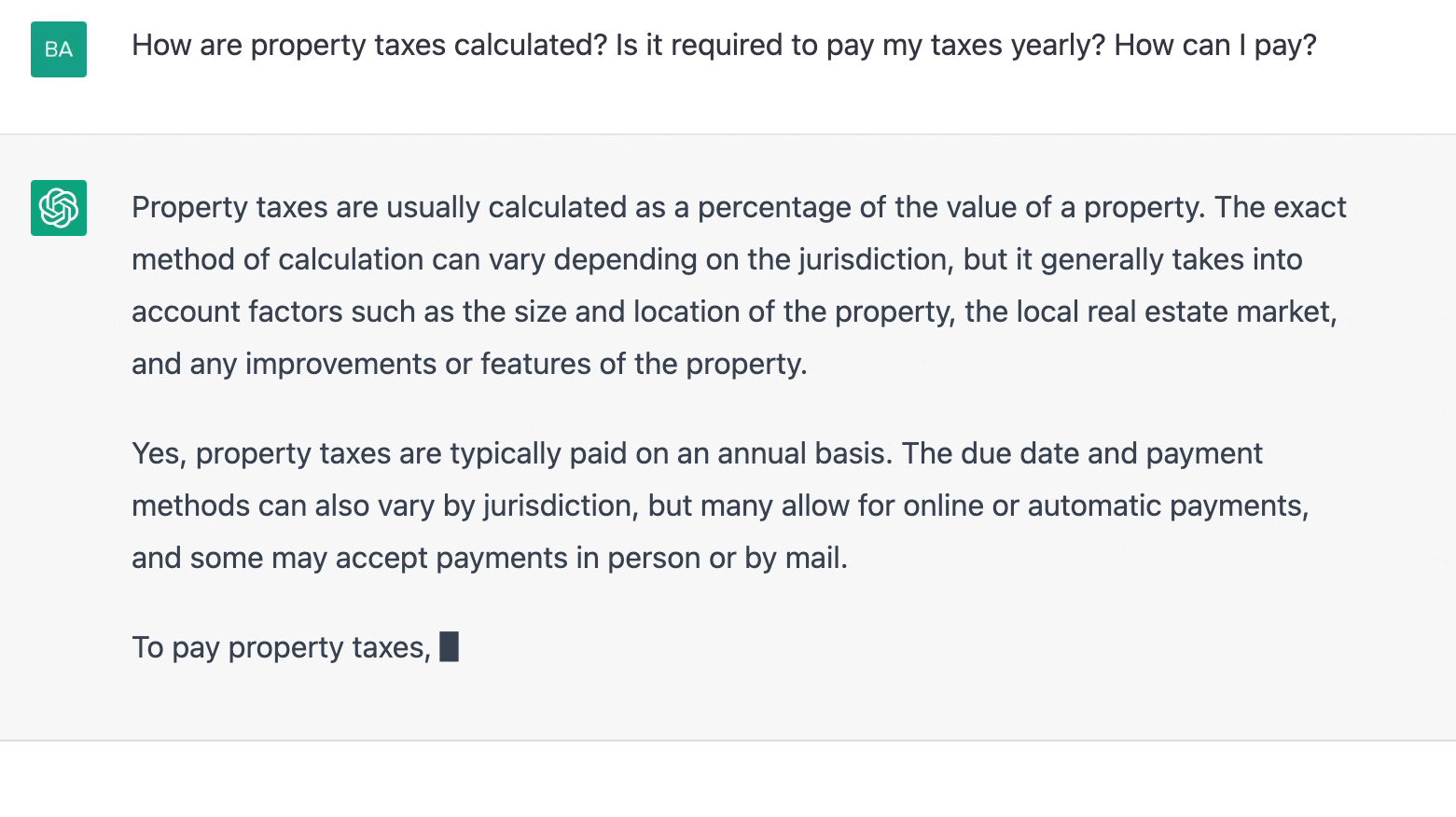 Explain Home Insurance in Simpler Terms
Insuring your home can make you secure in case of fire or natural disasters. If you still don't understand some terms in your insurance policy, or you consider getting one but don't know what home insurance is, ChatGPT can explain your home insurance in simpler terms. You can also ask it to explain the definitions, coverage options, costs, and how to choose the right policy for your needs.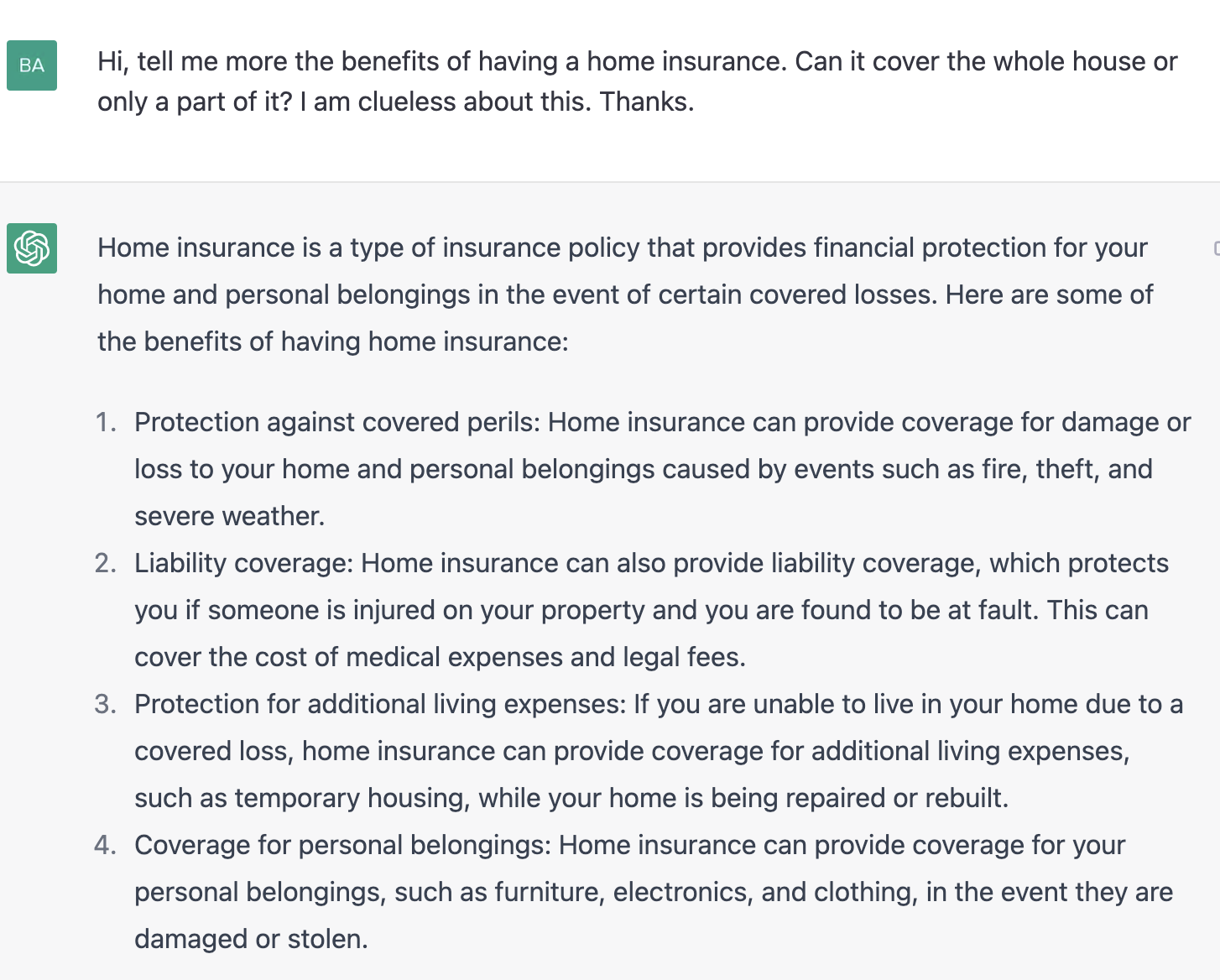 Draft Real Estate Forms
If you're planning to sell or lease your house to someone else, you need to have a contract such as Contract to Sell or Leasing Agreement. Let ChatGPT assist you in creating a draft Contract to Sell, and you can edit the terms based on the ag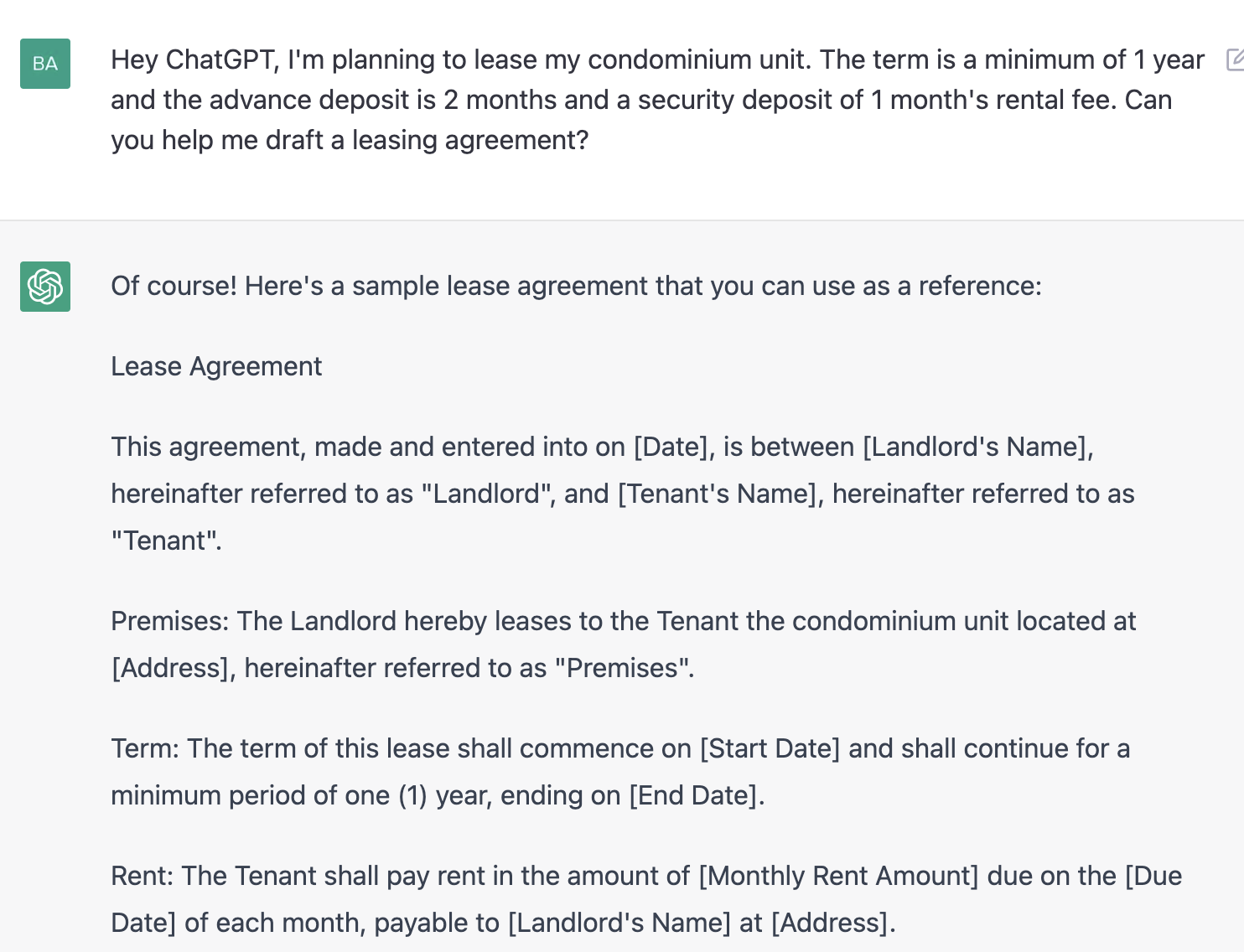 Real Estate Law
As a homeowner, you must know your rights. But how would you know, if you don't know the whole law? ChatGPT can answer your questions on real estate law, including property rights, contracts, and regulations.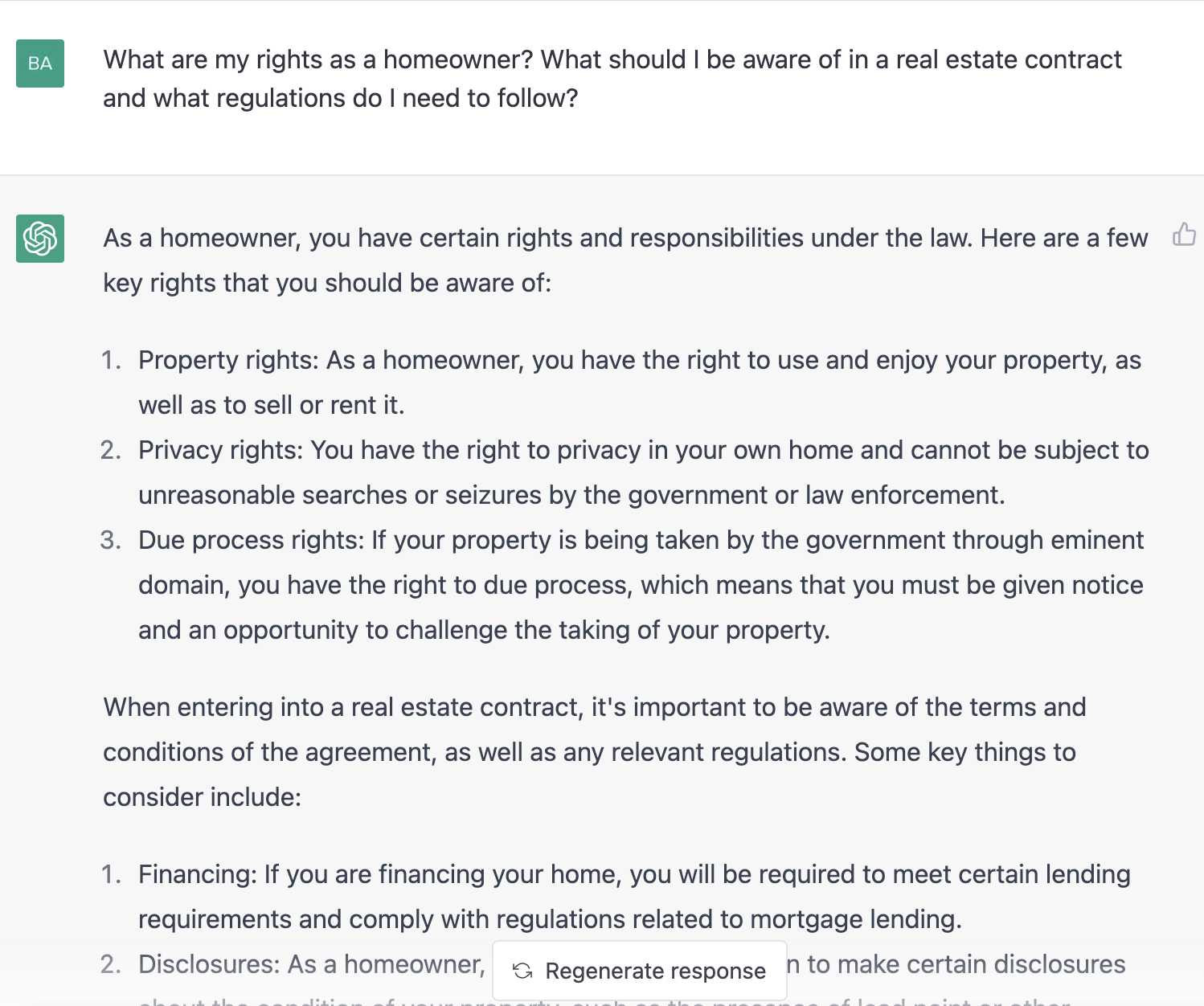 Environmental Issues
You need to know potential environmental hazards associated with real estates, such as lead-based paint, mold, and contaminated soil. You may also need to know tips on how to identify and address these issues. ChatGPT can help you with these environmental issues, including potential hazards and how they may impact real estate transactions.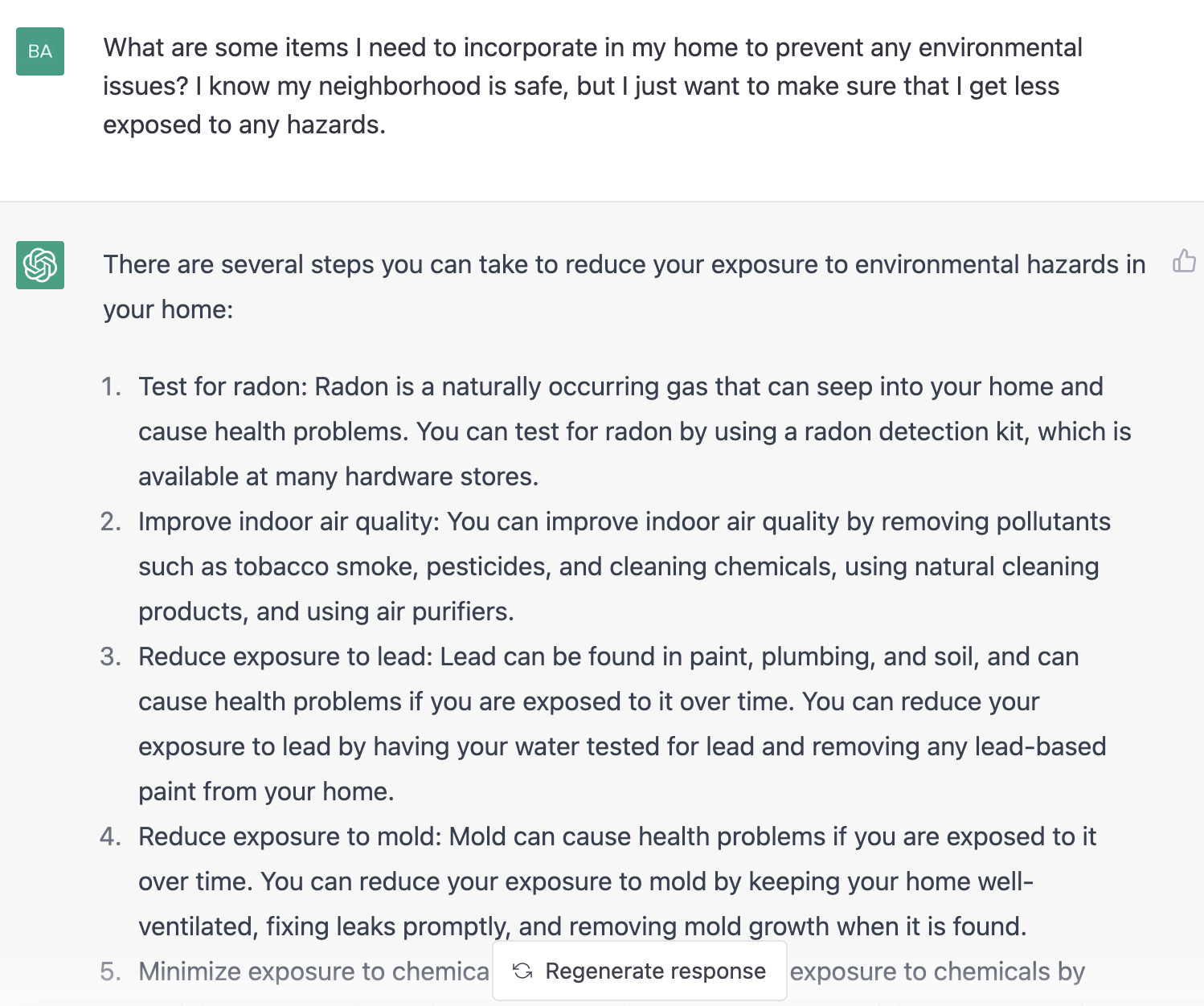 Relocation Assistance
This section provides information and resources for individuals who are relocating to a new area. Topics may include finding a new home, selling a current property, and adjusting to a new community. ChatGPT can provide information and advice on relocation, including tips for making the transition and finding a new home.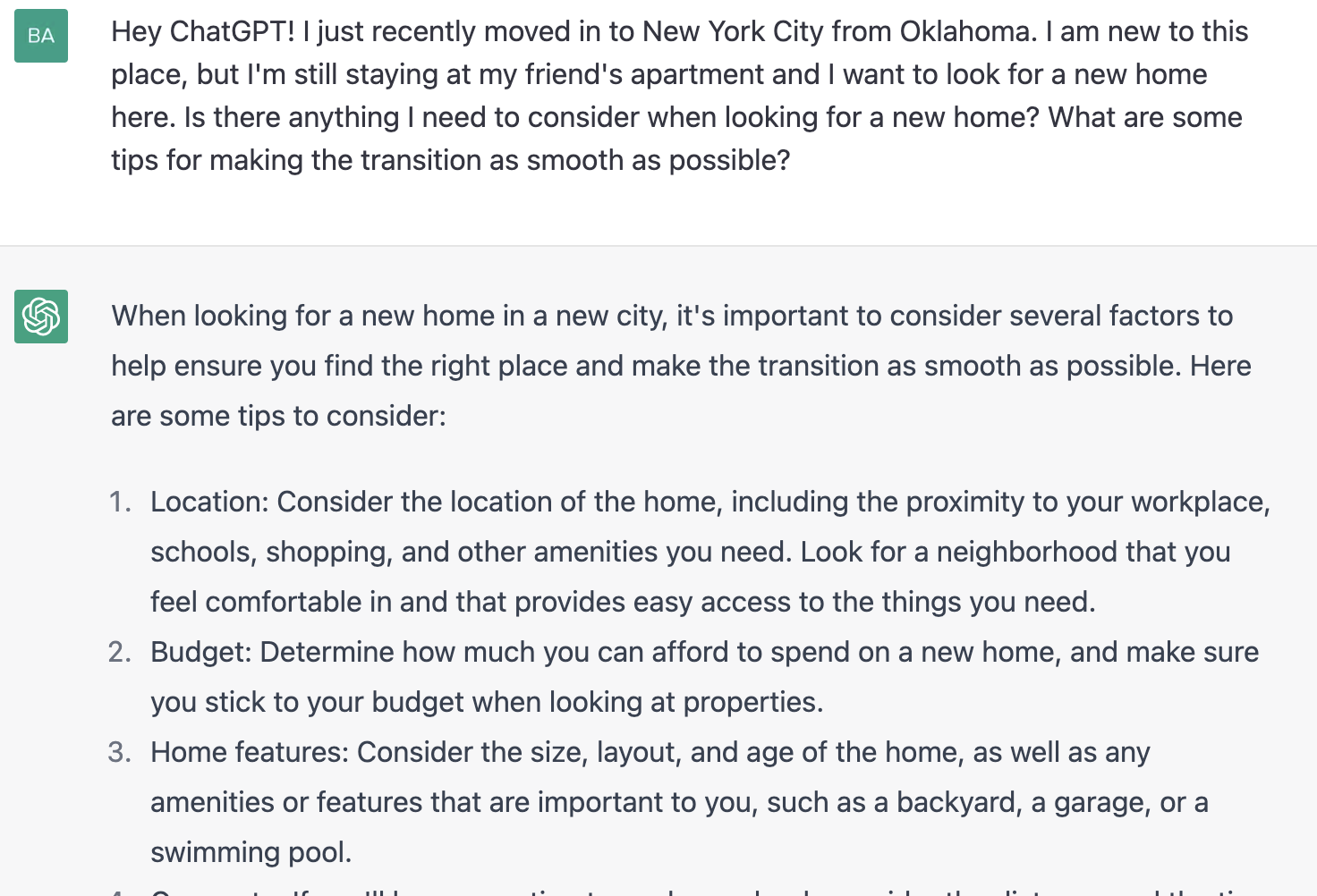 Investment Properties
Investment properties are those that have a return on investment on various properties and acts related to real estate. These include rental properties, flipping homes, and participating in real estate investment trusts (REITs). ChatGPT can give advice on investment properties, including how to evaluate potential investments, what to look for in a rental property, and how to maximize returns.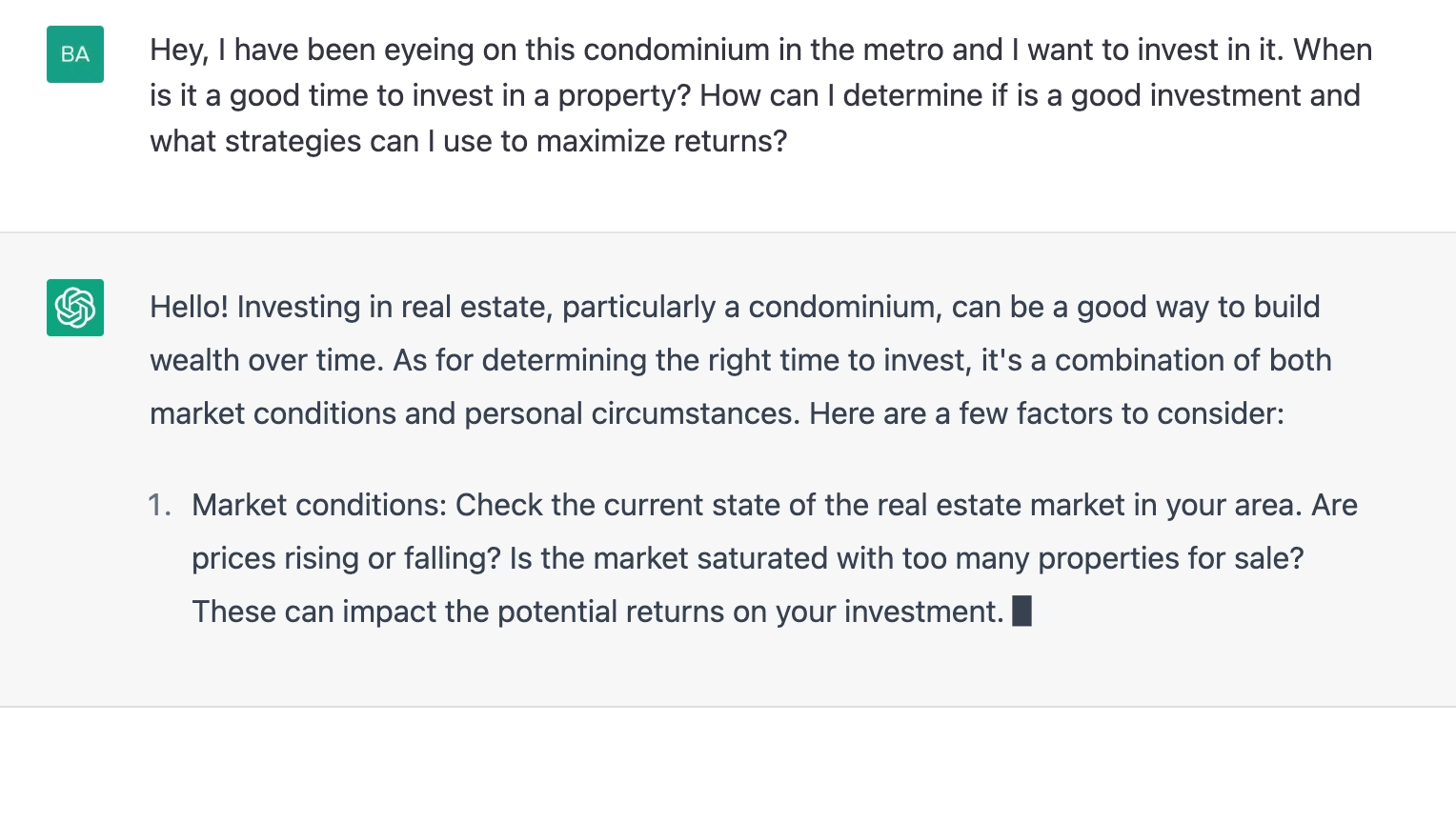 Invest Knowledge With ChatGPT
To sum up, ChatGPT is a reliable tool for real estate stakeholders such as agents, homeowners, buyers, and investors. It offers comprehensive information and guidance on diverse real estate matters. So, whether you need help with buying or selling a property, handling a rental, or understanding the real estate market, ChatGPT can assist you. It covers everything from home inspections to property management, real estate trends to investment strategies.