Creating a recipe book can be an exciting project for anyone who loves to cook. Whether you're a professional chef or a home cook, a recipe book allows you to share your favorite dishes and culinary creativity with others. But with so many recipes out there, it can be challenging to come up with fresh and innovative ideas.
ChatGPT can help you unlock your culinary creativity and take your recipe book to the next level. This article will guide you through the steps of using ChatGPT to create a recipe book that reflects your style and preferences. From selecting a theme for your recipe book to refining and adapting the recipes generated by ChatGPT, you'll have all the information you need to create a recipe book that will inspire and delight your readers.
Step 1: Log in to ChatGPT
If you already have a ChatGPT account, log in to your account. Once logged in, you can now create a new chat with ChatGPT.
Step 2: Tell ChatGPT About Your Preferences
Once you're logged in, start a new chat with ChatGPT. Tell ChatGPT about your food preferences, dietary restrictions, and cooking skills. You can provide ChatGPT with information such as:
Theme. Provide ChatGPT with the type of recipes you want to include in your book. It could be Italian or Japanese cuisine, gluten-free meals, pastries, etc.
Level of cooking experience. Tell ChatGPT the type of cooking experience you want for this book. You can say that you want the book to be beginner-friendly.
Ingredients. Provide the ingredients you have on hand or would like to use in your recipes.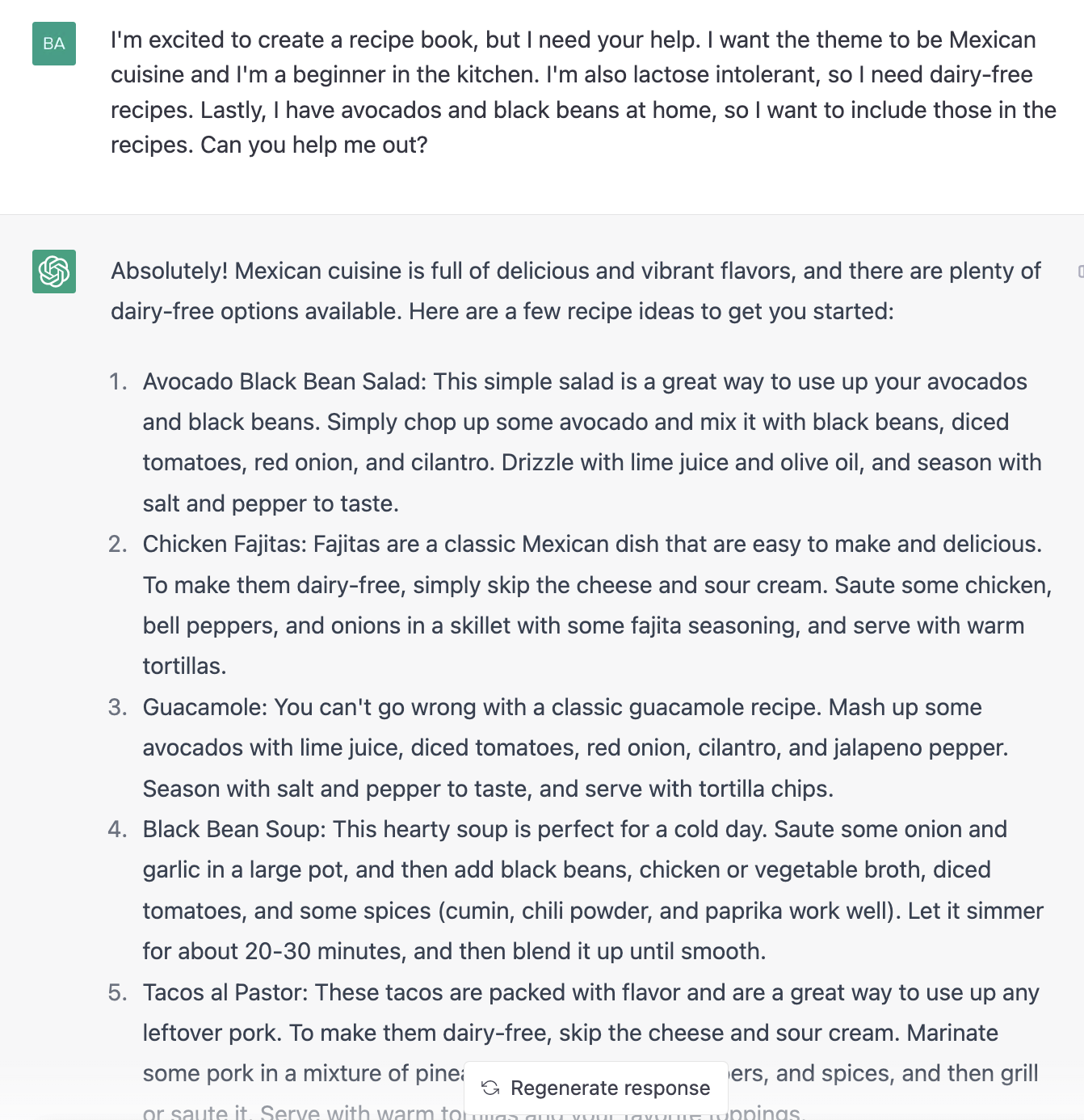 Step 3: Ask for Recipe Suggestions
You can ask ChatGPT for suggestions based on a particular cuisine or ingredient. For example, if you're writing about Italian food recipes, ask ChatGPT for Italian recipe suggestions. You can also add the ingredients you have at home so ChatGPT can create a better recipe for you.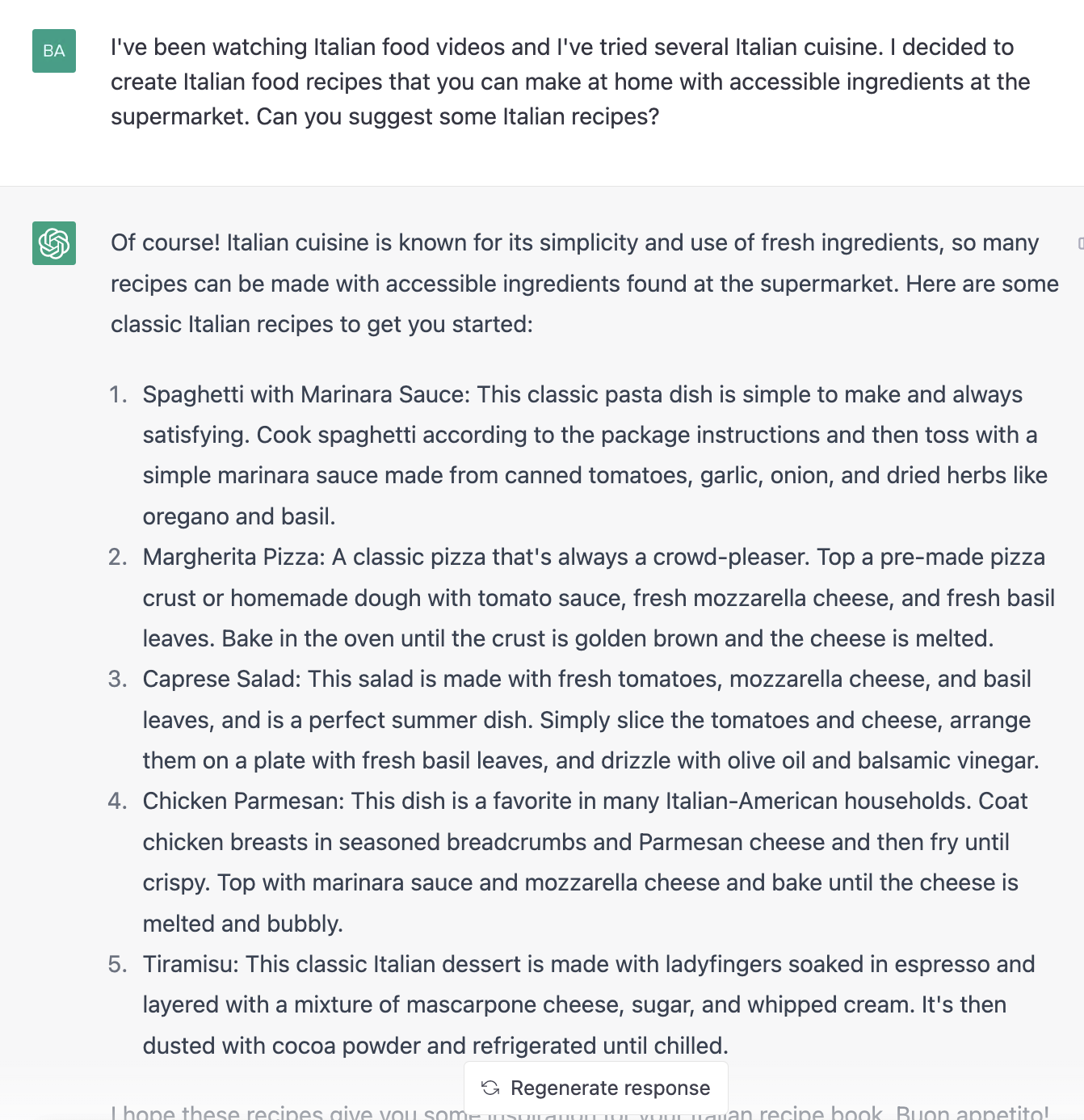 Step 4: Create a Recipe Outline
After providing everything you need, ChatGPT will generate a recipe outline for you. The recipe outline generated by ChatGPT may include recipe names, ingredients, and cooking instructions based on the information you provided.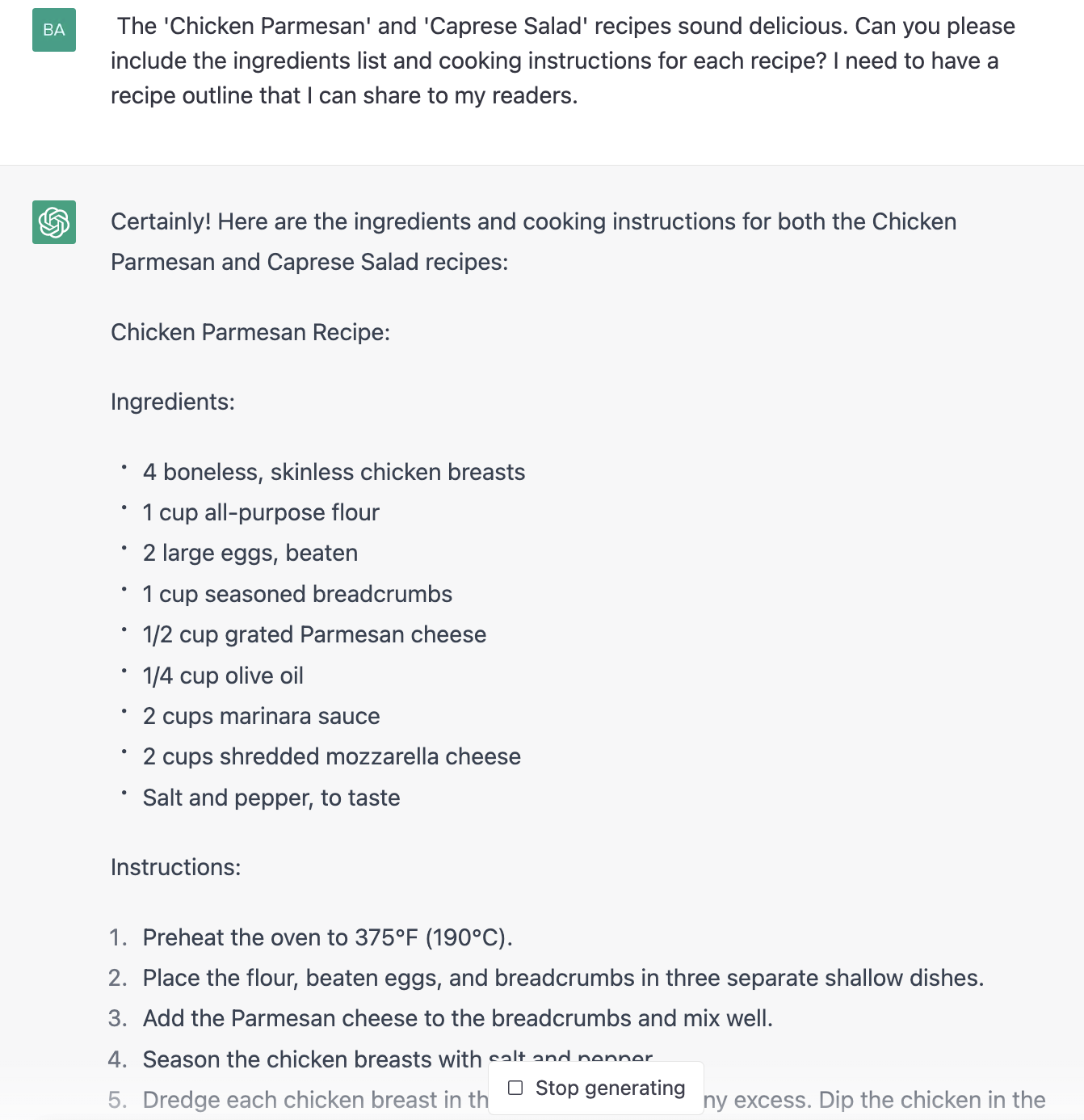 Step 5: Refine Your Recipe Book
Once ChatGPT provides you with recipe suggestions, you can refine your recipe book by selecting the ones that suit the theme of your book. You can also ask ChatGPT to modify the recipes to fit other preferences. For example, if you want a vegan version of a recipe, ask ChatGPT to modify it accordingly.
You can also ask ChatGPT to create another output by clicking the "Regenerate Response" button or editing your prompt.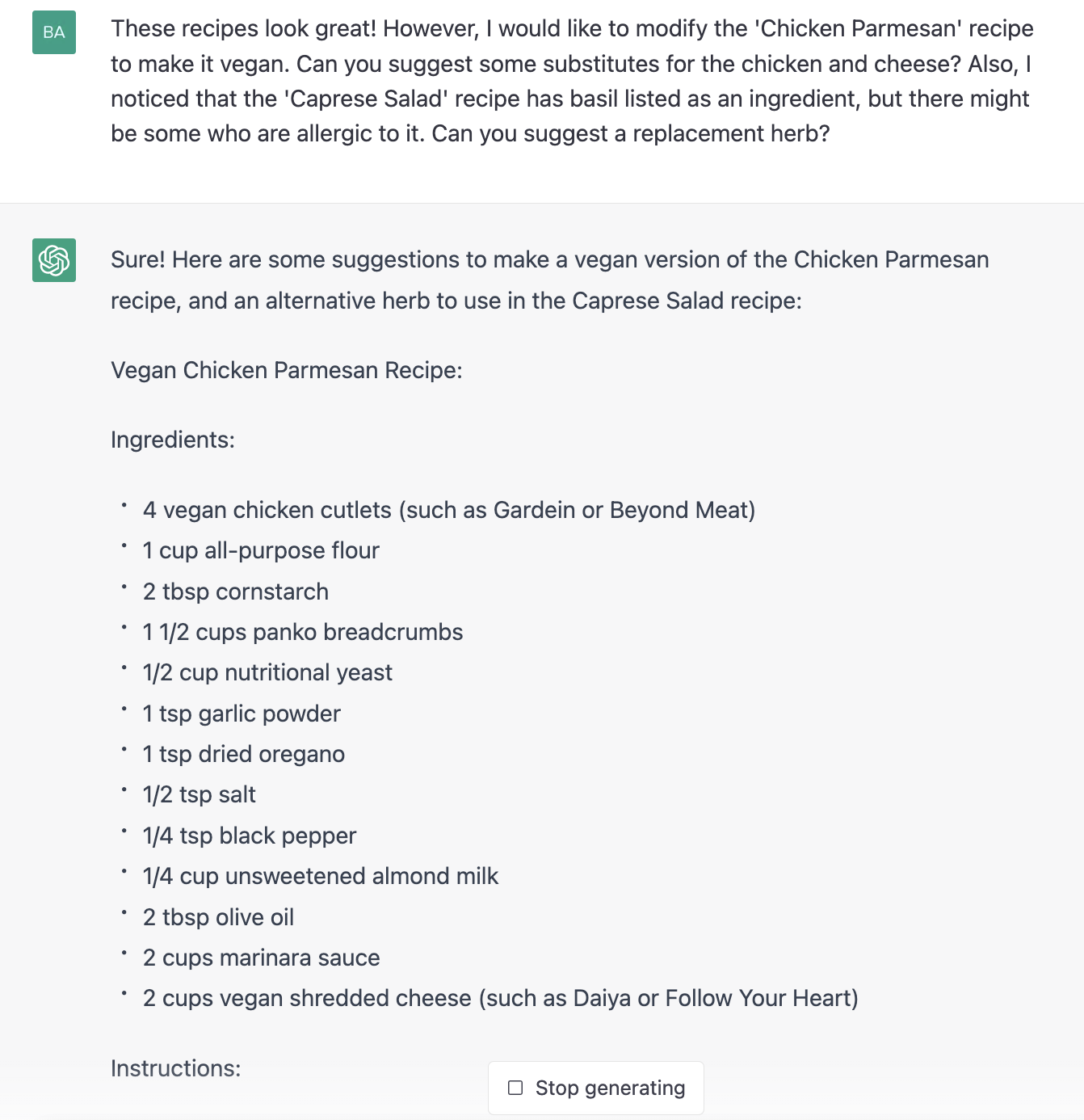 Step 6: Organize and Modify the Recipe Book
Once you've selected your recipes, ask ChatGPT to organize them into categories such as appetizers, entrees, and desserts. And to make your recipe book even more enticing and if you plan to publish your recipe book, ask ChatGPT what kind of visuals or any additional information it can suggest.
Step 7: Save and Print Your Recipe Book
Once you're happy with your recipe book, save it on your text editing software on your computer, like Microsoft Word, Google Docs, or Notepad, or you may print it out. You can also share it with friends and family who share your love for cooking.
Final Thoughts
Creating a personalized recipe book with ChatGPT is a fun and easy way to explore new cuisines, experiment with new ingredients, and cater to your dietary requirements. With its vast knowledge of cooking techniques and ingredients, ChatGPT can help you create a recipe book that is both delicious and healthy. So, what are you waiting for? Start chatting with ChatGPT today and get cooking!