Traveling can be a thrilling experience, but it requires a lot of planning and preparation. One of the most important aspects of travel planning is creating an itinerary. An itinerary is a detailed plan that outlines your travel schedule, including the places you will visit, the activities you will do, and the accommodations you will stay in. But creating a travel itinerary may be challenging, especially if you're unfamiliar with the destination.
Whether you're a seasoned traveler or a first-time explorer, ChatGPT can assist you in creating a travel itinerary that meets your needs and interests. By the end of this article, you'll have the tools and knowledge to use ChatGPT effectively and create a memorable and enjoyable trip.
Step 1: Log in to ChatGPT
Head over to your ChatGPT account and start a new chat with the chatbot. You will see a prompt text bar below your screen where you will type your prompt.
Step 2: Tell ChatGPT About Your Trip
When telling ChatGPT about your trip, you should provide it with the following information:
Destinations: If you have a specific destination in mind, let ChatGPT know.
Best time to visit: Ask ChatGPT for suggestions as to when would be the best time to visit the country you have in mind.
Budget: Provide ChatGPT with an estimate of your budget for the trip. This will help it recommend destinations, accommodations, and activities that fit within your budget.
Transportation: Ask ChatGPT your preferred mode of transportation to know if you can travel to your preferred destination using your preferred transportation.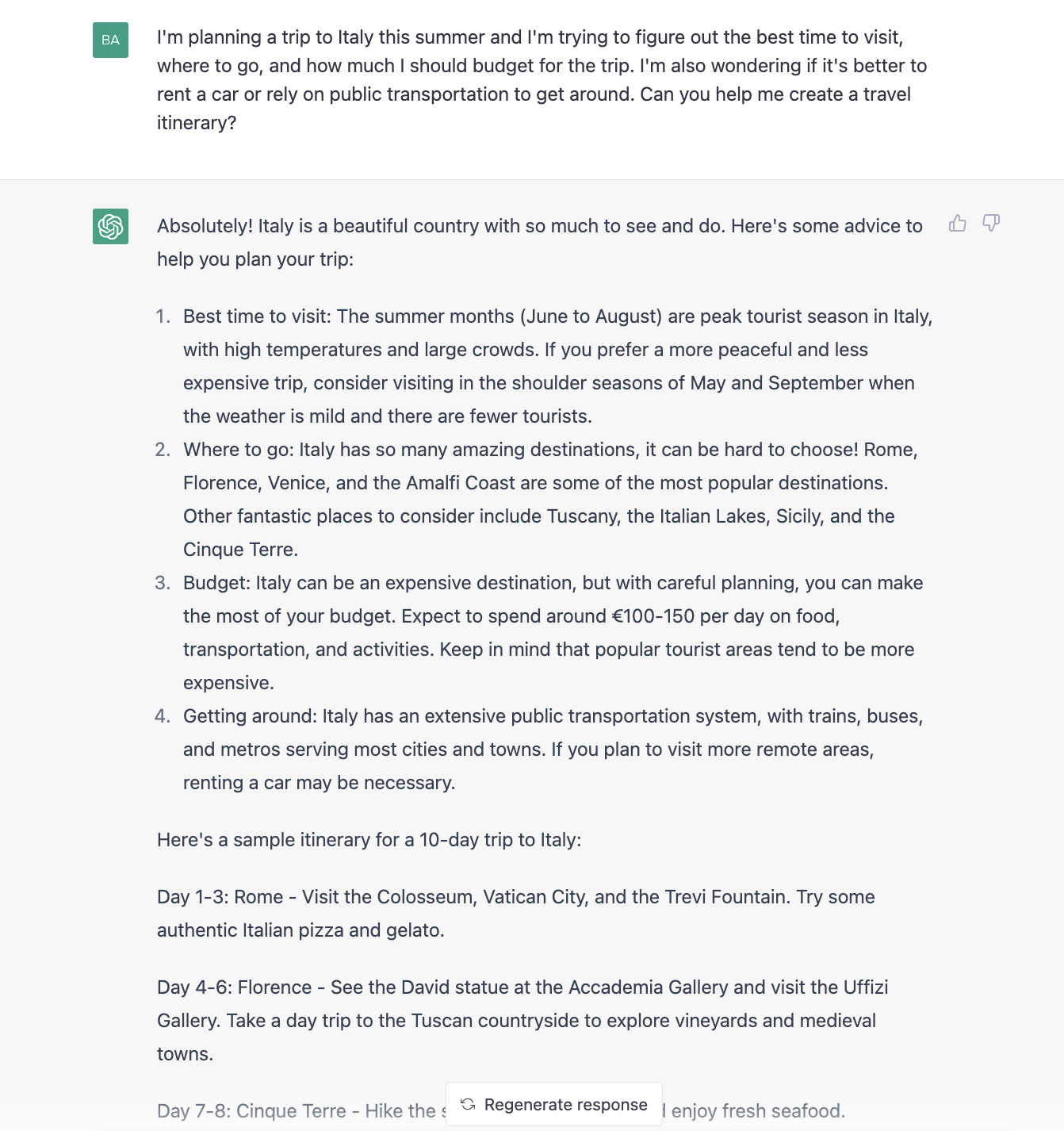 Step 3: Suggest Destinations
If you still haven't on a travel destination you want to go to, you can ask ChatGPT for suggestions. Simply provide ChatGPT with information about the type of destination you're interested in visiting (e.g., beach, city, mountain, etc.).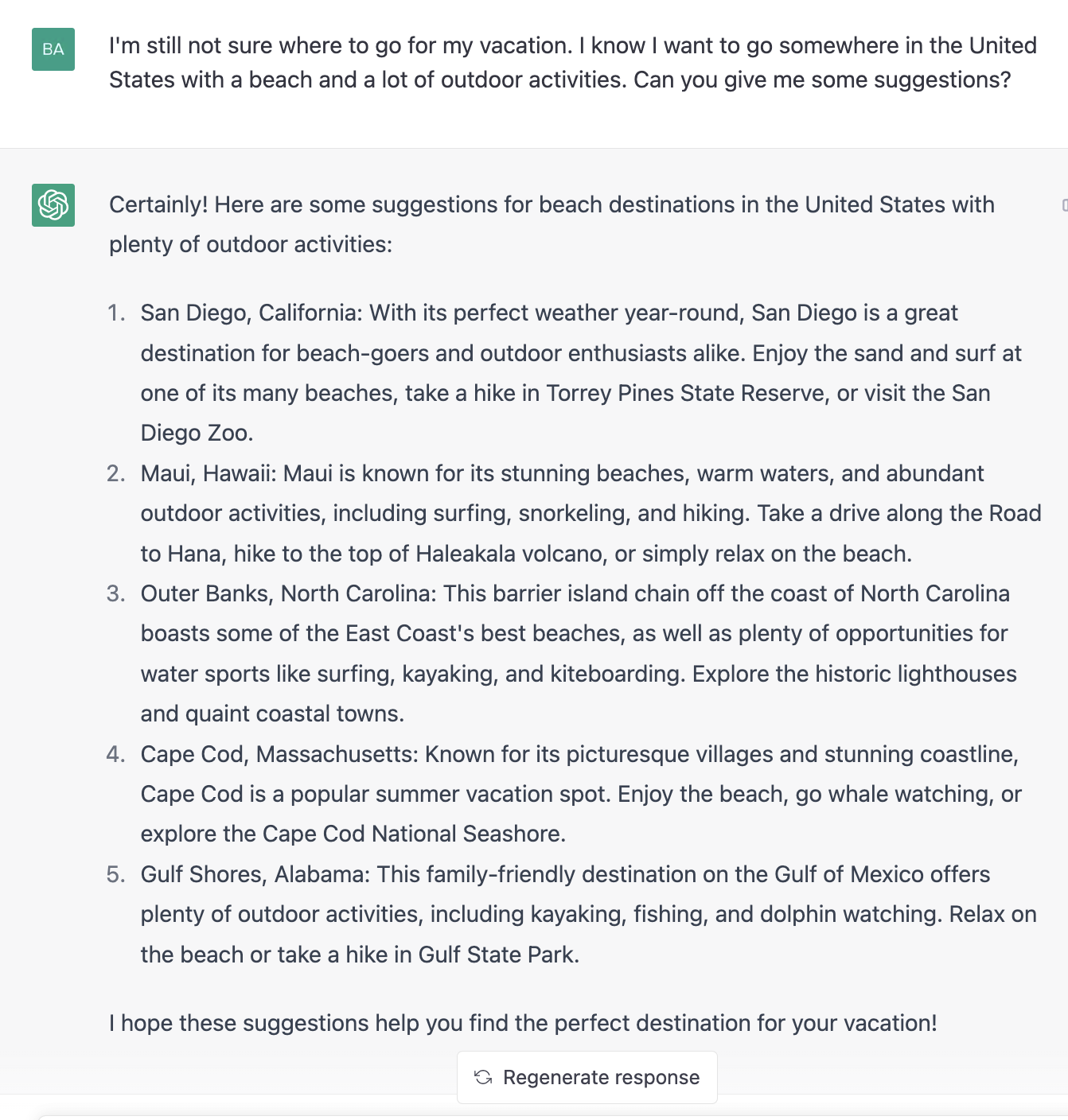 Step 4: Get Recommended Activities
One of the best ways to experience a new destination is to get recommendations from locals who know the area best. ChatGPT can provide local recommendations for activities, restaurants, and attractions based on your interests and preferences.
Simply ask a follow-up question from ChatGPT for recommendations in your destination city or region, and it will provide you with suggestions based on its vast knowledge of the area. You can also ask for recommendations on off-the-beaten-path destinations or hidden gems that you may have yet to find on your own.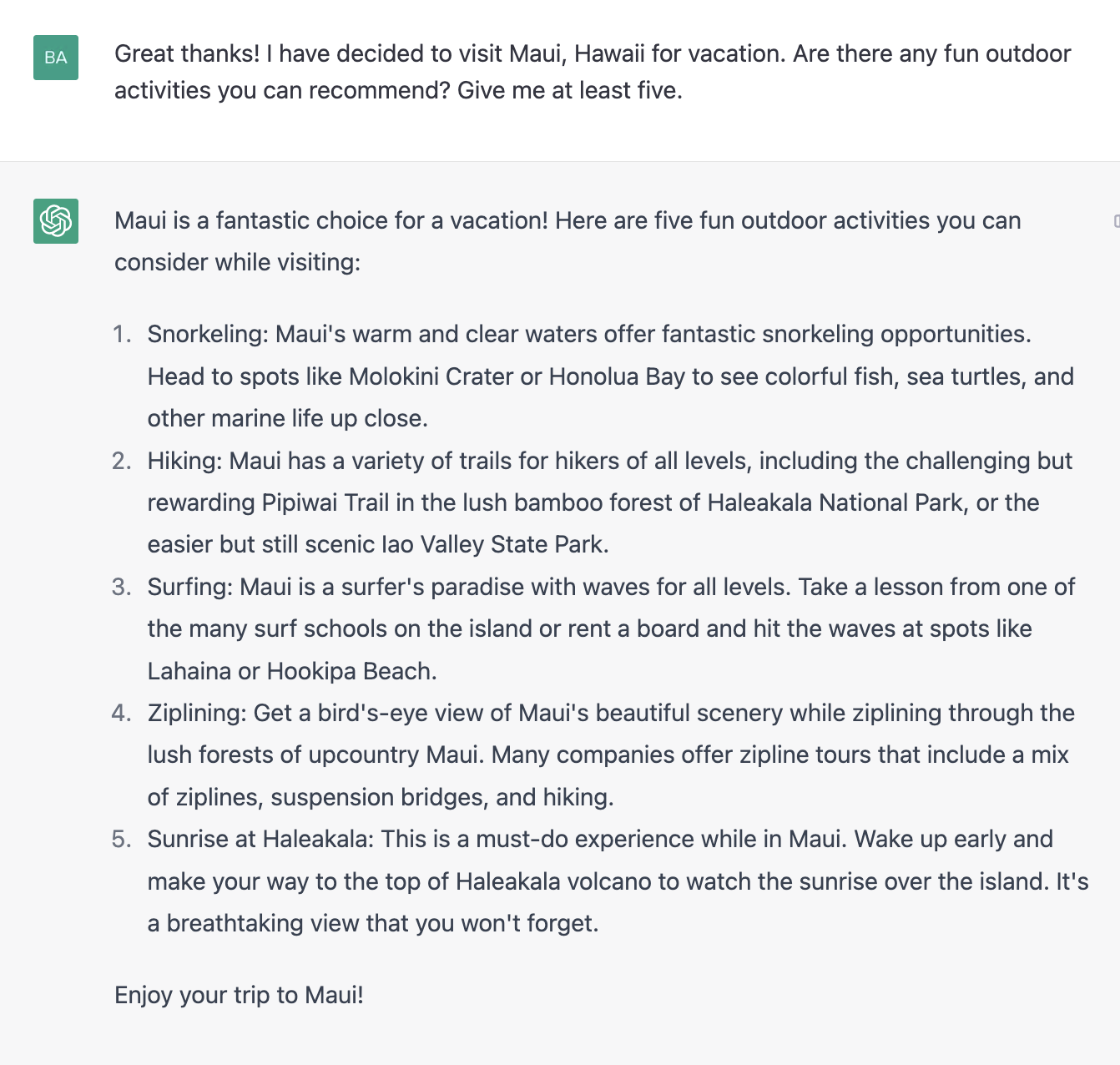 Step 5: Ask About Local Culture and Customs
When traveling to a new destination, it's important to learn about the local culture and customs in order to show respect and avoid any cultural misunderstandings. ChatGPT can provide you with basic information on local customs and etiquette, as well as any cultural or language differences that you may encounter during your trip.
Ask ChatGPT for information on local customs and traditions, such as greeting customs, dress codes, and table manners. ChatGPT can also provide you with information on any important religious or cultural practices that you should be aware of.
In addition to learning about local customs and traditions, ChatGPT can also information on the local language, like basic phrases and common words that will be useful during your trip.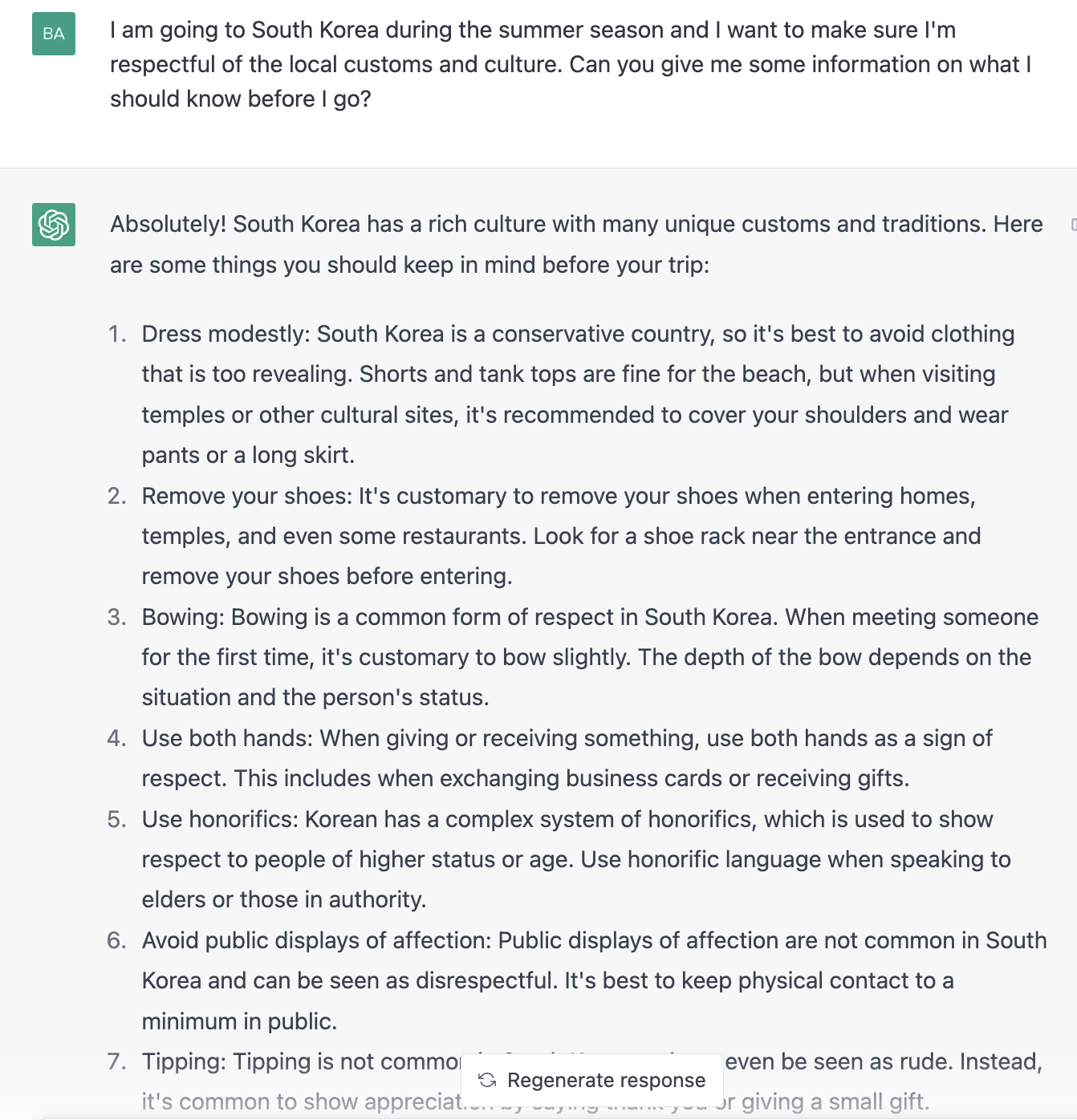 Step 6: Let ChatGPT Create Your Itinerary
After ChatGPT has gathered all the information it needs, it will start generating your travel itinerary. It will recommend destinations to visit, activities to do, and accommodations to stay at. You can ask ChatGPT to revise or refine the itinerary as many times as you like until you're satisfied with the final version.
To revise ChatGPT's response, click "Regenerate Response" at the bottom of the screen. You can also edit your prompt by clicking on the Edit button on the right side of your prompt and then clicking "Save and Submit" once you're done.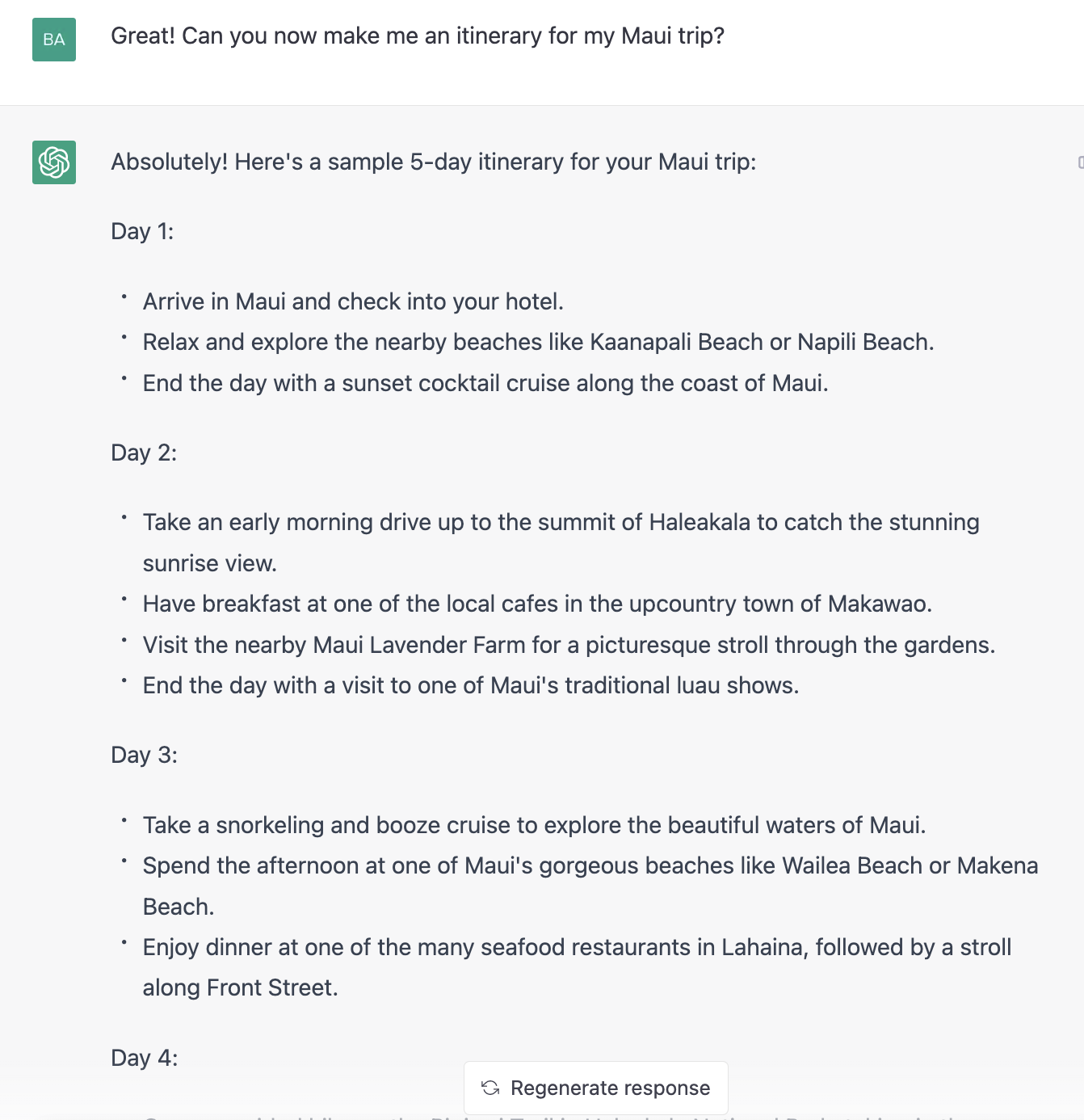 Step 7: Review and Confirm Your Itinerary
Review the prompts and make any final adjustments. ChatGPT can also help you with this step by answering any questions you may have and providing additional information about the destinations and activities recommended in your itinerary. Once you're happy with the itinerary, confirm it with ChatGPT. Save it on your text software (e.g., Microsoft Word, Google Docs, Notepad) or write them down on paper, and start planning your trip!
Final Thoughts
Creating your travel itinerary using ChatGPT can make it a breeze. With its personalized recommendations based on your preferences and interests, ChatGPT helps you save time and effort while ensuring your trip is tailored to your needs. And with the ability to revise and refine your itinerary, you can rest easy knowing that your travel plans are in good hands. So why not give ChatGPT a try for your next adventure and experience hassle-free trip planning?