Creating a landing page is an essential step toward building a successful online presence for your business. A well-designed landing page can help drive traffic to your website, increase conversions, and improve your overall marketing strategy. A landing page is a page that not only shows potential customers and clients what you have to offer but that also drives them to take action.
However, designing an effective landing page can be time-consuming and challenging, especially if you're not a web designer or developer. Fortunately, with the advent of conversational AI technologies like ChatGPT, creating a landing page has never been easier. By using this chatbot to create a landing page, you can save time, effort, and money while still achieving professional-looking results. In this article, we will guide you through the process of creating a landing page using ChatGPT, step by step.
Step 1: Log in to ChatGPT
To get started, log in to your ChatGPT account and start a new chat with the chatbot. You will see a prompt text bar right below the screen where you'll type in your prompt.
Step 2: Provide Details to ChatGPT
Before you can create your landing page, you need to provide some basic details to ChatGPT. This includes information such as:
Purpose: Tell ChatGPT the goal of your landing page, such as lead generation, product promotion, event registration, etc.
Audience: Describe your target audience, including their demographics, interests, pain points, etc.
Branding: Provide details about your brand, such as brand colors, logos, and font preferences.
Call-to-Action (CTA): Specify the desired action you want visitors to take on your landing page, such as "sign up," "buy now," or "contact us."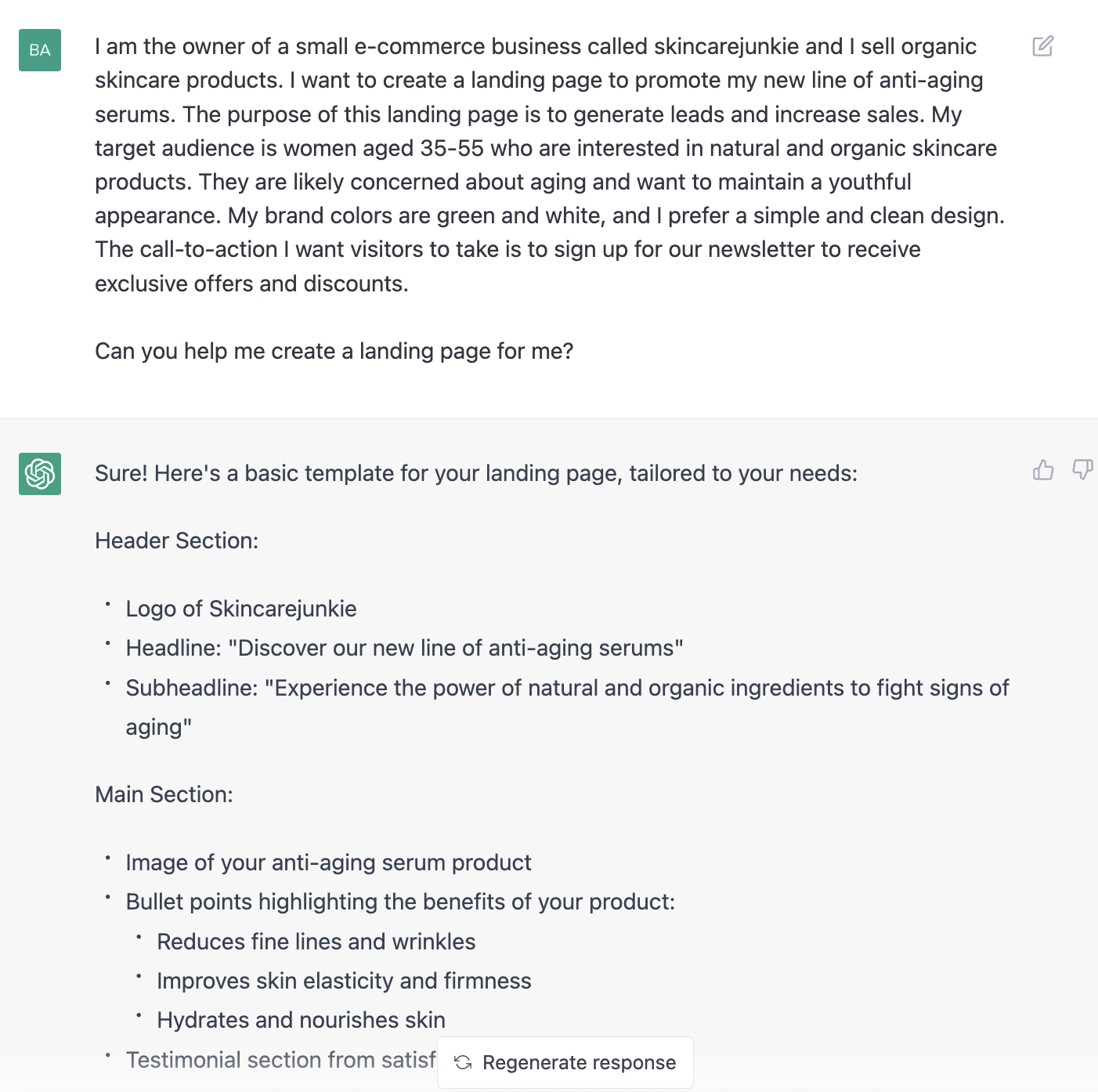 Step 3: Ask ChatGPT to Create a Landing Page Content
Once you've provided the necessary details, it's time to create your landing page. Use ChatGPT to generate a landing page template based on your input. ChatGPT will provide you with a structure and content for your landing page based on the information you've provided.
Step 4: Enhance and Adjust
After ChatGPT has generated the landing page content based on your prompt, review the output.
If you need to personalize the landing page further, you can make enhancements and adjustments to the draft generated by ChatGPT. This includes tweaking the language, structure, and design to suit your preferences and the unique needs of your business.
You can regenerate another response by clicking on "Regenerate Response" at the bottom of the screen. You can also edit your prompt by clicking on the Edit button on the right side of your prompt and then clicking "Save and Submit" once you're done.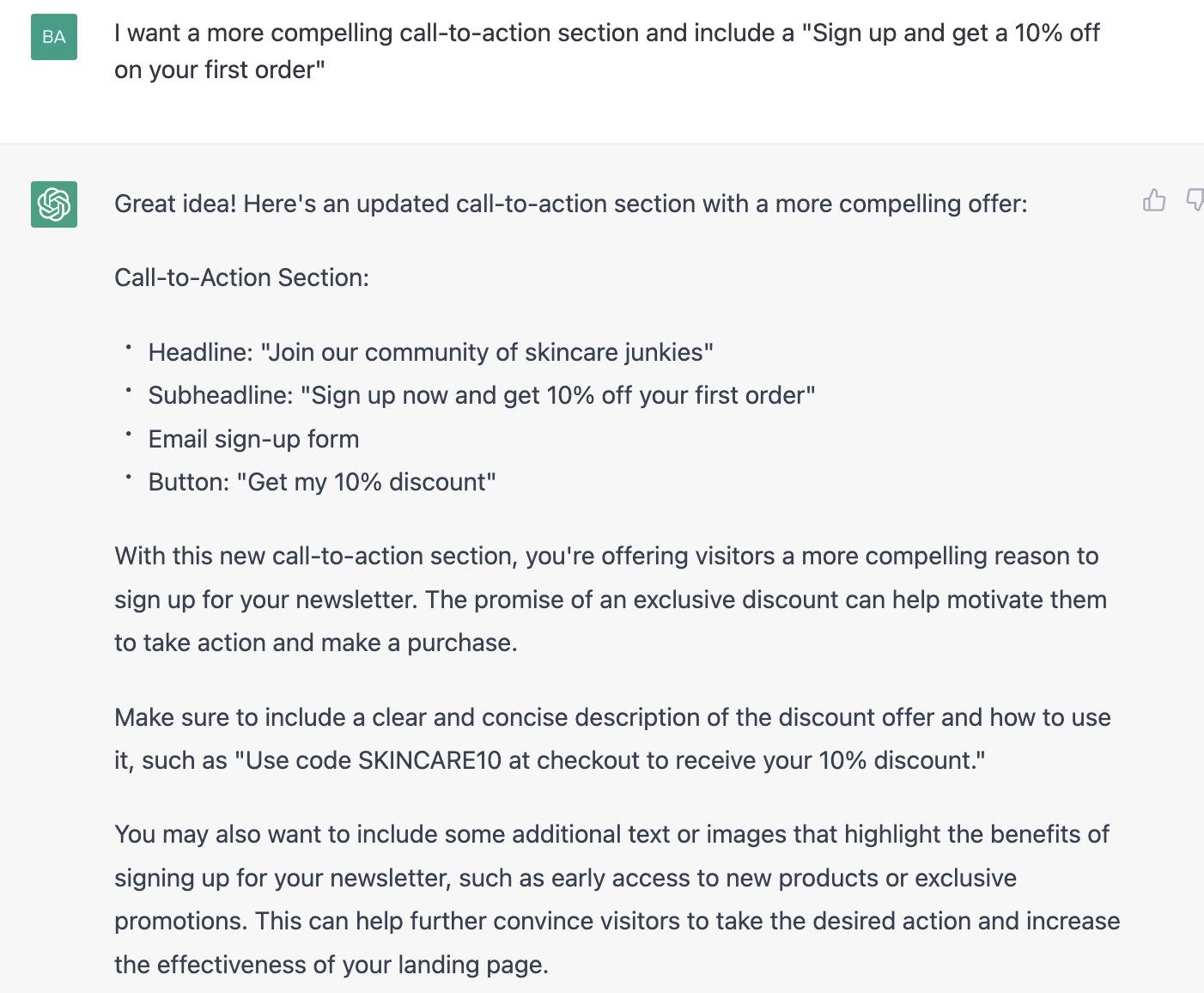 Step 5: Publish the Landing Page
Once you're happy with the landing page, it's time to publish it on your website or landing page builder. You can use popular landing page builders like Unbounce, Leadpages, or ClickFunnels to customize your landing page and make it live.
Final Thoughts
By using ChatGPT to create a landing page, you can save time and create an effective landing page that resonates with your audience. Just remember to provide ChatGPT with all the necessary details and take the time to review and refine the output to ensure it meets your needs. Give ChatGPT a try today and take the first step toward creating a high-converting landing page!