A business proposal is a document that outlines a proposed solution to a client's problem. And if you're a business owner, you understand the importance of creating a persuasive proposal that convinces potential clients to choose you over your competitors.
Let ChatGPT take your business to the next level by helping you create a professional and persuasive business proposal that will impress your potential clients! In this article, we will guide you through the step-by-step process of how to use ChatGPT to write a winning business proposal.
Step 1: Start a New Chat with ChatGPT
Go to the OpenAI website to access ChatGPT. Make sure you have an account with OpenAI and are logged in. Once logged in, you can now create a new chat with ChatGPT.
Step 2: Introduce Your Business Project
Start by introducing your business and project to ChatGPT. Provide some background information, such as the name of your company, what you do, and the project you are proposing. You also need to add the following:
Goals and Objectives. Provide what you want to achieve when you complete this project. Add your key performance indicators for success in this portion as well.
Approach and Methodology. Be as detailed as possible when outlining your approach and methodology. Indicate the methods, strategies, and techniques you plan to use to complete your work to attain your goals and objectives.
Experience and Expertise. Providing these is crucial to convince your potential clients that you are the right fit for the project. Highlight your expertise and experience in the field by providing relevant examples of previous work you have done.
In addition, emphasize your proposal's benefits to your potential clients. What makes your proposal unique? What value will it bring to their business? What are the benefits of working with you?
For example, you can start your prompt by saying, "I am writing a business proposal for [name of your business] to [potential client's business] for [name of project]. Our proposal offers unique solutions to [insert problem or challenge], which will help [insert benefits to potential client's business]."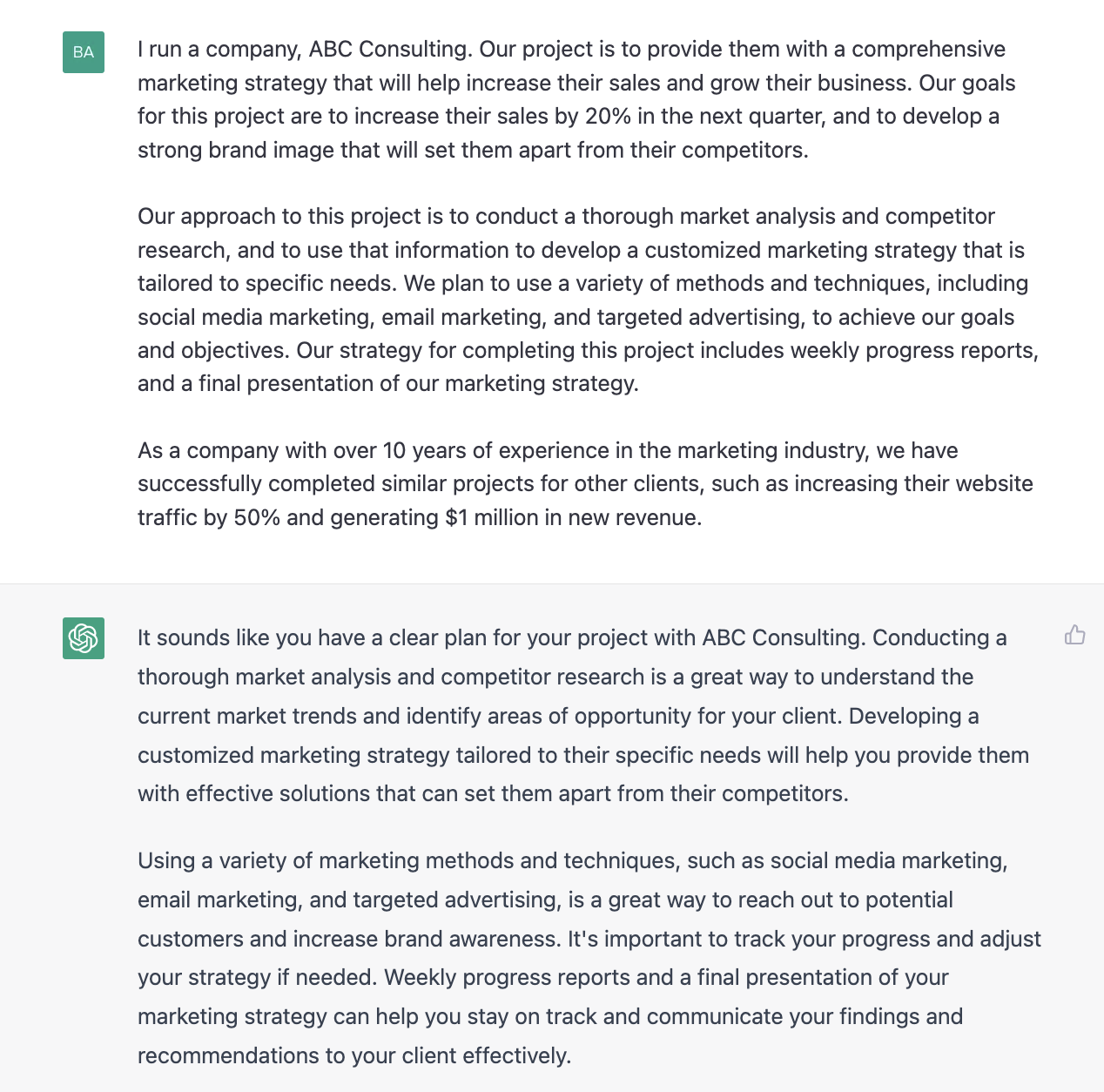 Step 3: Review and Regenerate
After providing the necessary information in Step 2, ChatGPT will generate an output based on your prompt. Take the time to review the output and check if there's anything more to add. You can let ChatGPT create another response by editing the prompt to provide more specific details, clicking "Regenerate Response" to give you another output, or asking follow-up questions.
Step 4: Edit and Adjust
Once you have an output that fits your needs, take the time to edit and adjust the content to ensure it meets your standards. If you're not satisfied with the draft, you can make changes to the wording, tone, and structure of the content to make it more compelling and persuasive.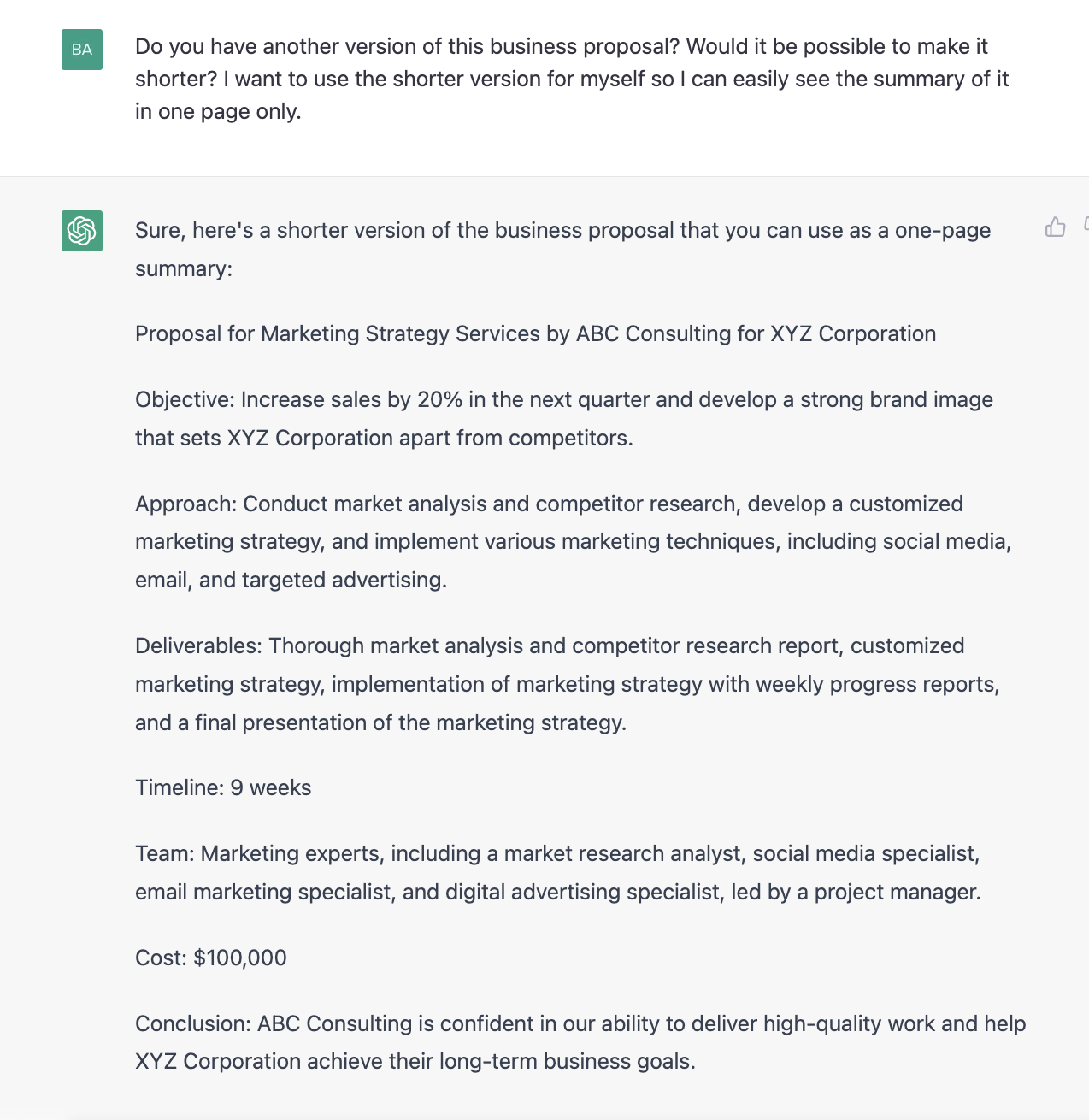 Step 5: Save and Send
After editing and adjusting the content to your satisfaction, save the output on text editing software like Google Docs or Microsoft Word. This will allow you to make any final adjustments and formatting changes and share the proposal with potential clients. Once it's good to go, you may send your business proposal to your potential clients!
Example Prompt
Here is an example prompt on using ChatGPT to write a business proposal: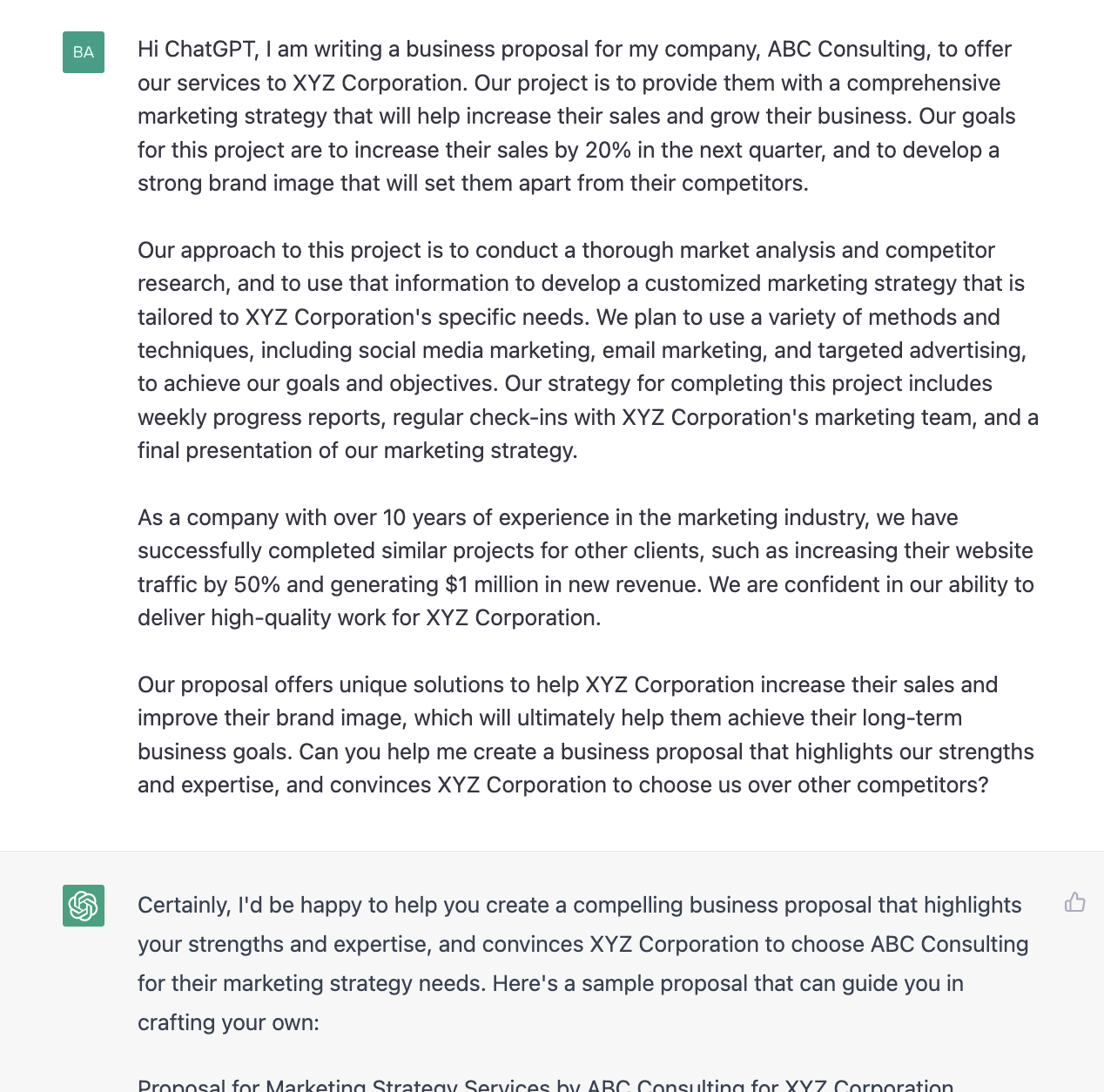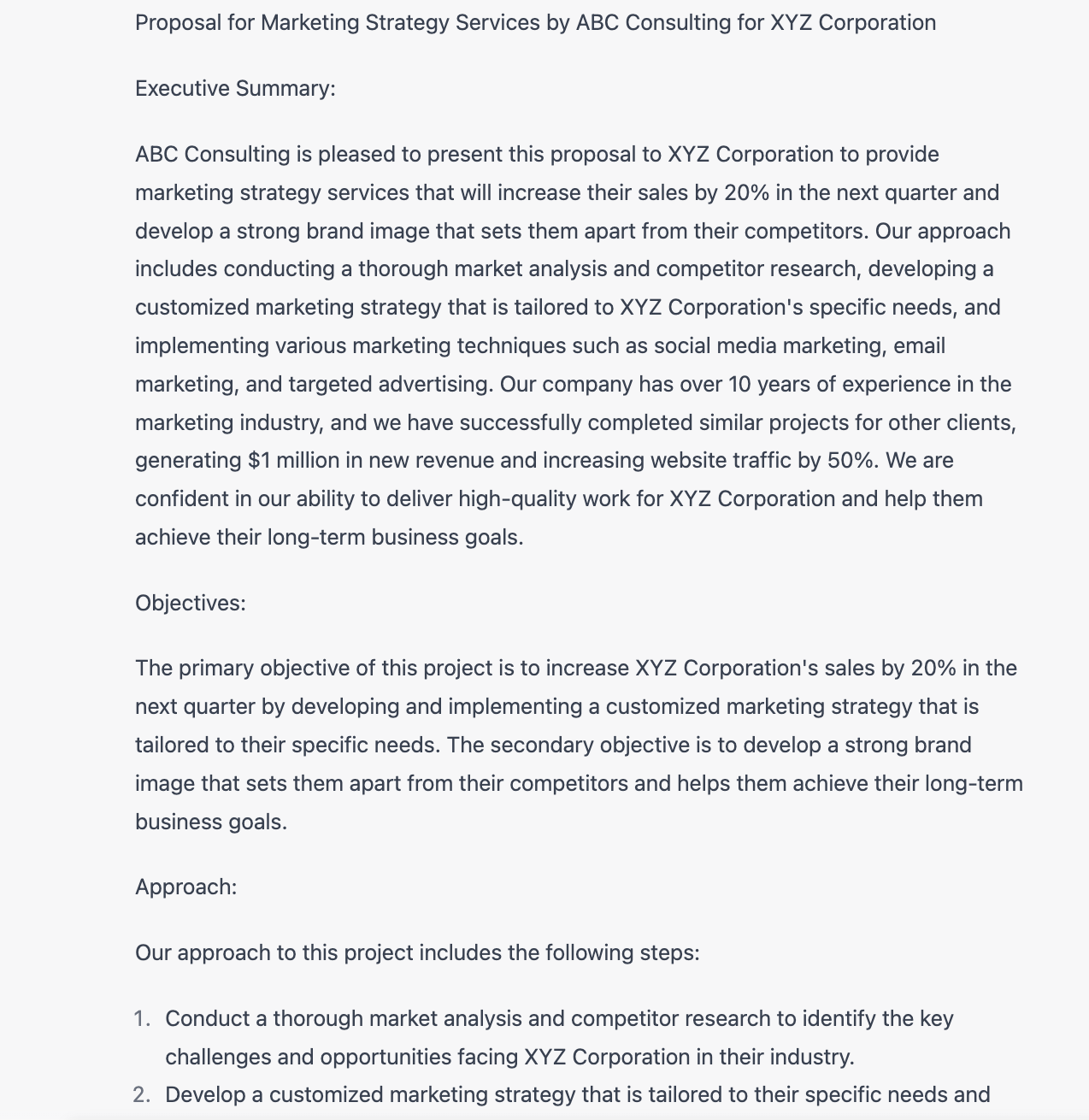 Takeaway
Using ChatGPT to write a business proposal can help you create a professional and persuasive document that will impress your potential clients. By following the step-by-step process outlined in this article, you can introduce your business project, review and regenerate ChatGPT's output, edit and adjust the content, and ultimately save and send your winning proposal to potential clients. So why not take your business to the next level and give ChatGPT a try today?