If you're applying for a job, you may encounter companies asking for a cover letter. A cover letter is a one-page document where you highlight your skills and achievements that align with the job requirements. A well-written cover letter can make a positive first impression and increase your chances of getting an interview. It also allows you to showcase your personality and communication skills, which can help you stand out from other applicants.
With ChatGPT's AI-powered natural language processing, you can input job-specific details and receive a cover letter draft that matches the requirements and taste of the hiring manager. This article will give you the step-by-step process on how to effectively use ChatGPT to write a compelling and creative cover letter.
Step 1: Create a New Chat with ChatGPT
Before anything else, make sure you are logged in or you have an OpenAI account to access ChatGPT. Once logged in, create a new chat.
Step 2: Ask ChatGPT to Write a Cover Letter
This step is straightforward as you will type on the text prompt bar below your screen what ChatGPT wants to do for you. Ask ChatGPT "write my cover letter for the [position you're applying for] at [company], using my resume below as a reference."
But if there's one thing that is considered essential to ChatGPT, it's providing context. Write your introduction similar to how you would introduce yourself in a job interview. Aside from that, include the following details:
Your current or previous work experience
The position you are applying for
The job description
The tone of your cover letter (professional, casual, etc.)
Number of words
This way, ChatGPT will get to know you, your educational attainments, previous work experiences, and skills. It will also help ChatGPT can create a cover letter that would match the requirements and taste of the hiring manager of the company. Here's a tip: You can create a new line from the prompt bar by typing "Shift" + "Enter," so that your prompt would be organized.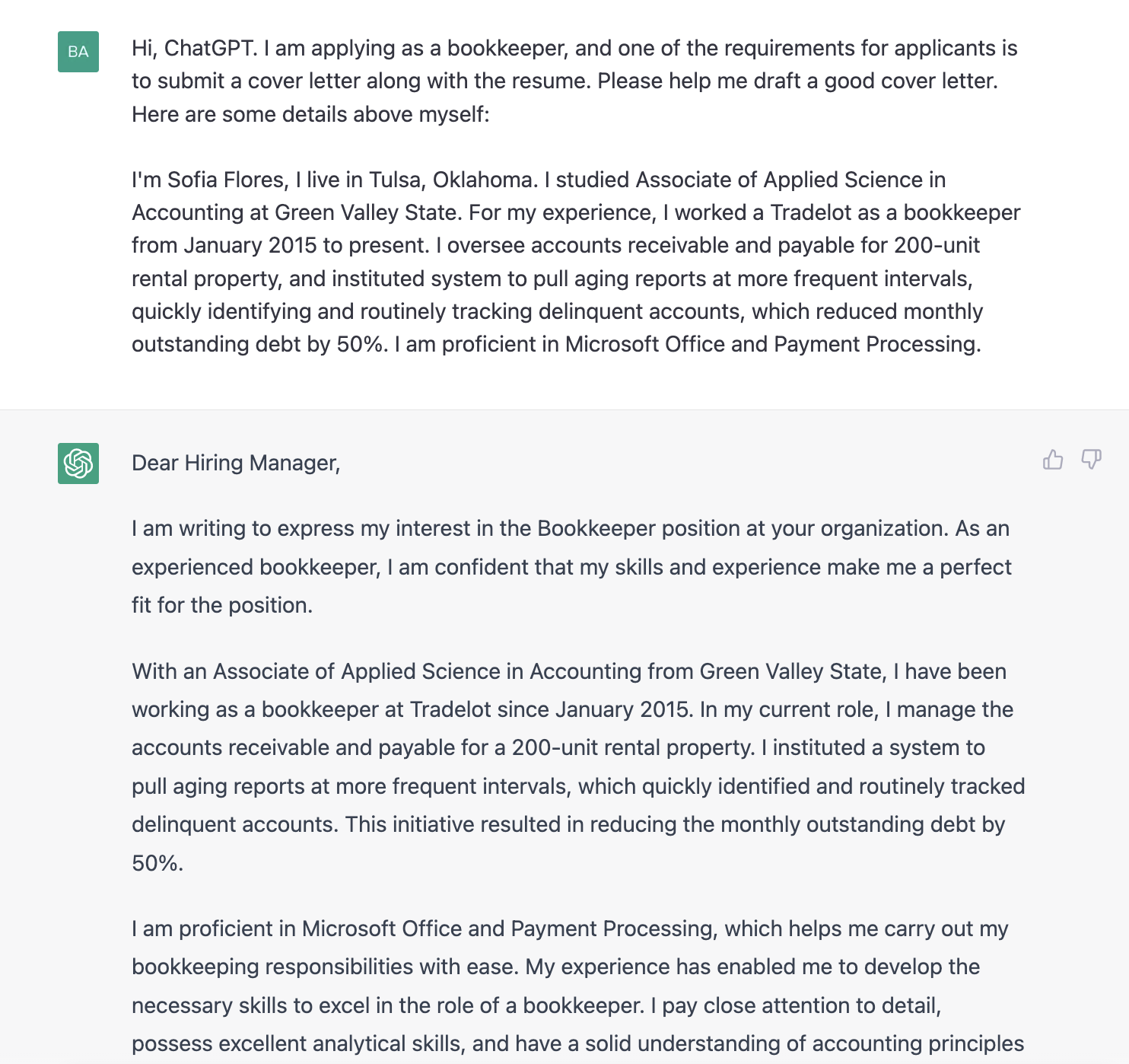 Step 3: Review Output section
If you feel like your prompt is good to go, hit "Enter" and ChatGPT will give you an output in no time! Once the output is finished, review everything and check if you missed anything. Take note that ChatGPT will only input information in its draft cover letter based on all the information you included in the prompt.
Step 4: Enhance and Adjust
This is the step where you can personalize and tweak ChatGPT's draft cover letter. Enhance the cover letter to your liking and create necessary adjustments to the spacing, sentence structure, and the like.
If you aren't satisfied with the results, you have three ways for ChatGPT to create another output: First, you can press "Regenerate Response" at the bottom portion of the screen. Second, you can also edit your prompt by clicking the Edit button on the right side of your prompt, then press "Save and Submit" once you're done. Lastly, type follow-up questions after ChatGPT responded. This will allow ChatGPT to regenerate another response based on your prompts.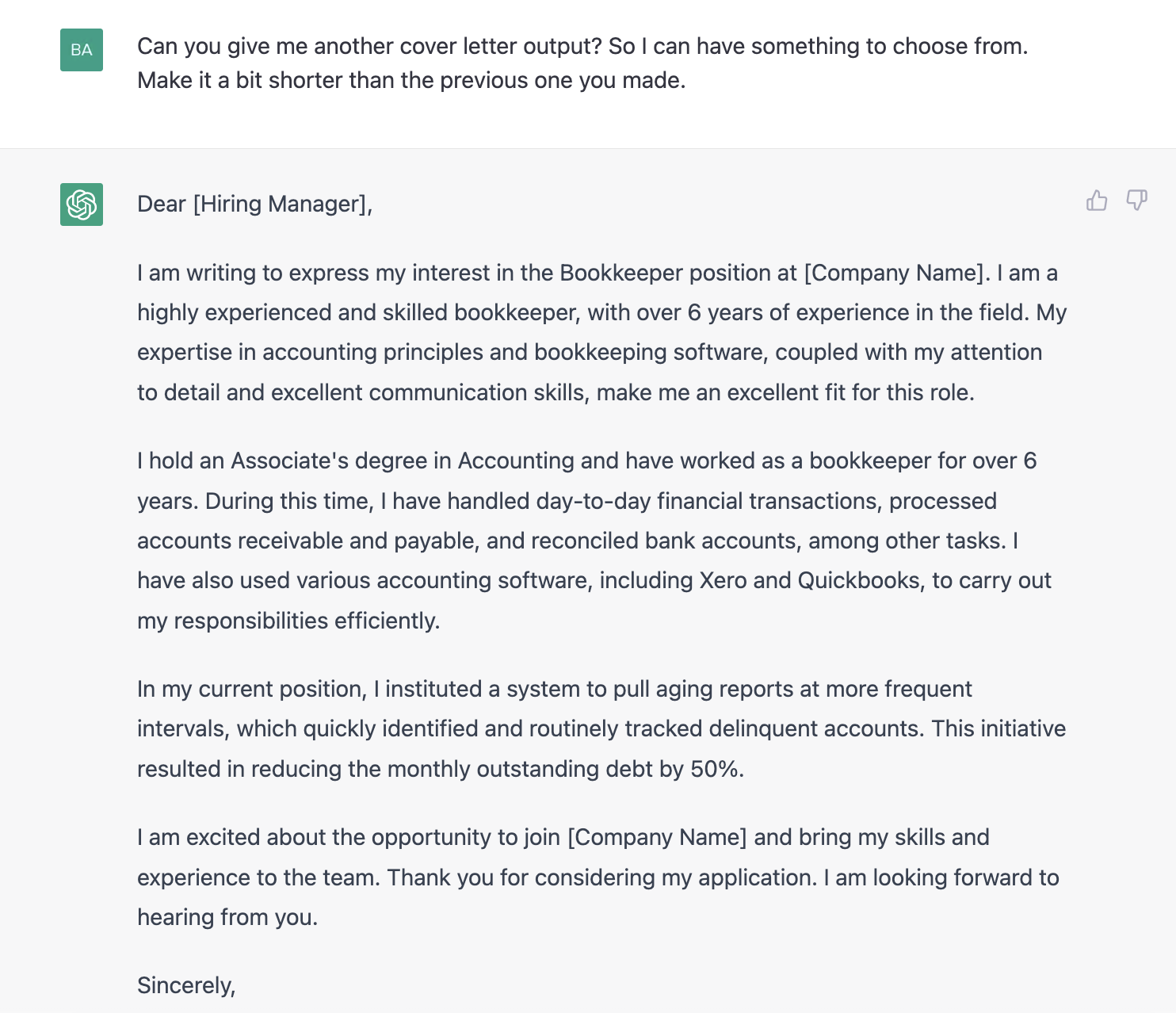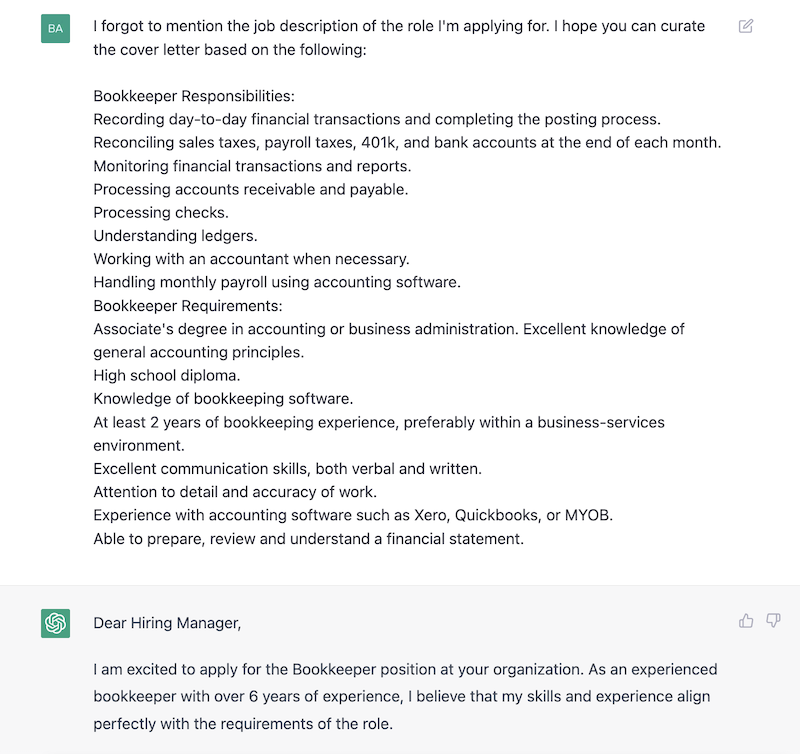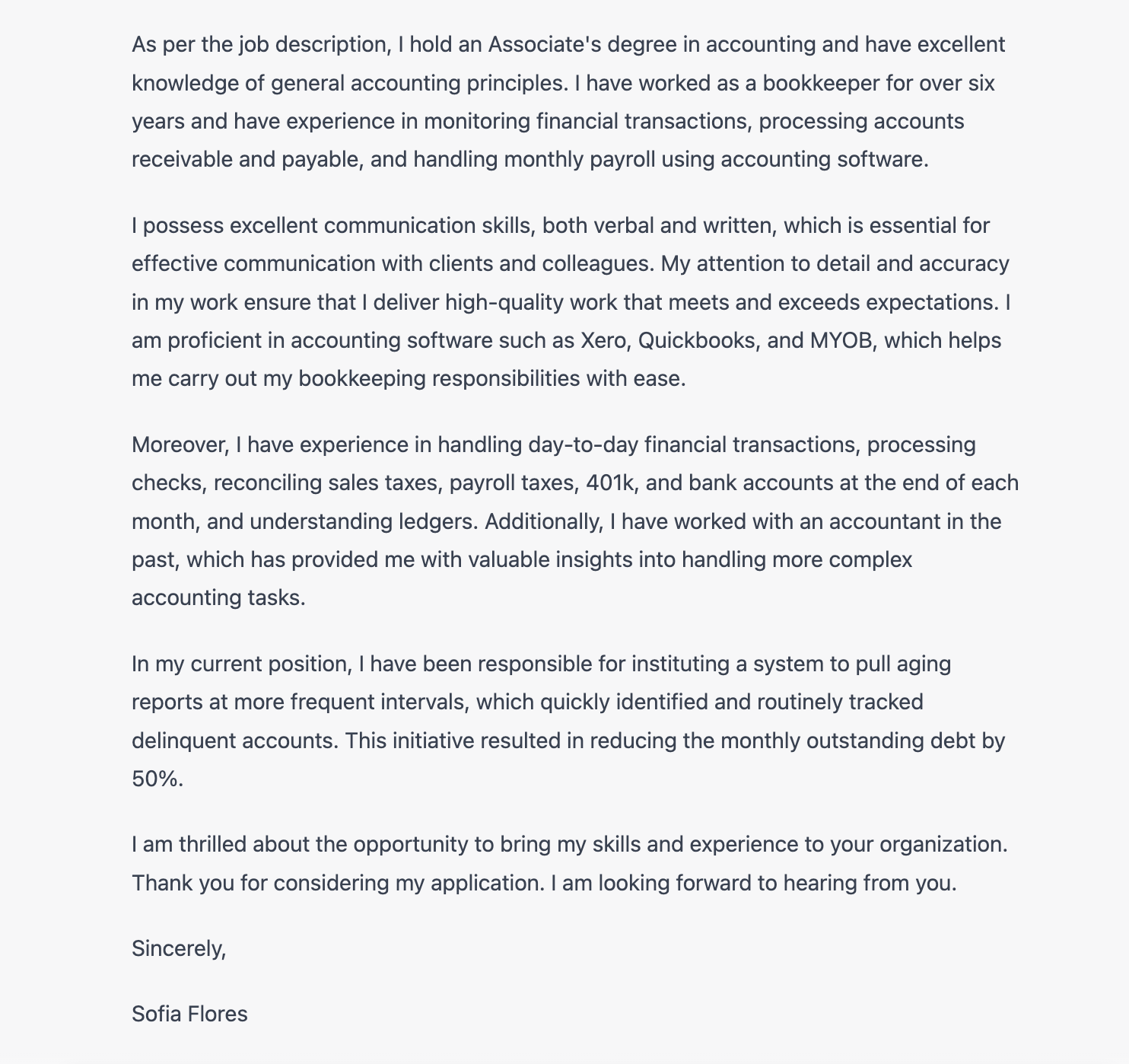 Step 5: Edit and Save
ChatGPT's response and paste it on your word document and feel free to edit it. Save the text on text editing software like Google Docs, Microsoft Word, Pages, or Notepad.
Takeaway
Crafting a winning cover letter is a crucial part of any job application process. By utilizing ChatGPT to generate the initial draft, you can streamline your writing process and focus your time on more valuable activities, such as researching the company and position and identifying your qualifications, key skills, and requirements that match the job description. ChatGPT saves you a lot of time for preparation and landing on your future job.