A resume is an essential document that summarizes your education, work experience, skills, achievements, and other relevant information to showcase your suitability for a job position. It serves as your personal marketing tool, presenting your qualifications and accomplishments to potential employers. However, creating a strong resume is a challenging task, especially when you're unsure of what information to include and where to start.
Chat GPT can assist you in this process, making it easier and less intimidating. With its expertise and knowledge, it will help you determine the best type of resume for your needs, and what information to include, and guide you through the writing process. Get started today and create a professional and effective resume with Chat GPT's support. Here are the steps:
Step 1: Login and Create a New Chat
Head over to the ChatGPT website, log in, and start a new chat with the chatbot. You will see a text prompt bar right below the screen, and that's where you'll type in your prompt.
Step 2: Provide Information and Create the Prompt
When writing a ChatGPT prompt, it's best to provide the chatbot with some information so it knows how to answer your prompt. Start off by introducing yourself – Provide your personal information, such as your name, email, and contact number. Input your education and work experience next, making sure that you include the job title and responsibilities you held.
Aside from your personal information, tell ChatGPT that you are applying for a role in a certain company and include the job description. This way, ChatGPT will have an idea as to how you want your resume to look.
Step 3: Ask ChatGPT to Create a Resume Outline
After providing everything about yourself, ask ChatGPT to give you a resume outline. Be as detailed as possible when asking for a resume outline, and it should be tailored to the specific job or industry you are applying for.
Step 4: Generate Content for Each Section
ChatGPT will start sorting out your information and generating your resume outline as soon as you submitted your info. For each section, provide the necessary information needed and ask ChatGPT to generate that section.
Some ChatGPT responses may take some time – you can reset the thread by creating a new chat from the upper left corner of the screen or tell ChatGPT to ignore the previous conversation and start again. Or you can reload the page when you experience any delays or freezes.
Step 5: Review Each Section and Modify
Once ChatGPT generated your resume, take time to review each section and edit any errors on its output. If you are not satisfied with the output, you can click the "regenerate response" button below to create a new response until you get the output you like.
Step 6: Use Resume Template
If ChatGPT's output is good to go, copy the output and paste it on a resume template. Canva, Google Docs, and Microsoft Word have several presentable resume templates to choose from.  Save the file, and submit your newly-created resume to companies!
Example Prompt
Here is what using ChatGPT to write a resume should look like by following the steps above: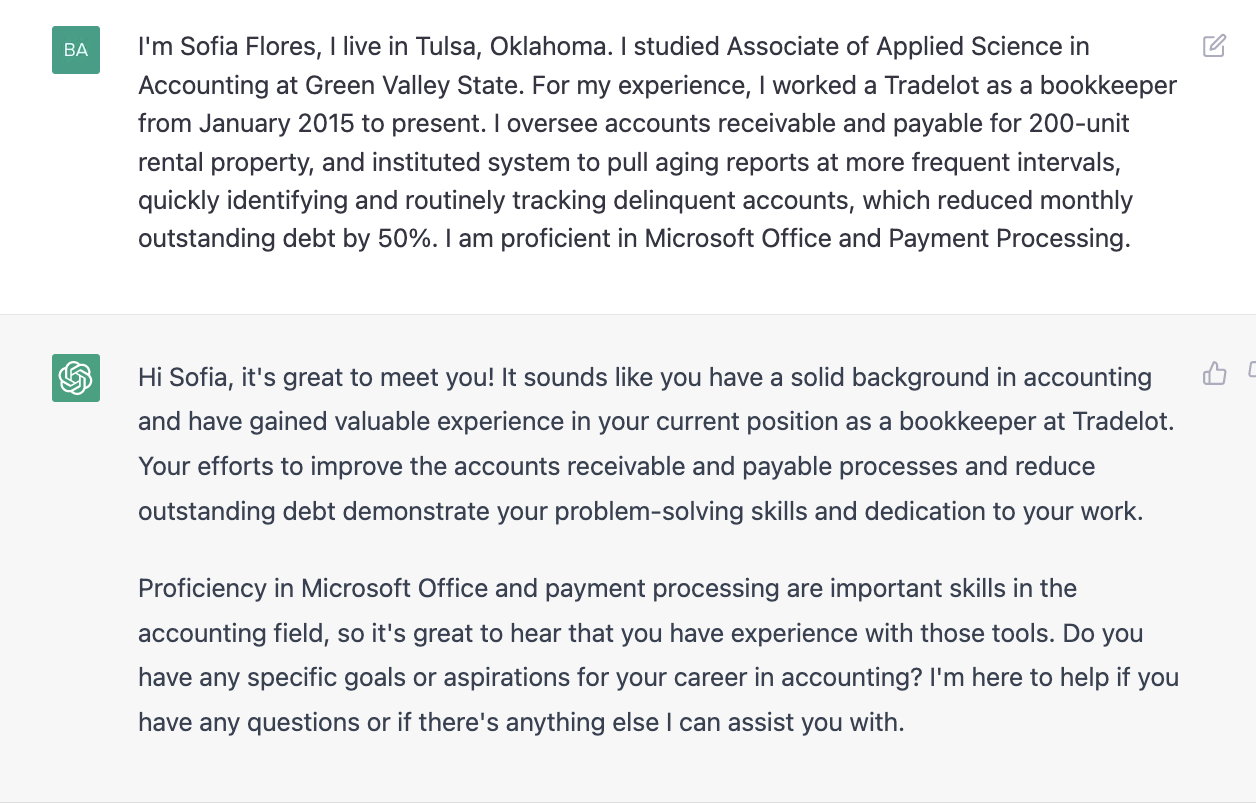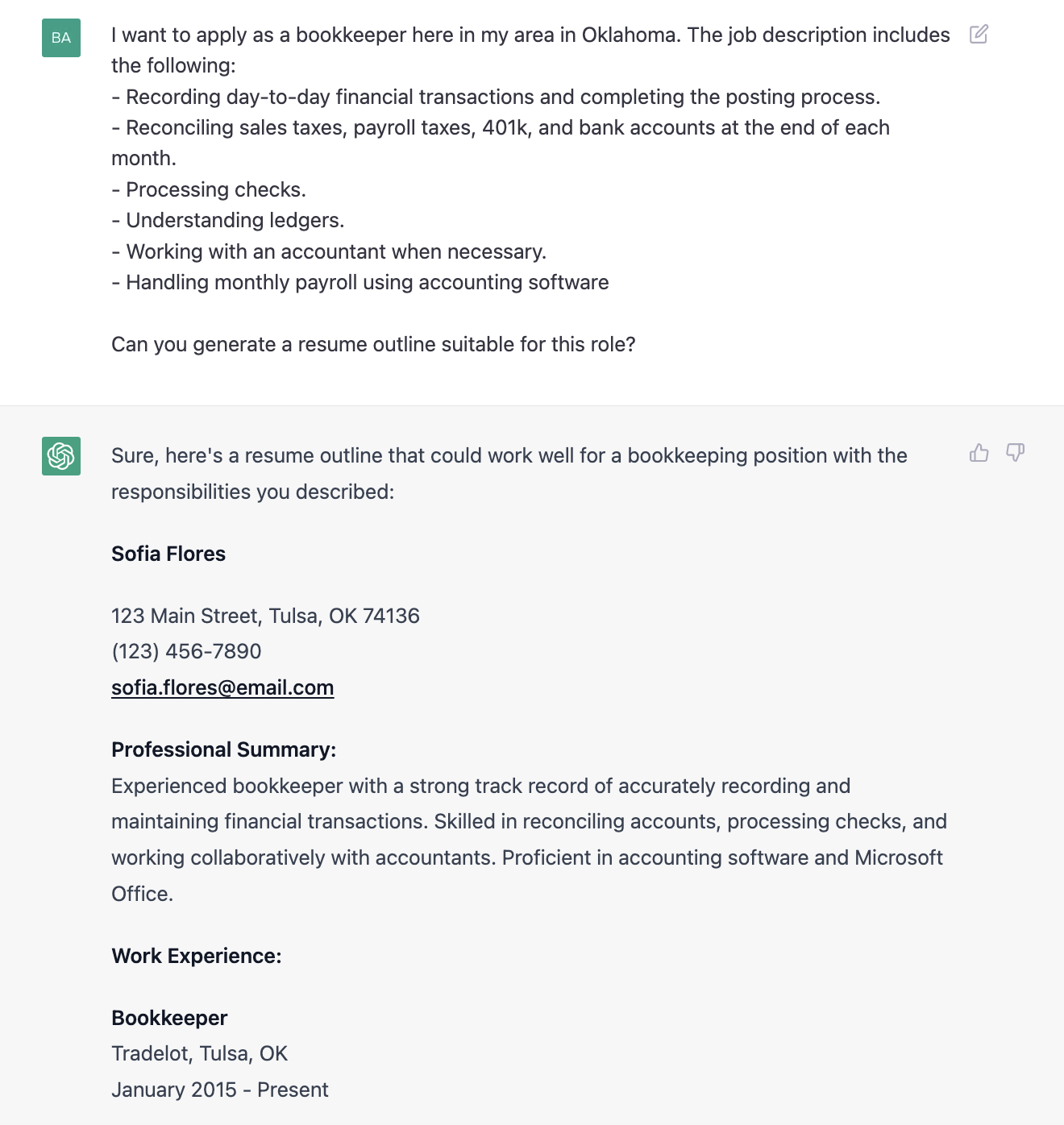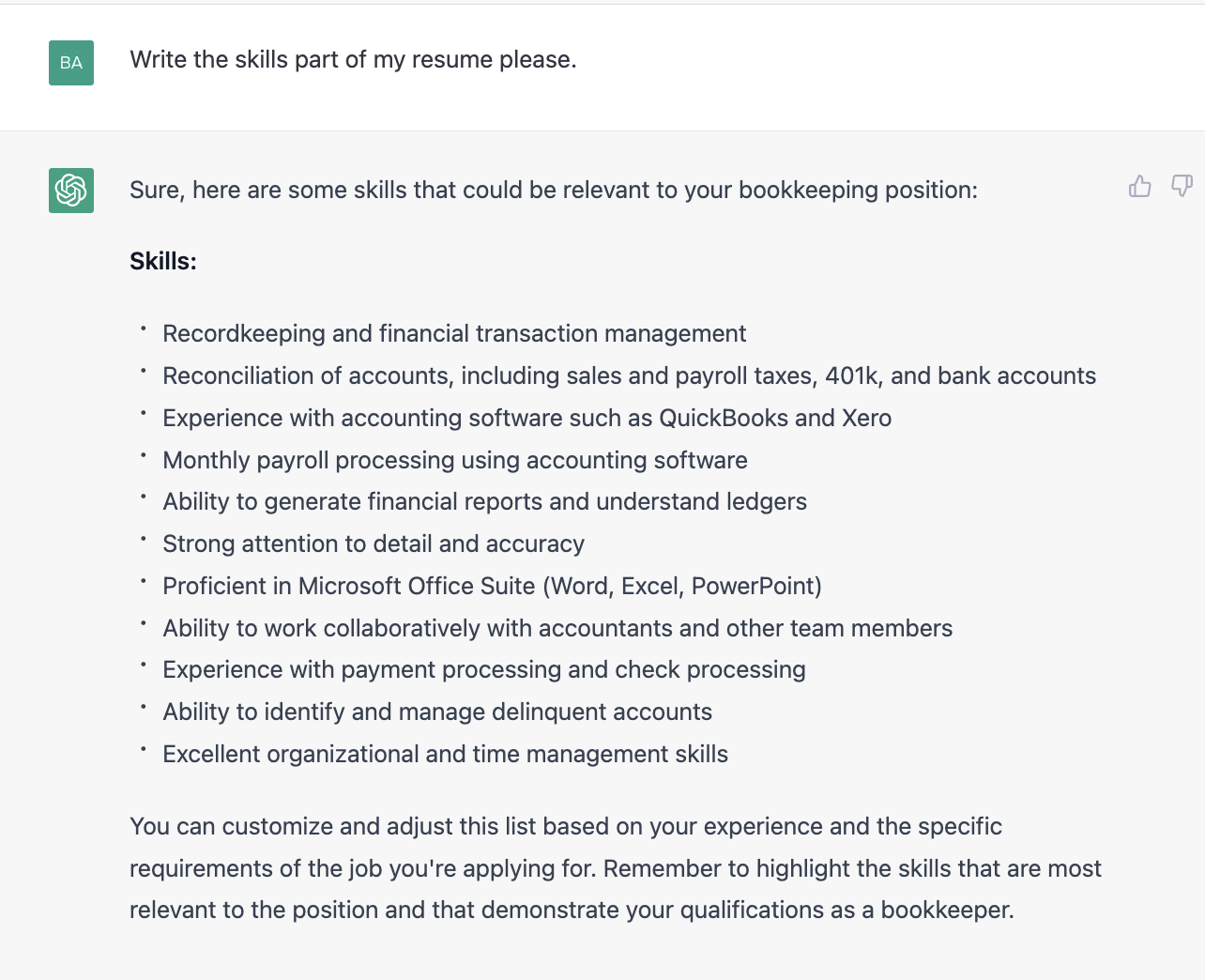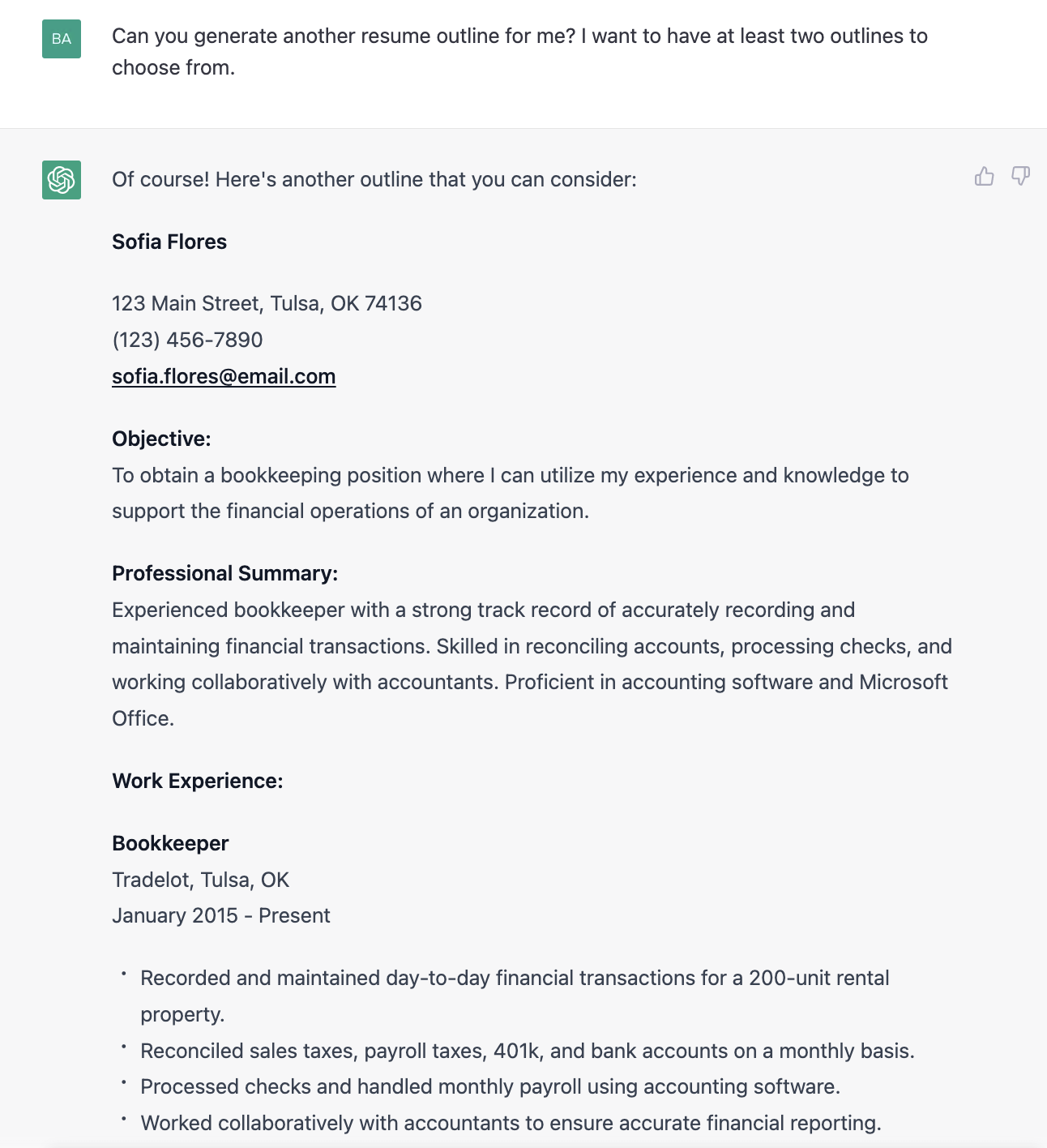 Takeaway
These are the basic but helpful steps in using ChatGPT to write your resume. You can always tweak some information on your prompt and add more details to make ChatGPT's response more suitable to your liking. With ChatGPT's assistance, you can increase your chances of landing your dream job. So, give it a try today and take the first step toward your successful career path!